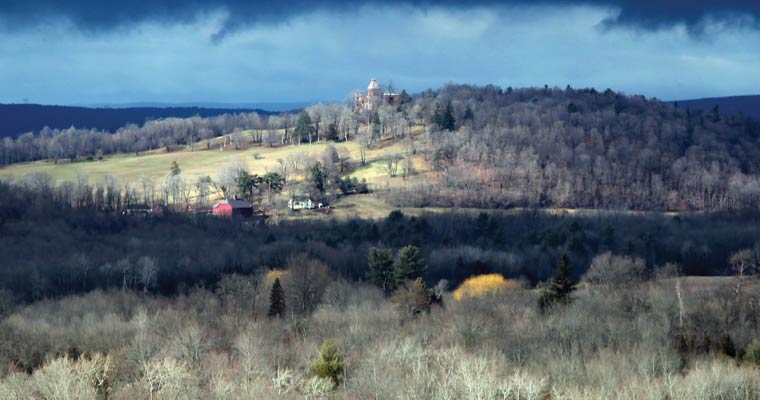 Photo: View to Olana from River School Farm, courtesy of Carolyn Marks Blackwood
Opening Reception Saturday, Jan. 19, 5-8 p.m. at Hudson Opera House
An exhibition of photographs that will travel throughout the valley during our 50th anniversary year in 2013 kicks off in Hudson this month. "On Time and Place: Celebrating Scenic Hudson's 50 Years" features a curated selection of photographs that pay tribute to the organization's inspiring story and to the valley's people and communities.
The historic Hudson Opera House, a noted multi-arts center at 327 Warren St., will debut the exhibition, which will open with a reception on Saturday, Jan. 19, from 5 to 8 p.m. The exhibition will run through Saturday, Feb. 16. Thirty-four works by 12 photographers were selected for display as framed images.
Scenic Hudson began by mobilizing a mass campaign that democratized the environmental movement. Our vital work continues today, and the curated exhibition will tell the inspiring story of our ongoing efforts in the valley's communities and capture the region's magic and complexities as well as the enduring love so many feel for it..
The 12 photographers whose works are showcased are: Carolyn Marks Blackwood, Jerry Freedner, Sandy Gellis, Chad Kleitsch, David La Spina, Eric Lindbloom, Tanya Marcuse, Greg Miller, Robert Rodriguez Jr., Michael Sibilia, Joseph Squillante and Susan Wides. The exhibition also features a number of interactive iPad kiosks that showcase the many other photos submitted in response to our call for work, as well as photographs received from our Facebook fans. Additional kiosks are devoted to historic photos and an interactive timeline of Scenic Hudson's achievements during its first 50 years. Additional details are available in this news release.
We hope you can join us for the opening reception on Saturday, Jan. 19, from 5 to 8 p.m. If you have any questions or need additional information, please contact jharris@scenichudson.org.