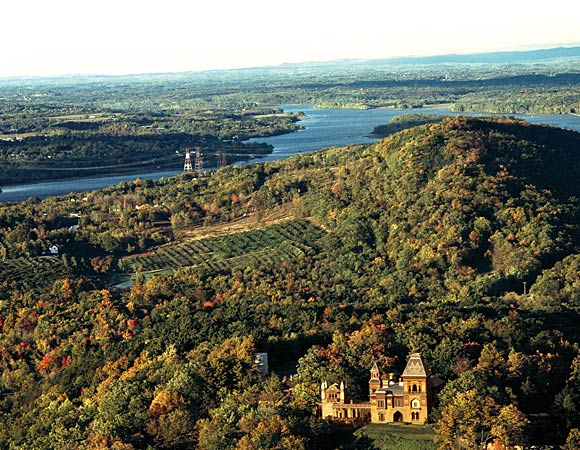 Scenic Hudson has protected 1,300 acres that comprise the breathtaking views from Olana—views that bring $8 million to the local economy each year and contribute strongly to Columbia County's 1,500 tourism jobs. (photo: Ted Spiegel)
Preserving the valley's viewsheds is essential for assuring our prosperity, our health and our spirit. We cannot deprive future generations of the opportunity to experience such soul-stirring grandeur.—Ned Sullivan
On Saturday afternoon, April 16, The Olana Partnership is hosting a symposium about our valley's extraordinary scenic beauty. To be held at Columbia-Greene Community College in Hudson, "
Framing the Viewshed: The Transformative Power of Art and Landscape in the Hudson Valley
," will feature experts in the fields of art history, conservation and landscape design discussing the past, present and future of our region's great landscapes. On Saturday morning, symposium ticket holders will have a chance to
tour the Olana Bell Tower
— which is not usually open to the public — and experience the magnificent Olana viewshed firsthand. Following the symposium, participants can enjoy the sunset by attending a
Viewshed Benefit Party
with wine and hors d'oeuvres, from 6-8 p.m. at Oak Hill in Hudson. Scenic Hudson and other groups helping preserve the Olana viewshed will be recognized during the symposium. The Olana Partnership website has complete details along with links to purchase tickets:
www.olana.org
.