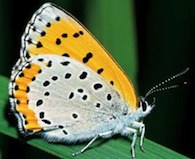 Sacha Spector's recent article, uses the story of bronze copper butterfly to call for expanded thinking about grassland management. photo: Bryan E. Reynolds
Grasslands play an important role in the circle of life in the Hudson Valley and throughout the world. They are essential for storing and purifying water supplies; they also sustain an incredible variety of wildlife, especially birds and insects. In a recent article in Wings -- the Journal of the Xerces Society, Scenic Hudson's Conservation Science Director Dr. Sacha Spector examines grassland management through the story of the disappearance and rediscovery of the bronze copper butterfly. In "Missed Opportunities on the Grassy Knoll:
Saving the Northeast's Grassland Invertebrates," Spector explains that while these strikingly beautiful butterflies are listed as an imperiled or critically imperiled species in many Mid-Atlantic states, they have recently been found in increasing numbers around small Hudson Valley farm ponds near pastures and hayfields. The article examines this phenomenon and goes on to propose a strategy for managing grassland so that both invertebrates and birds can thrive. You can download the complete article (PDF, 165K) for additional details.