Matriarch of financial dynasty has 80-year love affair with her river
It began before her marriage to Wall Street legend Shelby Cullom Davis when she lived at International House, along Riverside Drive, and could look out on construction of the George Washington Bridge. Now she lives in Tarrytown, perched on a hill with a commanding view of the Palisades. Taking up painting in her late 90s, her canvases reflect the beauty of the river that inspires her. But regular kayak trips raised her concern about the rash of housing and commercial development popping up along the river and spoiling its beauty. She decided to do something to preserve this mystic beauty for future generations. Her plan is to launch another wave of preservation philanthropy to create places where children can get down to the river.
Partnering with Scenic Hudson and hoping to inspire other supporters
She hopes her gift will inspire others to back Scenic Hudson and its conservation partners in preserving 65,000 acres of land along the Hudson as part of Scenic Hudson's campaign to Save the Land That Matters Most.
New times and new challenges -- turning blight to beauty
She's funding a land gift that will stand along those of the Rockefellers, Harrimans and Wallaces. She and Scenic Hudson face complexities in saving a landscape littered with industrial decay and stressed by inappropriate development. Today's realities demand new solutions for land conservation. When the aforementioned families protected land for public benefit, they were able to safeguard vast tracts of pristine wilderness. Mrs. Davis understands that Scenic Hudson will have to use new tools to wedge parks and preserves among sprawling development.
Always looking for swift action, Mrs. Davis has an agreement with Scenic Hudson about her gift. The preservation campaign will start immediately although the group will not receive funding until her passing.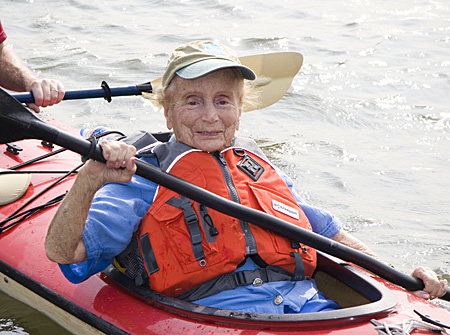 Centenarian Kathryn Wasserman Davis still kayaks on the Hudson.Vickie Muller
A lifetime of powerful results
Mrs. Davis has always welcomed challenges that would deter others:
She says that during her youth, she was fiercely competitive in individual sports, including horseback riding and tennis.
The daughter of a suffragist, as a four-year-old she waved a flag in a voting-rights parade.
An avid painter, she didn't take up her artistic calling until her late 90s. She calls herself an "impatient impressionist," admitting that she never can stand to spend more than two hours on a work before moving on to what next inspires her about the Hudson. She says she loves water because it constantly changes and challenges us.
Her intellectual curiosity began at an early age, charged by family trips to Asia, the Middle East and Europe. She earned a B.A. from Wellesley College in 1928. During a time when few women reached this level of scholarship, she went on to earn a M.A. in international relations from Columbia University in 1931 and then a Ph.D. in political science from the University of Geneva in 1934.
She is the author of "The Soviets at Geneva: The USSR and the League of Nations, 1919-1933."
In 1932 she married Shelby Cullom Davis, who became a Wall Street legend. While creating a financial dynasty, Mr. Davis joined his wife in giving large amounts of money to promote global understanding and peace through education, children's health and well-being – and now preserving land in the Hudson Valley, the backyard to the greatest city in the world.
She has been awarded honorary doctorates from Columbia University and Middlebury College.
Awards
Her many awards and accolades include:
2006 Woodrow Wilson Award for Public Service from the Washington, D.C.-based Woodrow Wilson International Center for Scholars. The prestigious award has been presented to prime ministers and other notables.
2006 EastWest Institute's Peace and Conflict Prevention Prize. A nonpartisan entrepreneurial organization, it has centers in Brussels, New York and Moscow. The group works to make the world safer by addressing seemingly intractable problems that threaten regional and global stability.
Other facts
She was born in Philadelphia, Pa., in 1907, the youngest child of Joseph Wasserman and Edith Stix.
Her family founded Art Loom, an innovative carpet manufacturing company that eventually occupied an entire city block in Philadelphia.
The family traveled the world, collecting art and antiques from Europe, the Middle East and Asia.
In honor of her centennial she created 100 Projects for Peace. The program awards $10,000 to student projects aimed at promoting peace.
###