Contact:
Jay Burgess Director of Communications, Scenic Hudson, Inc. Tel: (845) 473-4440 x222 Cell: (914) 489-0362 Fax: (845) 473-0740
jburgess@scenichudson.org
Acquisition a top priority of organization's ongoing land campaign
COLUMBIA COUNTY—Scenic Hudson has achieved one of the top conservation priorities in its
Saving the Land That Matters Most campaign
—protecting 296 beautiful, ecologically important riverfront acres in the towns of Stuyvesant and Stockport. This breathtaking landscape features an expansive forest, freshwater tidal wetlands along Newton Hook Creek and 800 feet of Hudson shoreline. It is an integral part of the Hudson River National Estuarine Research Reserve at Stockport Flats, an important field laboratory for estuarine research, stewardship and education jointly operated by New York State and the National Oceanic and Atmospheric Administration. Located between the Nutten Hook State Unique Area and Hudson River Islands State Park on Gay's Point, the newly preserved land is visible from many public recreation areas, including Nutten Hook and Scenic Hudson's Four-Mile Point Preserve and Vosburgh Swamp Natural Area, both in Coxsackie, Greene County.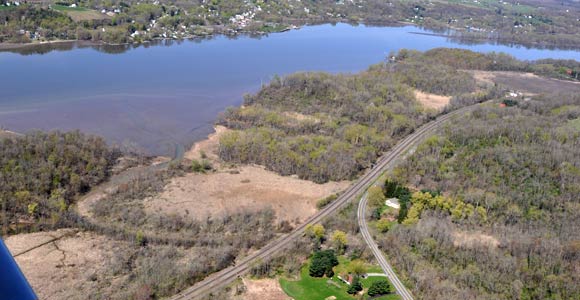 Newly protected riverfront property in Columbia CountyPhoto: Jeff Anzevino
Preserved land important for local economy, drinking water and ecology
Recreational opportunities at Stockport Flats—especially fishing, boating and bird watching—contribute substantially to Columbia County's $106-million tourism economy that employs nearly 1,500 people. Wetlands there also safeguard the water quality of the Hudson, the source of many communities' drinking water, by trapping contaminants that otherwise would reach the river. The property's conservation is critical to maintaining Stockport Flats' extraordinary biological diversity. Recognized by the National Audubon Society as an Important Bird Area, its tidal and upland wetlands provide valuable feeding and resting habitat for migratory waterfowl and nesting areas for various marsh birds. They also serve as important nursery and feeding grounds for oceangoing striped bass, shad, alewives and herring. Bald eagles, egrets and great blue heron frequently are spotted along the shore.
Generous supporters, The Pew Charitable Trusts made acquisition possible
Funds for this acquisition came from Scenic Hudson's Lila Acheson and DeWitt Wallace Hudson Valley Land Preservation Endowment as well as generous supporters who helped secure a matching grant from The Pew Charitable Trusts. The funding from The Pew Charitable Trusts comes from its Northeast Land Trust Consortium, which was created in 2006 to help preserve the forests, farmlands and shorelines that create a rich mosaic stretching from the Hudson Valley through the Berkshires to the Great North Woods of New England. Scenic Hudson Assistant Land Conservation Director Maryanne McGovern Kenyon negotiated the purchase. "Anyone who has paddled through Stockport Flats knows that this is one of the most beautiful and exciting places to connect with wildlife along the entire Hudson River. This acquisition ensures that more of its natural treasures will remain intact forever, never threatened by development. The transaction also epitomizes the goals of our Saving the Land That Matters Most campaign—to preserve lands essential to sustaining the Hudson Valley's economy, the health of its residents, and the region's great ecological diversity. I applaud the Scenic Hudson supporters, The Pew Charitable Trusts and the landowner, all of whom made this great victory possible," said Scenic Hudson President Ned Sullivan. "With the preservation of this beautiful, ecologically significant parcel, Scenic Hudson is not only ensuring that this wondrous area will be protected for future generations to enjoy, it is fortifying the health of the Hudson River and its communities and the economic future of the region," said Joe Martens, acting commissioner of the state Department of Environmental Conservation.
Transaction benefits human health, wildlife
The property has received numerous designations by New York State for its outstanding scenic and historic value. Located within the Columbia-Greene North Scenic Area of Statewide Significance, it also contains state-recognized Significant Coastal Habitats and lies within the Stockport Creek & Flats/Nutten Hook/Gays Point Marsh Biologically Important Area (BIA). The A rating assigned this BIA by the Department of Environmental Conservation and its conservation partners means these wildlife habitats are of the highest importance. In addition, the land was prioritized for conservation or met the goals of many state programs, including the Comprehensive Wildlife Conservation Strategy, the Coastal and Estuarine Land Conservation Plan, the Statewide Comprehensive Outdoor Recreation Plan and the Hudson River Estuary Program Action Agenda. Protecting large, contiguous landscapes safeguards the interconnected network of diverse habitats on which many wildlife species depend. Increasing the acreage of protected open space also offers myriad human health benefits. Trees sequester pollutants that contribute to asthma, lung cancer, and cardiovascular disease, while releasing oxygen. Woodlands and wetlands collect and purify water that filters into the ground to recharge local aquifers, which communities depend on for drinking water. Vegetation and wetlands also intercept rainfall, preventing it from flowing into streams where it could cause flooding. Safeguarding prime wildlife habitats helps maintain biodiversity, which plays an important role in preventing diseases such as West Nile virus and Lyme disease.
Collaborative campaign targets protecting valley's most important landscapes
Scenic Hudson's campaign to Save the Land That Matters Most was launched in 2007 to provide a lasting way of commemorating the Quadricentennial of Henry Hudson's voyage of discovery. It is a multi-year, collaborative effort with fellow land trusts, governments, individuals and businesses to protect lands of the highest scenic, ecological and agricultural significance throughout the Hudson Valley. To date, Scenic Hudson has conserved 3,962 acres and our land trust partners an additional 1,821 acres.
Land preservation key to jobs, prosperity
Scenic Hudson also pursues its campaign to Save the Land That Matters Most realizing that preserving land provides the cornerstone of a sustainable economy for the region. Tourism in the 10-county region generates $4.7 billion annually and sustains 80,000 jobs. Protected lands also help secure the valley's place in the new "green" economy. A recent study by the Trust for Public Land notes that executives looking to relocate or start up firms rank quality of life—including an abundance of parks and open space—higher than housing, cost of living and good schools.
###