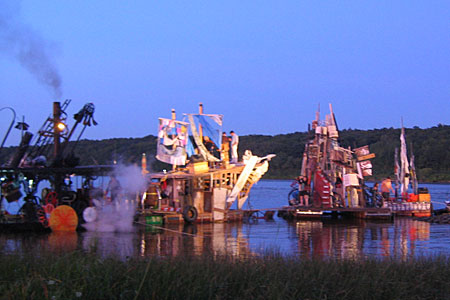 Three of the intricately handcrafted boats from the Swoon Flotilla that is coming to Beacon on Sunday, Aug. 24.Kate Kane
Scenic Hudson is pleased to be hosting "Swimming Cities of Switchback Sea," a unique music and theater performance on the Beacon waterfront. The performance is at 8 p.m. on Sunday, Aug. 24 and will be staged on a flotilla of boats made from reclaimed materials when they dock at Scenic Hudson's Beacon Point Park.
The seven intricately handcrafted vessels are designed by well-regarded New York City artist Swoon, whose work has been shown at the Museum of Modern Art (MoMA) and other leading museums. The stop in Beacon is part of a Hudson River voyage that began in Troy on Aug. 15 and concludes in New York Harbor on Sept. 7. Imagined as a hybrid between boats and bits of land mass broken off and headed out to sea, the vessels are ecological models powered by biofuels. The Beacon stop is one of six performances scheduled during the river journey.
We hope you can come down to the waterfront for this unusual event and invite you to enjoy Beacon Point Park while you're there!