In March 2008, Scenic Hudson published an "Audit and Action Agenda for New York State Coastal Management Program," a 74-page illustrated report analyzing the state's 25 year-old shoreline program.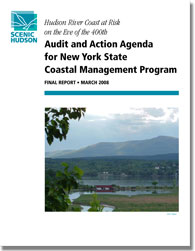 Our complete report on the NYS Coastal Management Program is now available for download (pdf, 3.3 MB).
The report, subtitled "Hudson River Coast at Risk on the Eve of the 400th," identifies some specific reforms designed to protect environmental conditions throughout the Hudson River corridor and channel economic development in ways that will support a healthy, prosperous region.
More details about the report are available in this this press release. In addition, you can download the complete report (pdf, 3.3 MB) or the report's Executive Summary and Introduction (pdf, 560k).