Starting Up
Scenic Hudson has been a crusader for the Hudson Valley since 1963, beginning with our historic fight to save Storm King Mountain — northern gateway to the fabled Hudson Highlands — from a Con Edison proposal to build the world's largest pumped-storage hydroelectric plant. After a 17-year legal battle during which we galvanized the support of 20,000 people from across the nation and world, Scenic Hudson emerged victorious. Today we are credited with launching the grass-roots environmental movement and winning the right of citizens to speak out and initiate lawsuits to protect their environment. The case also charted environmental law as a new legal specialty and served as the cornerstone of federal environmental law.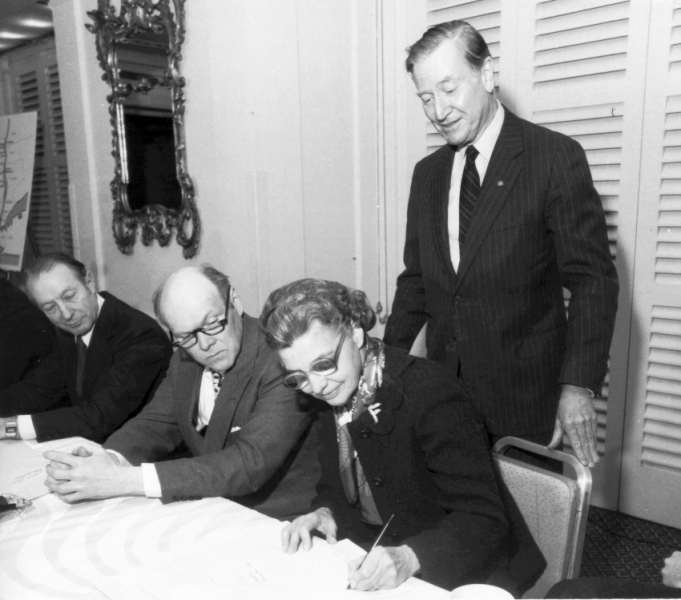 Scenic Hudson Co-founder Franny Reese signing the 1981 Hudson River Settlement Agreement.
Expanding Our Mission
The visibility of the Storm King campaign and its eventual outcome prompted local communities and residents to seek guidance from Scenic Hudson on other matters. Rising to the challenge we began establishing programs that dealt with wide-ranging air and water quality issues and community planning needs. We also initiated land and historic preservation projects that led to our successfully getting 1,000 Hudson Highlands sites listed on state and national registers. The organization started monitoring development proposals and intervening with citizen support to prevent or reshape inappropriate projects.
During the '70s and early '80s, Scenic Hudson formed a separately incorporated land trust to expand our conservation work through land acquisition and land protection via easements. Thanks to generous funding from Lila Acheson and Dewitt Wallace, our land trust has been able to build a sizable endowment that is our primary source of funds for land acquisition. During this same time period, we also launched the campaign advocating the removal of health-threatening PCBs from the Hudson River.
Responding to Accelerating Needs
Maturity fostered ever-broadening responsibilities as Scenic Hudson emerged as a model of environmental professionalism. We became known as a powerhouse in safeguarding irreplaceable landscapes, advancing balanced and sustainable development and protecting our air and water from pollution and other forms of degradation.
Entering our third decade and continuing through the early '90s, Scenic Hudson continued to partner with communities and to bring our unique skills and persistence to bear on key projects. We remained engaged on the PCB Cleanup but also campaigned to mitigate issues tied to a growing Stewart International Airport, to take on regional ozone threats and to bring about an ambitious water conservation program for New York City. Additionally we played a key role in the passage of the first-in-the-nation Acid Rain Control Bill, the first Environmental Bond Act and the Bottle Bill, while we also pioneered creation of Hudson River Valley Greenway.
We steadily expanded the amount of land we preserved and began enhancing these holdings by creating Parks and Preserves that connected people and communities to the Hudson River. Our programs gained new sophistication and shared this with the public, government and other interested parties through workshops and major conferences and by publishing technical reports.
At the Forefront with Innovative Strategies
Moving into the new millennium, a bright spotlight began to focus on the Hudson Valley and our magnificent river and the attention has continued to grow. Nationwide our region started to be widely recognized for its distinct identity and sense of place. Articles in The New York Times and National Geographic as well as congressional and presidential designations were catalysts for a powerful re-emergence.
During this exciting period, Scenic Hudson has been on the ground spearheading defining projects such as the campaigns that led to the Hudson Valley being designated a National Heritage Area in 1996 and the Hudson River being named an American Heritage River in 1998. We have doubled the amount of land we have preserved for public enjoyment and launched brownfield reclamation and Farmland Protection initiatives.
Our work has advanced Smart Growth Principles and put theory into practice in places such as Yonkers, Haverstraw and Hyde Park. In our efforts to create environmentally and economically viable communities, we are promoting an Energy plan for the state that stresses conservation and environmentally friendly technology for power plants. We also are seeking reform of the state's power plant siting law. In support of these and our other broad-based initiatives, Scenic Hudson provides multifaceted Environmental Education and Volunteer programs. By using our parks as outdoor classrooms, through classroom instruction at local schools and with outreach at community events and other forums, we are engaging current and future environmentalists and land stewards.
By more than doubling our program capacity and leveraging this strength by leading collaborative efforts with diverse, inclusive coalitions, Scenic Hudson has successfully battled poorly conceived projects such as a massive coal-burning cement plant proposed for Columbia County Stop the Plant victory while championing sustainable prosperity for the valley.
Saving the Land That Matters Most
In 2007, Scenic Hudson launched an ambitious plan to Save the Land That Matters Most, which seeks to protect lands throughout the Hudson Valley deemed by New York State to be of the highest scenic, agricultural and ecological significance. Scenic Hudson utilized the latest mapping techniques as well as environmental and habitat data to determine the lands crucial for protection from the continued threat of sprawling development. Partners in this collaborative, long-term initiative include 16 local and regional land trusts, governments, businesses and individuals.
To date, Save the Land That Matters Most partners have protected more than 6,000 acres of working farmland, mountain vistas and ecologically important wetlands, with Scenic Hudson conserving over 4,000 of these acres—including lands essential to preserving world-class views in the Hudson Highlands, vistas cherished by Franklin D. Roosevelt from his Hyde Park home and ecologically critical habitat along Ulster County's Black Creek and within the Hudson River National Estuarine Research Reserve at Stockport Flats.
Scenic Hudson also has made substantial contributions to two of the most extraordinary park-creation projects in valley history—transformation of the 19th-century Poughkeepsie-Highland Railroad Bridge into Walkway Over the Hudson State Historic Park, which opened in 2009, and "daylighting" (uncovering portions of) the Saw Mill River in downtown Yonkers as the centerpiece of a park and riverwalk. Both the Walkway, whose popularity has far exceeded expectations, and the Saw Mill riverwalk, which currently is under construction, are seen as great catalysts for downtown revitalization. To further boost economic opportunity around the Walkway, Scenic Hudson worked with communities at both ends of the span to create the Walkway Loop Trail, which connects the new park and nearby Mid-Hudson Bridge to additional cultural and recreational attractions.
In its ongoing effort to work with communities to achieve balanced economic growth, in 2010 Scenic Hudson published Revitalizing Hudson Riverfronts, a comprehensive guide intended to help local officials, planners, developers and concerned citizens realize the full potential of their shorelines. Presenting an economically sustainable and environmentally sound vision for waterfront communities, the book offers tools for development aimed at attracting visitors and permanent residents to downtowns, while protecting surrounding natural areas and farmland. The guide also includes strategies to help municipalities prepare for the impacts of sea-level rise associated with climate change.
Scenic Hudson also remains a leader in grassroots efforts to ensure a healthy Hudson River free of PCBs. The organization and fellow environmental groups celebrated an historic victory when GE initiated a pilot phase of the PCB cleanup in 2009; in June 2011 full-scale dredging commenced. Completion of the project will prove vastly beneficial to human health and river-based wildlife, and create opportunities for future economic benefits in communities along its shores. As the cleanup progresses, Scenic Hudson will remain vigilant to ensure that GE removes the maximum volume of PCBs while limiting releases of these toxins into the river and air.
Our mission is about the power of partners and a three-fold focus on people, nature and place, and it also is a call to citizens to support our shared enterprise in a time of unprecedented challenges.