Tactics for Defending Your Backyard

"Backyard Matters" by Scenic Hudson President Ned Sullivan is a regular monthly feature on TheDailyGreen.com.
April 22, 2007 - Two weekends ago, my daughter Annie and I were exploring the West Point Foundry, near the Hudson River in Cold Spring. From 1817 to 1911, this was a sprawling industrial complex that manufactured the cannons that helped the Union win the Civil War. From 1952 to 1979, it was the location of a battery plant that contaminated the nearby cove. Today, the hazardous waste has been cleaned up and the site is a Scenic Hudson nature preserve. While Annie searched for perfectly round rocks along the edge of the cove, we marveled at how the environmental damage from prior generations is being repaired.
Whenever we're in Cold Spring, I point out Storm King Mountain, across the Hudson. It's where the modern environmental movement began in the 1960s, when residents organized to oppose construction of a power plant that would have destroyed this magnificent natural landmark. I explain that the fight took 17 years, but that the victory established the legal right for all citizens to be heard in government decisions affecting their environment.
One week later, Annie and I joined with hundreds of others to create a human chain across the Bear Mountain Bridge. The event was part of "Step it Up 2007," a National Day of Climate Action urging Congress to enact laws to cut harmful carbon dioxide emissions. The rally was a powerful symbol of how we need to work together to tackle the greatest environmental threat in history.
These trips with Annie have made her realize that anybody -- even kids -- can make a difference by standing up for something they believe in. And they make me proud to lead Scenic Hudson, the organization that saved Storm King and carries on the battle to protect the region though environmental advocacy and land protection.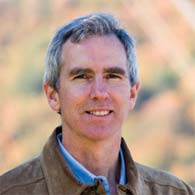 ABOUT THE AUTHOR:
Ned Sullivan has been Scenic Hudson's President since 1999.
[bio]
During the weeks ahead, I'll share tactics we use to defend our backyard. They might prove helpful in efforts to block threats to your neighborhood. I'll describe what makes the Hudson Valley so special, and how you can experience its natural and historic treasures. And I'll provide tips for treading more lightly on our planet.