SLEEPY HOLLOW--Scenic Hudson, Kathryn Wasserman Davis--a 102-year-old kayaking philanthropist from Westchester County--and Westchester County Parks Commissioner Joseph A. Stout, appearing on behalf of County Executive Andy Spano, hosted a groundbreaking ceremony today to mark the start of renovations that will transform a dilapidated former Hudson waterfront gem--the historic bathhouse at Kingsland Point Park in Sleepy Hollow--into a modern center for education and recreation. Also joining the celebration were key supporters of the project, including Sleepy Hollow Mayor Ken Wray, County Legislator Thomas J. Abinanti, County Legislator George Oros and Friends of Westchester County Parks Chairwoman Elizabeth Bracken-Thompson.
Mrs. Davis in June 2007 pledged $4 million through the Kathryn W. Davis Foundation and the Shelby Cullom Davis Charitable Foundation to Scenic Hudson to fund the renovations, which will once again create a riverfront gathering place--lacking for decades--for Sleepy Hollow residents and visitors. The bathhouse is being named the Kathryn W. Davis RiverWalk Center. The first phase of the project will rehabilitate the 1926 building's exterior and restore a pavilion that again will be available for picnics and community events. The completed project will include an environmental center on the building's main floor. Westchester County Parks will collaborate with the contractor on both interior improvements and landscaping around the center. Architectural renderings provided by Scenic Hudson showed that the bathhouse's unique Spanish Renaissance style architecture would be retained with the modernization.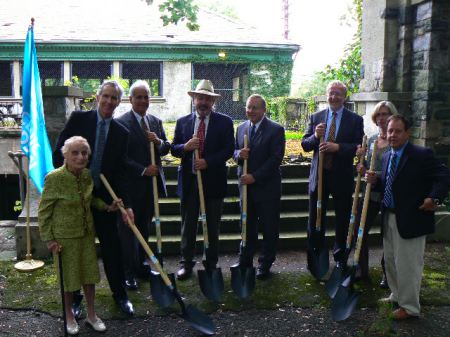 (L to R) Kathryn W. Davis; Scenic Hudson President Ned Sullivan, Westchester County Parks Commissioner Joseph A. Stout, Sleepy Hollow Mayor Ken Wray, Westchester County Legislator George Oros; Pew Charitable Trusts Project Director Thomas S. Curren, Scenic Hudson Senior Park Planner Meg Rasmussen, and Westchester County Legislator Thomas J. Abinanti.
Scenic Hudson President Ned Sullivan said, "After study and design phases, it's gratifying to be getting the project underway. Mrs. Davis is a true visionary whose generosity and leadership will restore this landmark and connect people with the Hudson River's inspiring beauty. Her spirit and the efforts of our other partners give Scenic Hudson added confidence as we pursue ambitious efforts to save land, create parks, boost the regional economy and enhance quality of life in valley communities."
Self-described as someone with "an 80-year love affair with the Hudson," Mrs. Davis said, "Along the Hudson's shores and across the whole of our nation, we must protect our natural resources as we also seek balanced and sustainable economic opportunity. Land and places like this aren't a luxury, they're a necessity. With conservation and development, it isn't an either-or situation--we can have both. Scenic Hudson has shown us the way. It gives me joy and satisfaction to see this project moving ahead and to have my name and my family's name linked to it."
County Executive Spano, who was not able to attend the ceremony, said, "Kathryn Davis has made an extraordinary gift to the people of Westchester County. We have the good fortune to be in a county that is located between two magnificent bodies of water, but the key to enjoying the waterways is having access to them. Now thanks to Mrs. Davis and our partnership with Scenic Hudson, residents and visitors have a new way to enjoy the Hudson."
With work now underway, it is anticipated that phase-one renovations will be complete by fall 2010. The work is being done by Showcase Construction, an award-winning historic preservation company of Suffern, Rockland County. Approximately 35 workers will be employed during the project. Architectural services were provided by Jan Hird Pokorny Associates, of New York City, acclaimed for their work on historic buildings.
Sleepy Hollow Mayor Ken Wray noted the groundbreaking's significance by stating, "Mrs. Davis' extraordinary gift will both restore a classic building and provide a beautiful gathering place for generations to come. The village deeply appreciates her generosity."
The project is moving forward at this time with funds provided by Scenic Hudson and The Pew Charitable Trusts in anticipation of Mrs. Davis' generous bequest--so that work could begin during her lifetime. The Pew Charitable Trusts provided a zero-interest loan to Scenic Hudson for this purpose. Speaking about this effort, Rebecca Rimel, president and CEO of The Pew Charitable Trusts, said, "Kathryn Wasserman Davis is truly inspirational and has been a leader in protecting the Hudson Valley's stunning landscapes and its unique history. Pew is thrilled to partner with such an important philanthropist and support her efforts with Scenic Hudson."
Westchester County Legislator Abinanti and Legislator Oros attended the groundbreaking because both have supported the county's RiverWalk, which would create a ribbon of parks from southern Yonkers to Peekskill. The new Kathryn W. Davis RiverWalk Center will be an important feature of this exciting initiative.
Legislator Abinanti said, "Renovation of the Kingsland Point facilities will restore the centerpiece of public access to the Hudson River from years gone by and once again make it a centerpiece for the public's enjoyment of the river."
Legislator Oros said, "The RiverWalk Center will be a tremendous addition to the Hudson Valley and will ensure the public will have access to the majestic Hudson River, which has played such a role in the history and culture of the region."
Not able to participate in the ceremony but supportive of the project, Westchester County Legislator Lois Bronz said, "Bringing new life to this historic site as the Kathryn W. Davis RiverWalk Center is an opportunity to revitalize a wonderful tradition of pleasure and beauty along our Hudson shores. I'm pleased to represent the county's role in making this a reality."
Ms. Bracken-Thompson, of the Friends of Parks, said, "Kathryn Davis, one of our organization's Best Friend award recipients for her environmental leadership, exemplifies on a grand scale what our organization is all about: to support parks and recreation in Westchester now and for future generations."
During the groundbreaking festivities Mr. Sullivan also saluted the financial support of other donors, including Dr. Lucy R. Waletzky and John and Constance Curran.
Joe Chillino, owner of Showcase Contracting, spoke about the renovation work. "We're looking forward to this project and doing our part to help Kathryn Davis realize her vision for this unique building and community treasure. My father was the master restorationist for the National Trust for Historic Preservation at Lyndhurst in Tarrytown, and we have worked for 35 years in the region, bringing our artisan traditions to vintage buildings."
In addition to her support of the bathhouse renovation, Mrs. Davis also pledged through the Kathryn W. Davis Foundation and the Shelby Cullom Davis Charitable Foundation $1 million to help create a park in her hometown of Tarrytown. Scenic Hudson contributed an additional $1 million while Westchester County, the Village of Tarrytown, developer National REsources, and New York State contributed funds to the Tarrytown project.
The Davis pledge also will support Scenic Hudson's top organizational goal of preserving land along the Hudson as part of its long-term plan to save 65,000 acres that meet the state's highest standards for ecological, scenic and agricultural values. During its 46-year history, Scenic Hudson has preserved 25,000 acres and created 40 parks and preserves along the Hudson.
During his remarks Mr. Sullivan highlighted the economic stimulus provided by park creation and renovation. He cited a 2008 Hudson Valley Economic Development Corporation survey of 2,000 corporate executives and site-selection professionals nationwide that found the valley's unique quality of life is a leading selling point. Also, words most associated with the valley were scenic beauty and nature. Further, tourism spending in the 10-county region is $4.7 billion annually. In Westchester County alone, annual tourism spending is $1.6 billion, and the industry is responsible for more than 22,800 jobs and generates $102.2 million in local taxes.
###