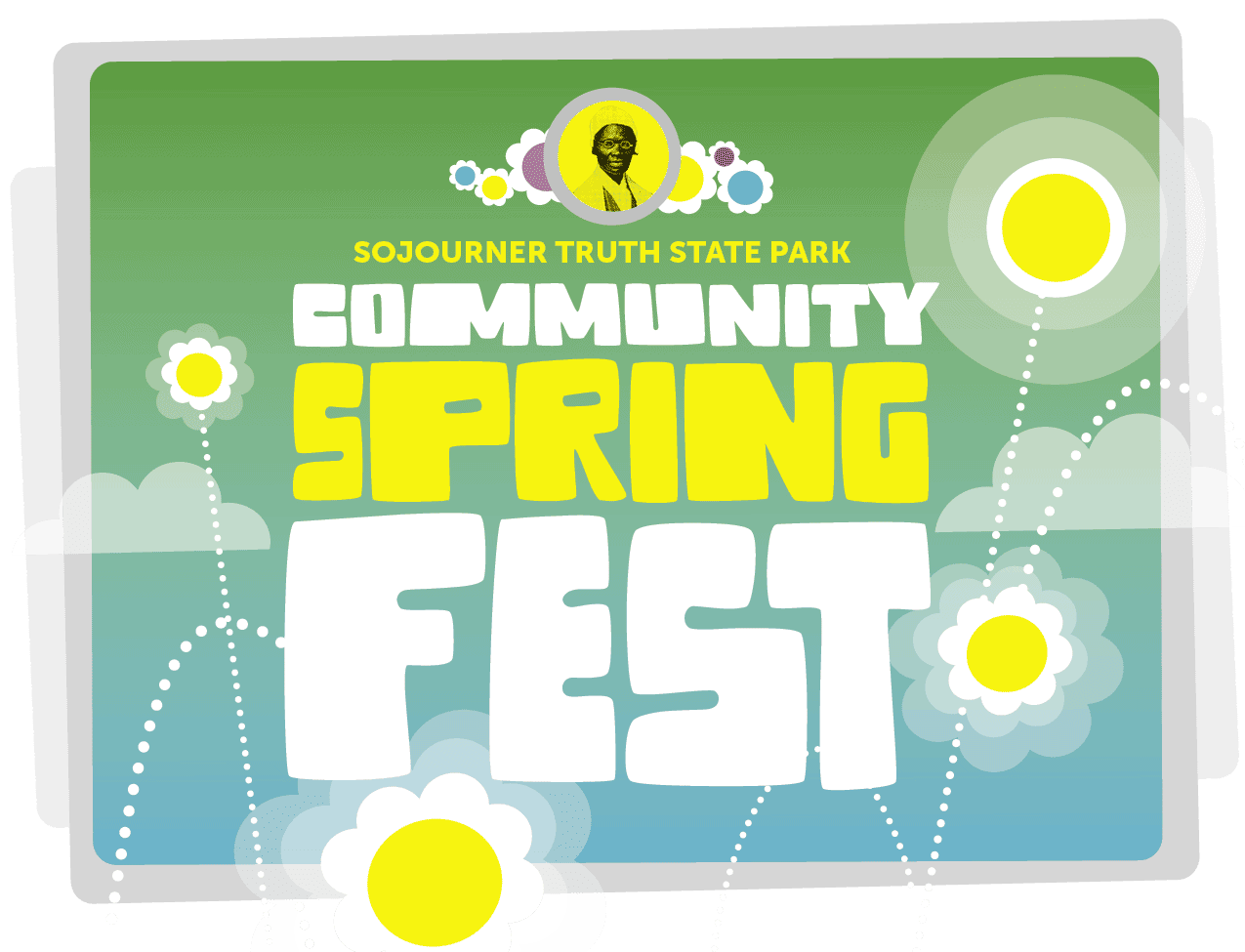 Join the community in celebrating Spring at Sojourner Truth State Park.
Enjoy local food vendors, art, activities, live music, DJs, dancing, and more!
WHEN:
Saturday, May 6
Noon – 4 p.m.
WHERE:
Sojourner Truth State Park
100 Sojourner Truth Way, Kingston, NY 12401
Directions: Take NY Route 32 in Kingston and turn onto Main Street in East Kingston. Follow Main Street for approx. 1.5 miles to the park entrance.
JOIN A GUIDED BIKE RIDE TO THE EVENT
Meet at 11:15 a.m. at the Kingston YMCA. Please wear a helmet.
FREE SHUTTLES
To and from YMCA main parking lot
To and from Friends of Historic Kingston (63 Main Street)
To and from Kingston Area Library (55 Franklin Street)
Shuttles will run in continuous loops for the duration of the event with pick-ups beginning at 11:45 a.m. The last departure from the park will be at 4:15 p.m.
In partnership with:
City of Kingston, D.R.A.W. Kingston, Harambee, INTO Yellow, Kingston Clean Sweep, Kingston Happenings, Kingston Land Trust, Kingston YMCA, MASS Design, MyKingstonKids, Radio Kingston, Scenic Hudson, Ulster County Area Transit, Ulster County Chamber, and Ulster County Library Association.
ENTERTAINMENT SCHEDULE (MAIN STAGE)
12:00 pm Key of Q (A Cappella Choir)
12:15 pm Blessing of the Land (with Evelyn Clarke)
12:30 pm Banned Jezebel (live music)
1:15 pm MyKingstonKids Dance Party
1:30 pm Moonlight Initiative (live music)
2:15 pm MyKingstonKids Dance Party
2:30 pm Lara Hope (live music)
3:30 pm Primal Disco Dance Party (with DJ Michael V.)

ACTIVITIES (Art, Education, & More)(COMMUNITY TERRACE unless otherwise noted)
Children's Storytime with Ulster County Library Association (Entrance to Steep Rocks Trail at 1 pm, 2 pm & 3 pm)
INTO Yellow Projects with D.R.A.W. Kingston
Kids crafts & games with MyKingstonKids
Sojourn with Us: Guided park tour with MASS Design (Meet at Info Hub at 12:30 pm)
Sojourner Truth pop-up trail
Food Vendors (see Vendor list)
Live Music (see Entertainment Schedule)

VENDORS
Benny's Tropical Ice
El Danzante
Hersh's Hot Dogs
Keegan Ales
Masa Midtown
Mi Bocaito
Mr. Ding-A-Ling Ice Cream
PAKT
Ram from Ram's Valley
Santorini
Seasoned Delicious Foods
Spanish interpretation and bilingual assistance will be provided.

#STStatePark
#SpringFestHV
@ScenicHudson

Take a peek at last year's celebration!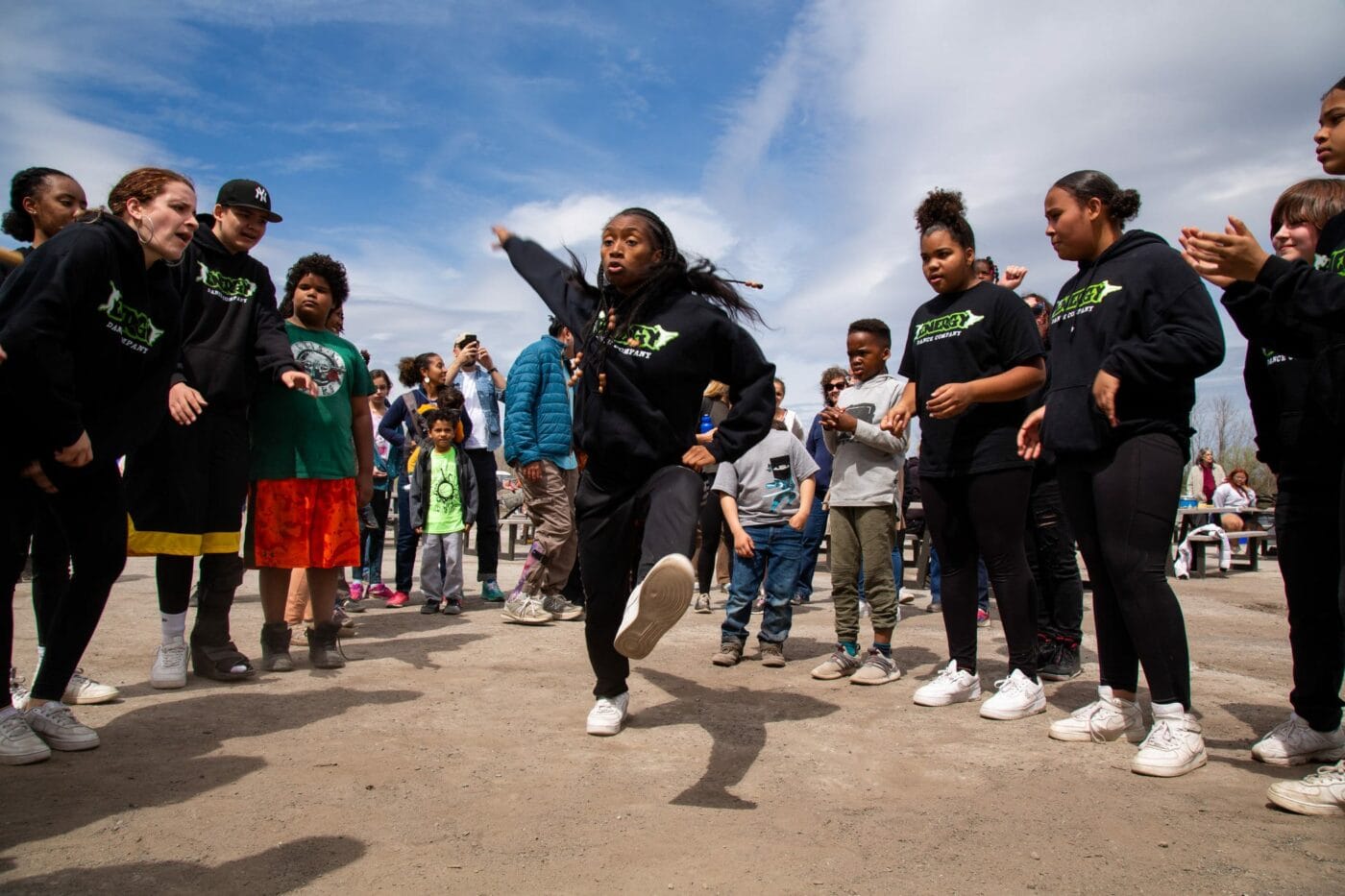 About the Park

Scenic Hudson, New York State Parks, and Palisades Interstate Park Commission (PIPC) have worked together to create a new State Park on 500+ acres of former industrial property along the Hudson River shoreline in Ulster County. This is the first State Park in the City of Kingston and Town of Ulster.

Photo: Robert Rodriguez, Jr.

Exciting park features include:

over 1 mile of Hudson River shoreline;

river overlooks affording breathtaking vistas;

over 17 unique habitats (including woods, wetlands, and a dramatic cliff and ridgeline);

historic remnants of the brickmaking and ice harvesting industries; and quarried canyons; and

a new trail to Steep Rocks — past a stunning quarried lake and leads to a canyon sweeping view.

The park hosts a key segment of the Kingston Greenline, connecting Kingston Point Beach with East Kingston. It's also one of the few places where the 750-mile Empire State Trail connects directly with the Hudson River.
History of the Land

500+ acres of history and natural beauty

Photo: Robert Rodriguez, Jr. / Courtesy of ScenicHudson.org

The site of Sojourner Truth State Park encapsulates much of the Hudson Valley's history — geological, cultural, and industrial. For approximately 3,000 years, this land was hunted and farmed by Indigenous people known as the Esopus.

Dutch colonists first entered the Kingston area in the early 1600s, building a trading post along the Mahicannituck, today known as the Hudson River. Ongoing conflict between the Indigenous people and the colonists led to the two "Esopus Wars," which ended with the Esopus being forced westward and northward.

By 1803, this land — previously set aside for shared use by residents and known as the "Kingston Commons" — was divided and parceled out for agricultural purposes to private landowners. By the mid-to-late nineteenth century, the farmland here had been converted to industrial complexes. Through the twentieth century, workers mined limestone and clay and turned them into bricks and cement that were shipped across the region, but primarily to New York City. During the winter, laborers "quarried" ice from the Hudson River. When the last industrial operation closed, ecological succession began to return the land to a more natural state. Today, its important habitats — from forest to wetlands — are home to many plants and animals.

In 2002, a pair of major developments was proposed for the land that would have resulted in over 2,500 units of housing and 250,000 square feet of commercial space. Public concerns about the project's scale included visual impacts from the Hudson River and popular riverfront destinations on its eastern bank, and lack of public access. To address these, Scenic Hudson and the grassroots Friends of the Kingston Waterfront commissioned an alternative plan that resulted in a redesign reducing the number of housing to 1,600 units and creating a public esplanade along the river. In 2019, Scenic Hudson acquired 500 acres of the land from the primary developer, with the intention of creating a public park encompassing the extraordinary natural features throughout the site.

The first public amenity created was the Hudson River Brickyard Trail, completed by the City of Kingston and opened to the public in January 2021. In addition to being part of the Kingston Greenline, a system of trails, linear parks, and complete streets facilitating non-motorized transit throughout the city, the trail is a designated section of the 750-mile Empire State Trail stretching from Manhattan to Buffalo and the Canadian border. It is one of the few places along this trail where travelers can directly connect with the Hudson River.
About Sojourner Truth

A pioneer in securing justice and equality for all

Sojourner Truth was enslaved for the first 29 years of her life — until she literally walked to freedom. Named Isabella at her birth in 1797, she was one of 12 children of James and Isabella Baumfree enslaved by Col. Johannes Hardenbergh in Rifton, Ulster County. All of the children would be sold away from their parents and each other.

By age 13, Isabella had been sold three times and enslaved by four different Ulster County families. Her rough childhood left physical and emotional scars she kept throughout her life. In 1826 John Dumont rescinded his promise to free her, so Isabella escaped. She walked 11.5 miles with her infant daughter Sophia — leaving three other children behind — to secure her freedom. "I did not run off, for I thought that wicked, but I walked away by daylight, believing that to be all right," she later said.

Isabella had barely begun to get used to her new life as a free person when she learned that Peter, her youngest son, had been sold illegally over state lines. The case she fought to gain his return from Alabama was one of the first in which a Black woman successfully challenged a white man in a U.S. court.

Isabella eventually felt a calling to speak out about the injustices she saw. Inspired to legally change her name to Sojourner Truth in 1843, she went on to travel and spread her message of freedom. She continued to speak passionately on the subjects of women's rights, universal suffrage, and prison reform until old age. She died in Michigan on November 26, 1883.

Today, Sojourner Truth is remembered as one of the foremost leaders of the abolition movement and an early advocate of women's rights. She is perhaps best known for her 1851 speech "Ain't I a Woman" and her advocacy for reparations for enslaved African Americans. A bust installed in the U.S. Capitol in 2009 recognizes Sojourner Truth's invaluable contributions to securing equality and justice for all. At Shaupeneak Ridge Preserve in Esopus, on land Truth likely passed during her walk to freedom, Scenic Hudson also has created a trail honoring her life and legacy.
SOJOURNER TRUTH STATE PARK PARTNERS