Scenic Hudson creates parks to connect people to the Hudson Valley's world-class natural splendor, its astonishing wildlife and storied past. We hope visitors to these special places develop a better understanding of this beautiful and historic region.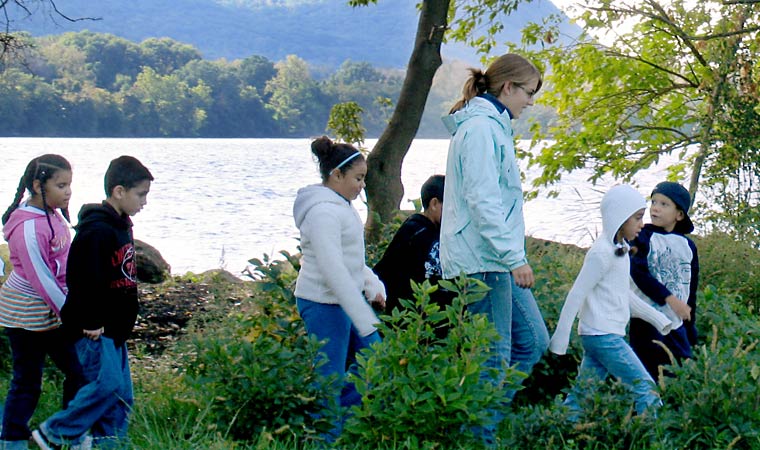 CONNECTING, TEACHING & INSPIRING STEWARDS OF THE HUDSON VALLEY
All of Scenic Hudson's
Parks & Preserves
provide ideal "outdoor classrooms" for families, school and community groups to learn about the valley's natural resources, how they've shaped the region's culture and the importance of protecting them. By exploring our parks' waterfronts, wetlands, vernal pools and other features, students of all ages gain greater knowledge of and appreciation for these irreplaceable treasures and the vital roles they play in sustaining the lives of humans and wildlife.
Self Guided Trips
Our parks are great places to make discoveries at your own pace. Whether you're a teacher with a class studying the environment, a parent eager to explore nature with your children, or you want to spend an afternoon outdoors with visiting friends, we offer resources to enhance your visit. Download
Nature Notes
to bring with you on your next visit to select Scenic Hudson parks.
We've also created activity guides to facilitate learning. Our informative booklet on
Climate Change
is geared for students in grades 6-8, while our
Activity Book
is great for children of any age. They provide ideal ways to keep youngsters' minds engaged during the summer or weekends.
For College Students
Our parks and preserves provide outstanding outdoor laboratories for investigation and research in environmental science, geology, history and outdoor recreation, as well as outstanding locations for art classes to engage in plein air painting, drawing and photography.
Scenic Hudson Field Trips
Our professional staff will tailor the field trip to meet the ages and interests of your group-- K-12 (including homeschoolers) and college classes; afterschool clubs; and scouting, senior citizen and other community groups. Depending on group size and interest, we try to combine education with a volunteer activity. Potential field trip topics include macroinvertebrates, seasonal changes, wildlife habitats, identifying native and invasive plants, water-quality testing and the river as part of a community.
The natural beauty of our parks and the magnificent views they afford also make them excellent places for art classes or groups to seek inspiration-- for painting and drawing, poetry and photography. We'd be happy to suggest suitable locations and lead group art projects.
To inquire about arranging a Scenic Hudson-led program in one of our parks, contact Education Outreach Coordinator
Kate Phipps
.
Volunteering
Volunteering
is also a great way to get involved and learn more about Hudson Valley ecology and park maintainance. Our Learn and Serve program teaches how to identify invasive plants and properly remove them. It's perfect for school or community groups and is geared to increase knowledge of natural resources, ecological concepts and environmental issues.
Scenic Hudson volunteers also can engage in hands-on research-- documenting important data that may help biologists make new discoveries and save vulnerable species-- through our Citizen Science initiatives. These include participation in NYSDEC's Eel and Herring Monitoring and our new Woodland Pool Monitoring.
Tell Us Your Stories
Talk to us! We want to know what discoveries you're making in our parks. Whether it's an exciting animal sighting or a calming walk, we love to hear how our parks help you to get in touch with the Hudson Valley's natural treasures.
Contact Information
For educational resources and information on using Scenic Hudson parks for educational purposes, contact Education and Outreach Coordinator Kate Phipps
For volunteer programs and other park stewardship opportunities, contact Parks Event and Volunteer Coordinator Anthony Coneski
For presentations to community groups, contact Communications Director, Riley Johndonnell