Safeguarding and enhancing the environment for all New Yorkers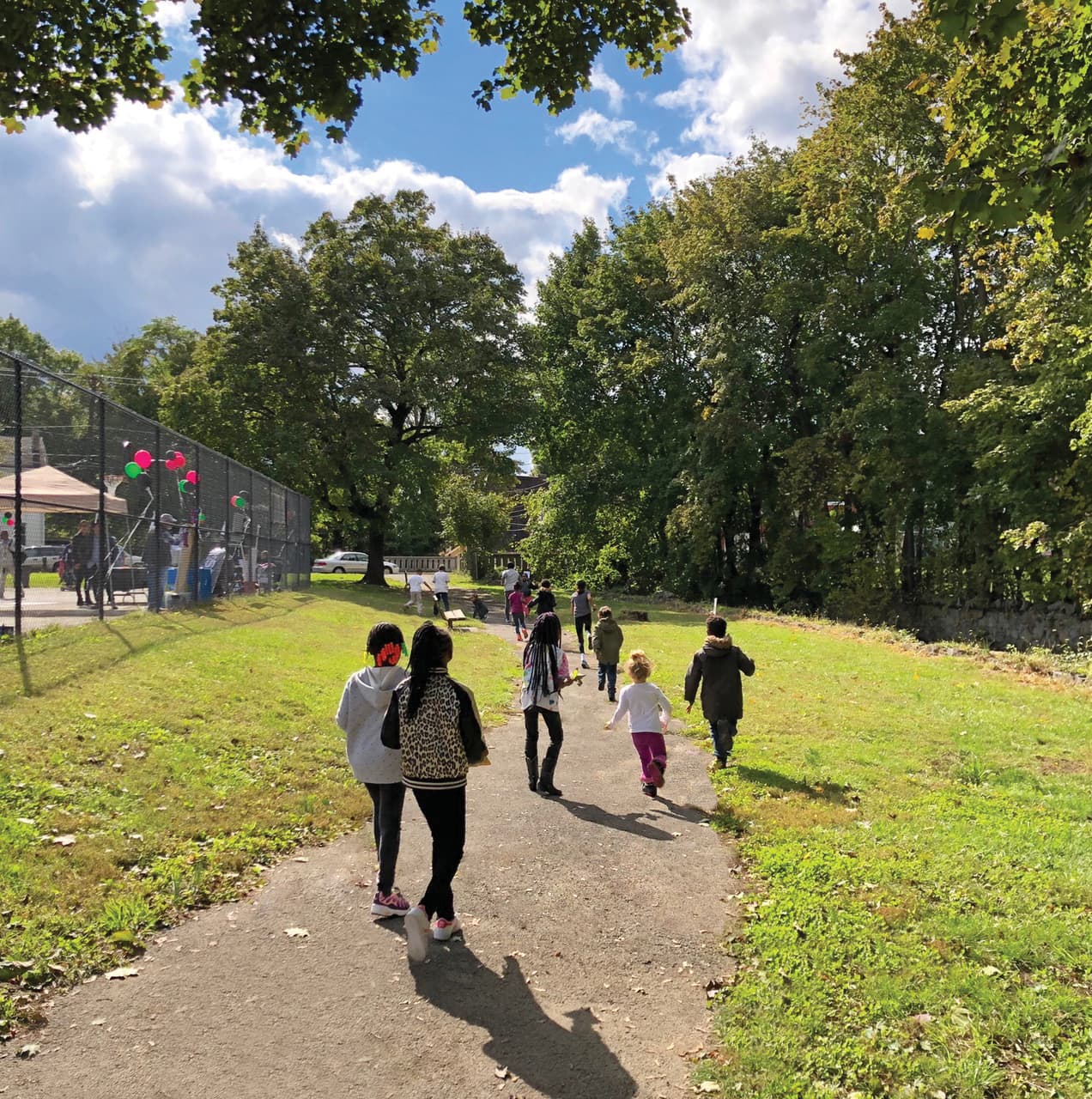 What's at stake?
A clean, healthy environment is paramount to quality of life in New York. Clean water for drinking, swimming, fishing, and boating. Healthy soils on thriving family farms to provide delicious, local food. Community support to prevent flooding, and revitalize waterfronts. Well-maintained parks for local jobs, outdoor recreation, and wildlife habitat.
The Environmental Protection Fund (EPF) is the state's only dedicated capital investment program for over 100 environmental projects and initiatives in every village, town, and city in the state. For too long, the demand for these programs has far outpaced available funding. The 2022 New York State Budget is an opportunity to fix this funding gap and help every New York community prepare for our new climate reality and preserve the natural resources we all depend on.
SCENIC HUDSON'S 2022 EPF PRIORITIES
1. A $26 million grant program for Parks, Preservation, and Heritage
Municipal parks have a vital role to play in promoting environmental justice by assuring everyone benefits from connecting with nature.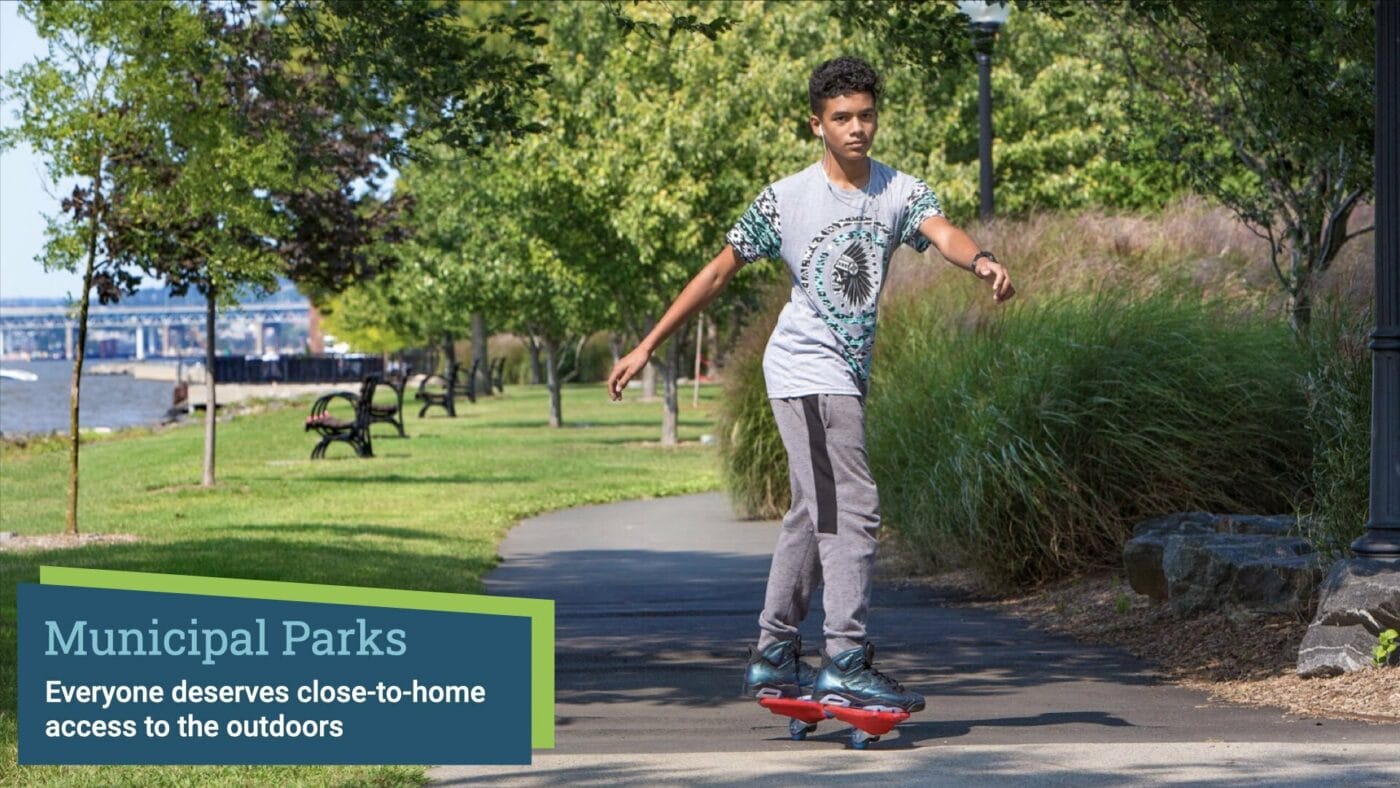 In 2020, 53% of Americans six and over participated in outdoor recreation — an all-time high — but participation by Black community members stagnated and increased only slightly for Latinx community members.

People living in communities of color like Newburgh and Poughkeepsie are three times more likely to live in nature-deprived areas, while 70% of low-income communities are nature-deprived.

The Parks Program's matching grants are oversubscribed — the total amount of annual applications has met or exceeded $90 million annually, but the total amount awarded yearly averages just a tenth of that demand.

NY's park system generates 9,000 jobs and supports $485 million in additional state GDP.

Local park and recreation agencies generated more than $166 billion in economic activity and supported more than 1.1 million jobs in 2017
2. A $8.5 million Hudson River Estuary Program
The Hudson River Estuary Program helps communities adapt to climate change through flood mitigation and wetland restoration projects, maintains clean and safe drinking water, and addresses the growing demand for green space and water-based recreation.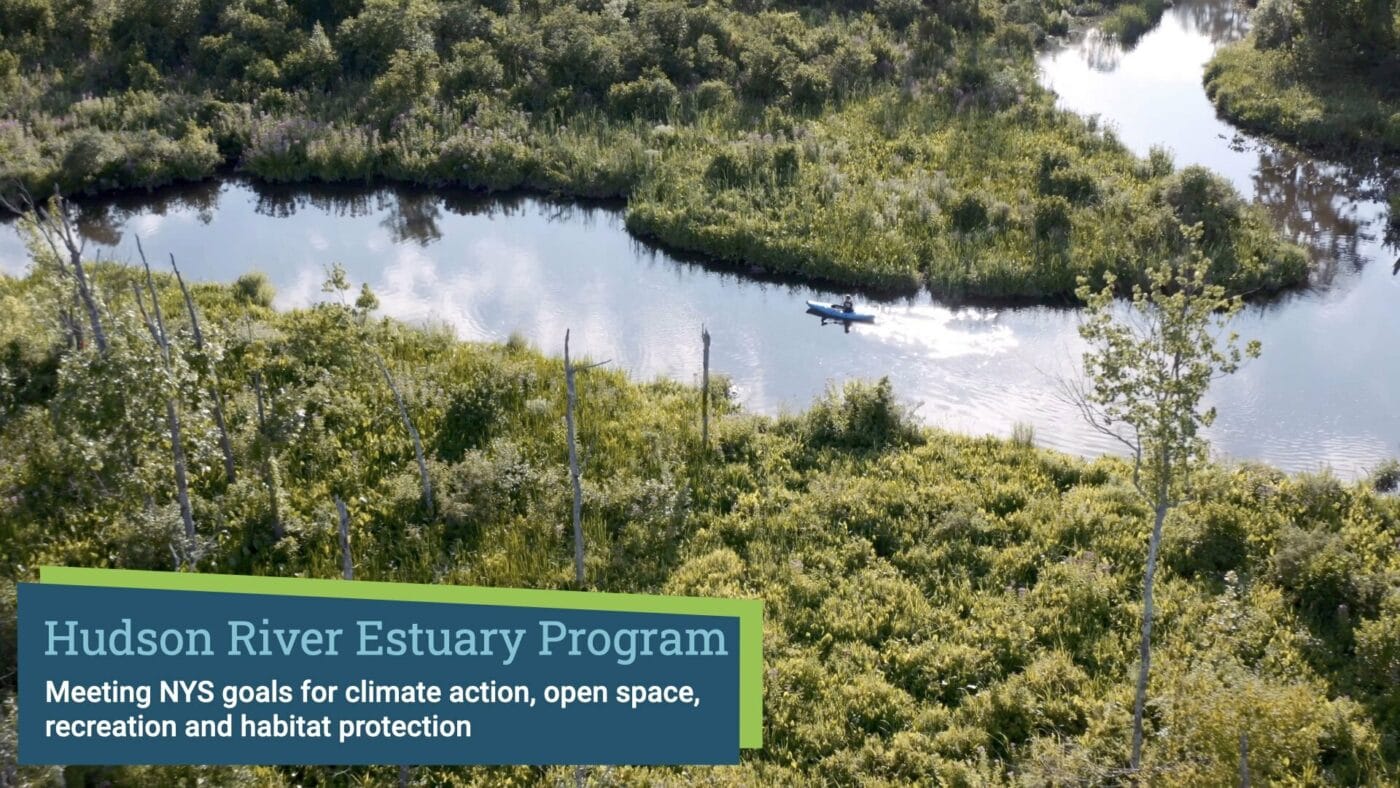 In recent years the program has:
Provided science-based training on climate change, flood mitigation, and other issues to 7,000 municipal officials, agency staff, and conservation groups.
Invested in local watershed protection efforts to safeguard drinking water supplies on which 2.2 million people depend.
Awarded 500 grants and partnered with over 500 nonprofit and regional partners to connect dozens of communities—especially environmental justice communities—to the river.
Engaged with environmental justice communities along the shoreline to clean up contaminated areas such as brownfields.
Prepared the state to to receive federal watershed protection and infrastructure funding through new legislation being considered by Congress.
Facilitated efforts by 23 municipalities across 7 counties to begin planning to protect source water assets in their communities, and supported the development of assessments and plans for 11 watersheds.
3. $17.5 million for the Climate Resilient Farming Program and a $15 million appropriation for Soil and Water Conservation Districts
Investing in climate resilient agriculture presents a win-win for the planet and securing a healthier future for all New Yorkers.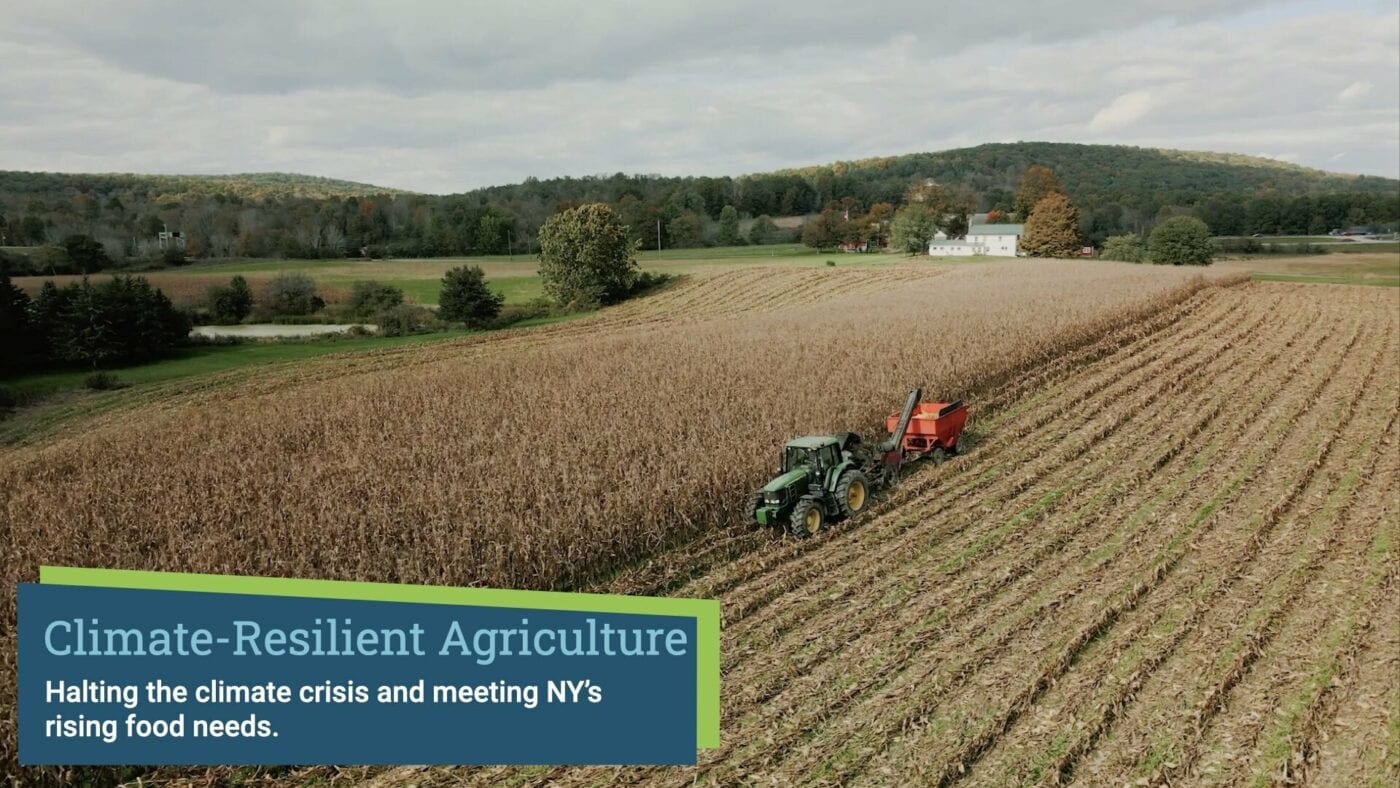 At today's rate of soil degradation, some scientists predict the world's topsoil could be destroyed within 60 years.
Nearly 2.2 million New York State residents (11.1%) and 1.1 million New York City residents (12.9 percent) are food insecure.
The potential exists for New York's farms to be net-negative carbon emitters, critical for meeting the state's ambitious climate goals.
Climate resilient agriculture offers farmers significant economic benefits, including mitigated loss of nutrients and topsoil, increased productivity, and resilience to floods and other extreme weather events.
NY's local Soil and Water Conservation Districts provide some of the strongest educational and technical support in the nation to farmers on the front lines of a changing climate.
4. $40 million Open Space/Land Conservation and $25 million for Farmland Protection
In addition to promoting residents' well-being, protected lands help fuel two of the state's most powerful economic engines — tourism and outdoor recreation.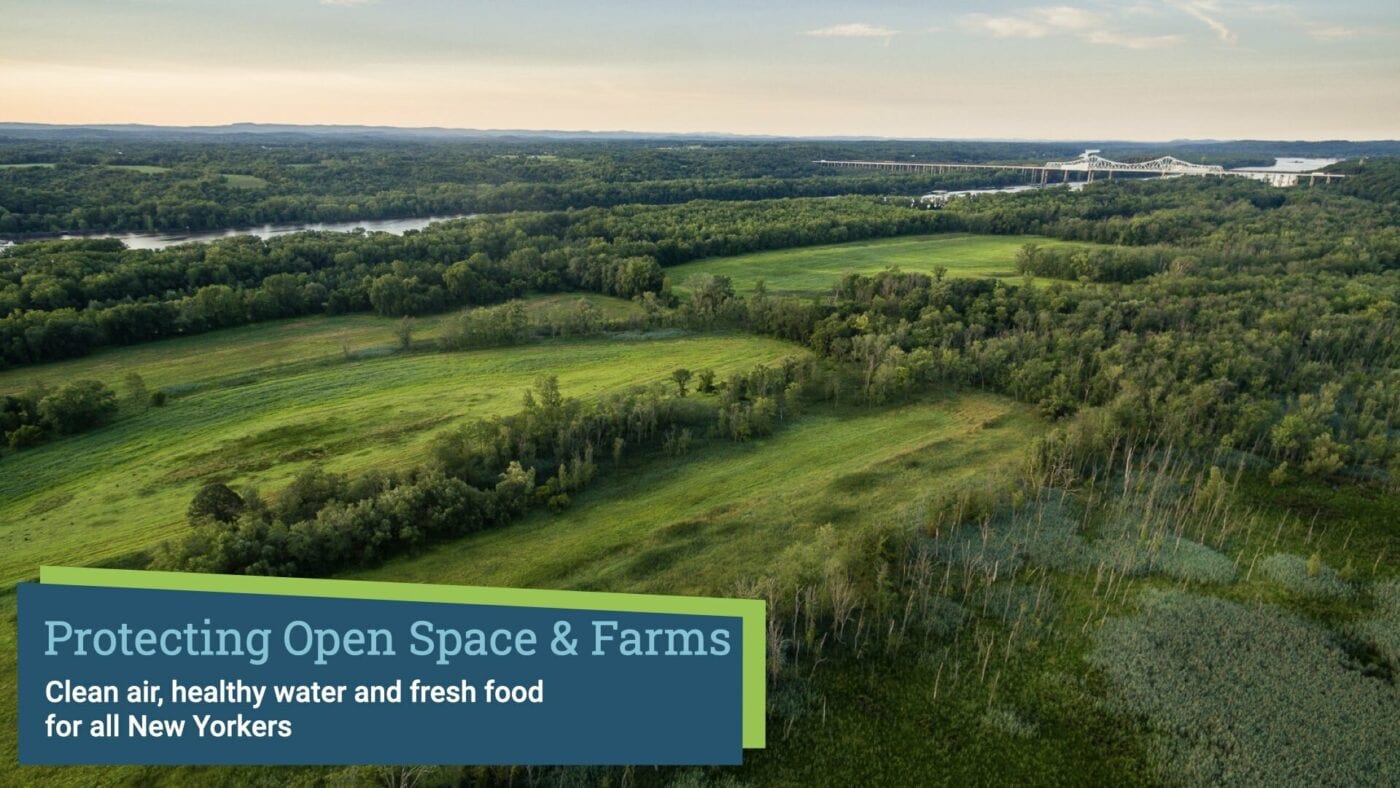 52% of NY's 19.75 million residents participate in outdoor recreation each year, generating an average of $3.5 billion in direct local spending and $11.3 billion in retail sales/services.
The total market value of the agricultural product from Hudson Valley farms is estimated to be over $651 billion.
New York City has an estimated $866 million or more of unmet demand annually for regionally produced food, and Hudson Valley farms.
Over the last 25 years, the state has lost almost half a million acres of farmland to subdivisions, strip malls and scattered development, threatening food security and local economies
Tourism employment outpaces NY's overall labor market, growing 17.8% since 2010.
There are an estimated 2.4 million acres of wetlands in NYS that can reduce flooding and pollution, and 18.6 million acres of forest in NYS that store carbon and support pollinators.
Open space contributes over $3.46 billion in annual cost savings by providing key ecosystem services — protecting air and water, supporting pollinators and habitat, etc.
Ecosystem benefits of open space in the mid-Hudson region are valued at $3.5 billion, yet two-thirds of these lands are not protected
NY's forestry industry employs 60,000 people and generates $9 billion annually.