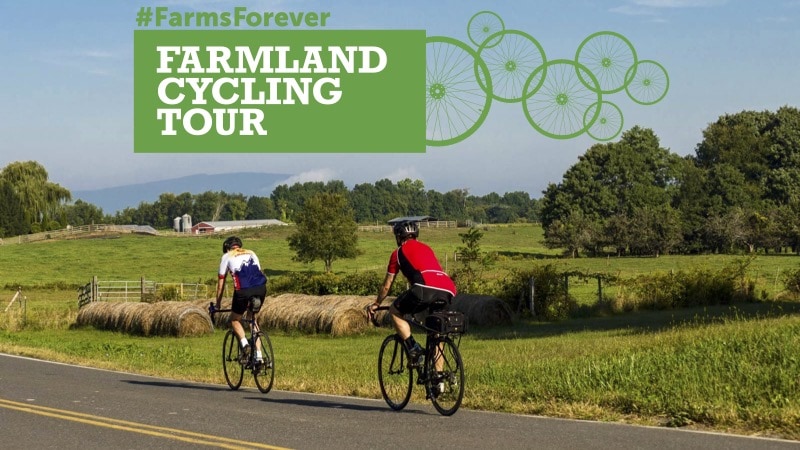 Fall is a favorite time of year in the Hudson Valley—cooler weather, colorful leaves, local farm stands overflowing with apples and pumpkins… and ideal conditions for bike riding! Scenic Hudson's annual Farmland Cycling Tour brings hundreds of riders together to celebrate family farms that provide fresh, healthy food.
Due to the ongoing health crisis, the 2021 Farmland Cycling Tour will once again be a self-guided, virtual event. This year's tour features something new. Your participation will help support the YMCA of Kingston and Ulster County's Lend-a-Wheel bicycle recycling program!
Here's how it works:
Use the free Ride with GPS app to follow turn-by-turn directions guiding you through the tour's classic 25- and 45-mile routes in Dutchess and Columbia counties. Along the way, be sure to appreciate the magnificent fields and orchards that Scenic Hudson has partnered with farm families to protect.
For each rider who registers to complete a route between now and Oct. 31, Scenic Hudson will make a donation to help Lend-a-Wheel purchase parts and equipment to rehabilitate donated bicycles and give them to people who wouldn't otherwise have access to one.
Scenic Hudson is pleased to be partnering with this important program. A bike from Lend-a-Wheel can make a real difference in people's lives. For some, it provides a way of getting around — to jobs, shops, and schools — where other transportation options are unaffordable on unavailable. For others, a bike offers healthy, no-cost recreation.
Please sign up today and urge your friends to sign up, too. Together, we can show our support for valley farmers and help provide free bicycles to people who need them.
To access links to the GPS files, please register and accept the waiver below. Scenic Hudson will make a donation to Lend-a-Wheel on behalf of each person who registers. (If you would like to make an additional donation to the program, email tpolk@ymcaulster.com.)