Since 1992, Scenic Hudson has protected more than 16,000 acres of farmland on more than 100 family farms in communities throughout Columbia, Dutchess, Orange, Ulster and Rensselaer counties.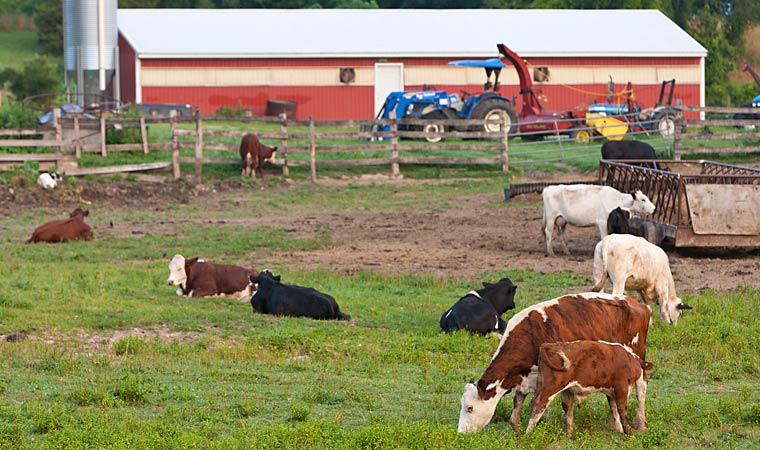 photo: Robert Rodriguez, Jr.
Hudson Valley Farms Provide Many Important Benefits
Our farms supply us with fresh, wholesome produce that doesn't have to be trucked or flown into the region from hundreds or thousands of miles away. Our farms maintain our scenic working landscapes, rural heritage and quality of life, all of which drive a multibillion-dollar tourism industry and help fuel smart economic growth. Our farms guard wildlife habitat and environmentally sensitive areas such as meadows, woodlands, wetlands and streams. They also protect local aquifers -- the source of many communities' drinking water -- and keep a lid on local property taxes by requiring just 37 cents in municipal services for each $1 of taxes they pay.
Protecting Farms and Farming
Scenic Hudson's unique "critical mass" approach to farmland protection does more than protect landscapes. By focusing our efforts on carefully defined regional farm "corridors," Scenic Hudson works to make sure that small-scale farming remains economically viable for the farmers. By working with partners to conserve a cluster of farms in a community or region, we also support the larger agricultural community. Vital farm support services -- feed stores, tractor dealers, large animal veterinarians, etc. -- remain economically viable as well.
In 2013, Scenic Hudson performed a comprehensive study outlining bold plans for protecting farms and the region's food supply. Securing Fresh, Local Food for New York City and the Hudson Valley: A Foodshed Conservation Plan for the Region outlines a strategic approach to conserving the agricultural land that supplies fresh, local food to the people of the Hudson Valley and New York City.
Scenic Hudson has assembled a collection of online resources that can help farmers and farm owners with land stewardship and farm operations.
Two Decades of Farmland Protection
See this timeline for a detailed rundown of Scenic Hudson's longstanding efforts to keep the Hudson Valley's working landscapes working.
Conserve Your Land
If you own a Hudson Valley farm, protect it from development. A good estate plan, possibly employing a conservation easement, will ensure that your land is available for farming even after you retire. Contact Assistant Land Conservation Director Cari Watkins-Bates, (845) 473-4440, ext. 268.