The Black Creek corridor is a unique landscape that needs to be highlighted and protected. The low level of development in the corridor allows for a nearly continuous forest from Illinois Mountain to the Hudson River, offering a wide variety of topography and habitat within a relatively urbanized region. These features not only create a beautiful landscape that inspired one of America's great nature writers, but also support tremendous local biodiversity and long-term climate resilience.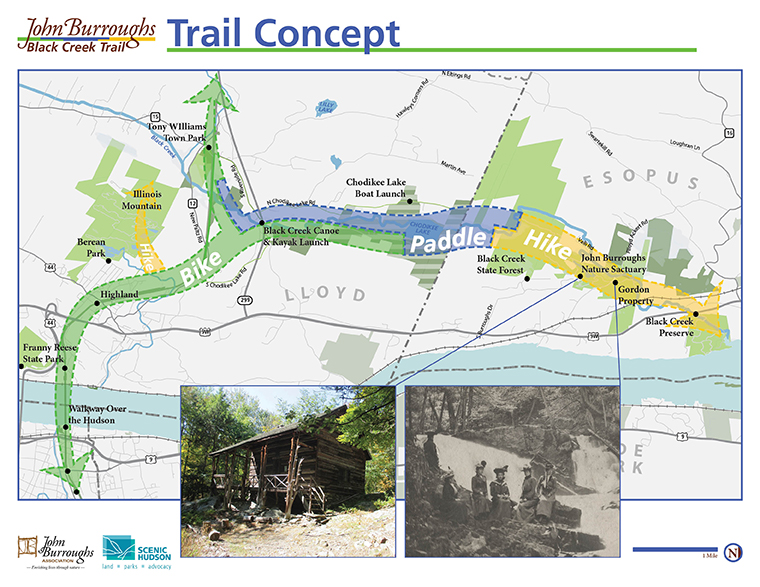 Project Goals: Balancing Conservation and Growth
As we move forward with creating a trail through this landscape that highlights the life and legacy of John Burroughs, it is important to strike a balance between:
creating a regional recreation destination
protecting the sensitive local ecology
promoting economic development within the Towns of Esopus and Lloyd
1| Create a Continuous Multimodal Trail
The primary goal of the project is to create a continuous multimodal trail through the Black Creek Corridor. The trail will make use of the high concentration of existing conserved properties and public right of ways. A combination of bicycle, paddling and hiking trails will physically and thematically connect conserved lands into a unified regional conservation and recreation corridor centered on the legacy of John Burroughs.
The cornerstone of this trail will be John Burroughs cabin, Slabsides (a National Historic Landmark), offers the unique opportunity to link one of America's great nature writers to the landscape he walked and enjoyed. Burroughs' legacy as one of the original environmental educators comes from the use of his work in public schools across the country, and served as the inspiration for many in the early conservation movement. Combined with his close friendships with influential politicians, conservationists and industrialists, means there is much to draw on to inspire the next generation to care for our natural environment.
2| Protect the Ecological Integrity
The second primary goal of the project is to protect the ecological integrity of the Black Creek corridor. While located in an urbanized region, the Black Creek offers a nearly continuous forested landscape across a variety of terrain. These features allow for a high level of local biodiversity and unique habitats. Furthermore, a study conducted by Scenic Hudson indicates that this area will continue to support broad array of plants and animals as the climate changes and global temperatures rise–further elevating its regional importance for conservation.
Together, the ecology and long-term adaptability of the Black Creek makes it one of the most important areas to conserve in the Hudson River Valley. Design and construction of both the John Burroughs Black Creek Trail and connecting trails within the corridor will be sensitive to these precious resources, helping to preserve them for future generations.
3| Promote Economic Development
Promoting economic development within the Towns of Esopus and Lloyd is central to the project's success. Active recreational trails have been shown to provide positive economic benefits, as they attract local residents, regional tourists and trail supporting businesses. These businesses provide equipment rental, food and accommodations that enliven communities and expand municipal tax bases. Furthermore, the Black Creek corridor lies just 1.5 miles northwest of the Walkway Over the Hudson, and a completed trail would expand the Greater Walkway Experience–a branding, wayfinding and marketing campaign designed to draw Walkway visitors to other destinations in Poughkeepsie and Lloyd.
Progress to Date: An Approved Trail Plan
On April 19th and 26th, 2017, the towns of Lloyd and Esopus, respectively, each unanimously passed a Resolution of Support for the John Burroughs Black Creek Trail Plan. The final draft reflects over a year of public engagement and input from more than 100 community members and 15 stakeholder organizations. Our thanks to the Steering Committee Members for their help in getting us to this stage of the project. The final plan can be downloaded here (digital version) and here (version for printing).
What's Next
Scenic Hudson and the John Burroughs Association are currently kicking off the next stage in the project, which will design an integrated signage and wayfinding system for the trail. We will be reaching out to the community once again when schematic designs are ready for public input.