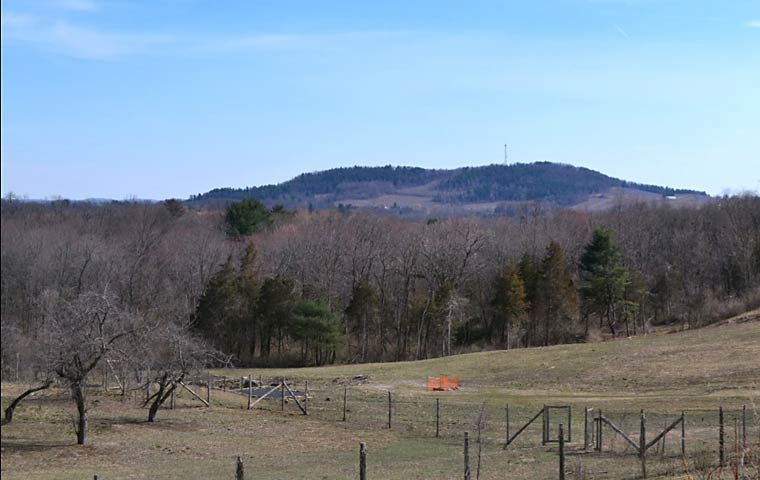 Simulation of wider, more visible lattice communications tower proposed for Blue Hill (Saratoga Associates)
As more and more people rely on mobile devices and emergency services, the demand for reliable wireless telecommunications is stronger than ever. And of course, landowners who lease their property for these uses can receive substantial economic benefits.
But equally important to our quality of life are the region's world-renowned scenic vistas, which make this a beautiful place to live and also attract businesses and tourists. Unfortunately, the valley's scenic ridgelines provide the most desirable places to locate telecommunications towers, many of which loom over bucolic rural landscapes. And sometimes these competing interests come into conflict.
Such is the case on Blue Hill, a majestic ridge visible from Olana State Historic Site, the Columbia County home and landscape designed by renowned Hudson River School painter Frederic Edwin Church. Olana's 130,000 annual visitors support 267 jobs and generate $7.9 million into the local economy. They come not only to see the house and grounds, but to admire Olana's spectacular views, largely unchanged since the 19th century. Twice in the last 40 years, grassroots efforts have turned back massive industrial projects—a nuclear power plant in the 1970s and a cement plant in the 2000s—that stood to mar these views.
Since 2007 a respected farm family who owns Blue Hill's ridgeline has sought to expand its use for wireless communications, first by proposing a new tower on its eastern summit and, most recently, by submitting an application to install a new single, wider and more visible lattice tower where two relatively unobtrusive guy-wire-supported mast towers are currently.
Recognizing the need to provide wireless services—especially emergency broadcast services—while protecting these vistas that support the economy, Scenic Hudson and The Olana Partnership, along with local residents, have been participating in the Town of Livingston's public review process working to achieve an outcome acceptable to all involved. We've reached out to the New York State Historic Preservation Office, the Federal Communications Commission and the landowner to propose ways of balancing communications needs and maintaining the integrity of Olana's historic viewshed.
Nevertheless, the Town of Livingston Planning Board approved the application for the lattice tower on July 3. Scenic Hudson and its partners are still working to ensure the new tower is designed to be as unobtrusive as possible and are hoping to work with the landowner to ensure that no additional towers will be built on Blue Hill in the future.