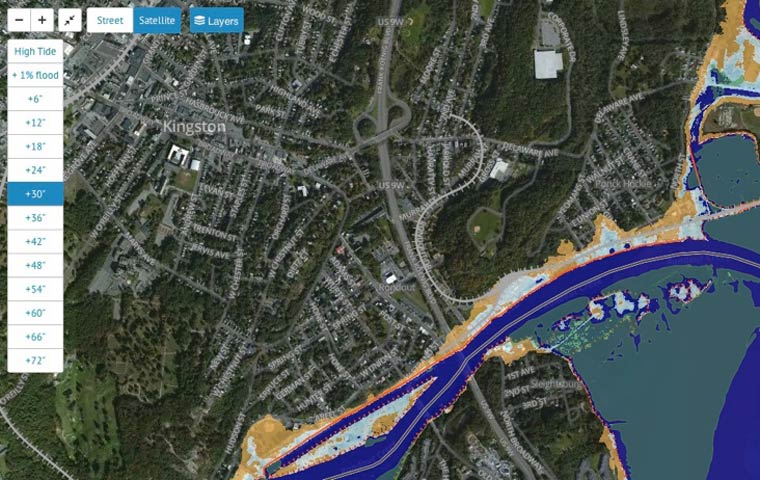 Sea level rise projections for Kingston, New York.
Many communities look to their Hudson Riverfronts as the key to a prosperous economic future. Yet as Hurricane Sandy and tropical storms Irene and Lee demonstrated, these same communities face unprecedented challenges from accelerating sea level rise and the increased frequency of flooding and storm surges from severe weather events. At risk are billions of dollars of critical public infrastructure; thousands of private, commercial and cultural assets; and over 13,000 acres of habitats that provide important ecosystem services to people along the entire Hudson River estuary.
Addressing the impacts of sea level rise and flooding presents communities with a golden, simultaneous opportunity to achieve goals articulated in Scenic Hudson's award-winning publication Revitalizing Hudson Riverfronts. These include connecting people to the river, protecting natural and scenic resources, and promoting good waterfront design.
Scenic Hudson also developed a collaborative public planning process based on Revitalizing Hudson Riverfronts. The first community to engage in this process was the City of Kingston (Ulster County), whose vibrant commercial district along Rondout Creek is prone to flooding and increasing coastal hazards. Local officials, businesses and residents share a keen interest in planning for long-term adaptation strategies that reduce risks to people and nature.
Hence in December 2012 we partnered with the NYS DEC Hudson River Estuary Program, NYS Department of State, the Consensus Building Institute and Catalysis Adaptation Partners and at the invitation of Kingston Mayor Shayne Gallo convened the Kingston Waterfront Flooding Task Force. It's comprised of Kingston Common Council Majority Leader Thomas Hoffay, CAC chair Julie Noble, municipal and emergency management employees, concerned citizens, and leaders in business and non-governmental organizations.
The task force is conducting a public process to:
Identify at-risk community assets, infrastructure and natural resources;
Assess the relative vulnerabilities of each asset;
Develop a cost-benefit analysis to compare adaptation strategies for one or more assets;
Identify adaptation needs, opportunities and strategies for implementation; and
Make recommendations for near-, mid- and long-term actions.
The task force's work is nearing completion. It has succeeded in beginning a conversation between affected property owners, city officials and other government agencies. Working together, they have begun to identify the steps needed to make the waterfront more resilient today as well as reimagine the waterfront in order to reduce future flood risk while enhancing economic opportunity, public access, safety and water quality. As architect and former Hudson River Sloop Clearwater Board President Allan Shope observed "I know how tough it can be to get a meaningful document that represents a consensus of a large group of people, and I think [the team has] done a masterful job of it!"
The task force also examined each stretch of the city's waterfront and considered where shoreline protection may be needed, where natural shorelines and innovative architecture might be combined to create resilient neighborhoods, and where wetlands and high water should be allowed to migrate inland to safeguard the natural resources of the Hudson.
Building upon the success of the Kingston task force—and with support from, among others, the New England Interstate Water Pollution Control Commission and NYS DEC—we're undertaking similar initiatives in two more at-risk waterfront communities: Piermont (Rockland County) and Catskill (Greene County).
As in Kingston, the task forces will begin by facilitating stakeholder-driven dialogues to develop a Waterfront Adaptation Vision—suggestions for reducing risks to infrastructure and property from sea level rise and flooding, enabling economic revitalization, conserving coastal natural resources and expanding public access to the Hudson River. Then each task force will draft a Resiliency Roadmap offering steps their communities can take to achieve this vision.
Piermont and Catskill suffered from the ravages of Irene, Lee and Sandy. And they have several similarities: they lie at the mouths of creeks; have important tidal marshland in immediate proximity; and are home to marinas, restaurants, shops and residences at risk from flooding. Piermont's namesake pier stretches a mile into the Hudson just north of Sparkill Creek. Likewise, Catskill Point juts into the river immediately north of Catskill Creek.
However, these are also very different communities. In Piermont riverfront condominiums, restaurants and shops fill part of the pier. Catskill Point is home to two oil tank farms, marinas, a restaurant, and a museum and public park. Piermont's successful commercial district lies along a narrow floodplain hemmed between the shoreline and steep bluffs. Catskill occupies land that slopes gradually upward along both sides of Catskill Creek.
We hope the outcomes achieved via these locally-driven task forces will reflect Revitalizing Hudson Riverfronts principles by enabling communities to breathe new life into their waterfronts while ensuring that life and property are protected against future flooding and major storms.