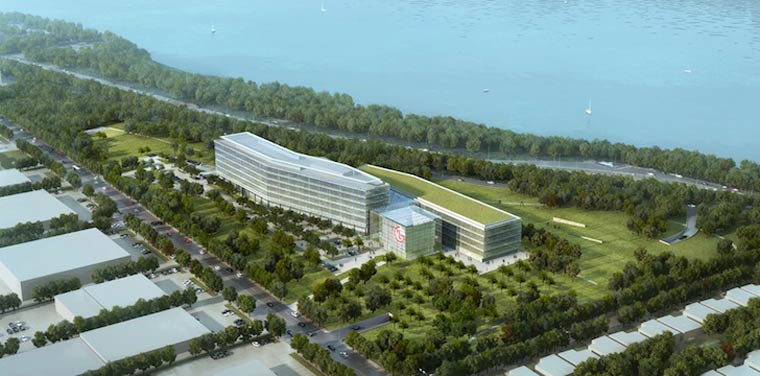 Rendering of proposed 143-foot-tall LG headquarters building in Englewood Cliffs, NJ.
UPDATE: visit this page to send a letter urging L
G to redesign its office plans so that a building does not tower above the Palisades ridgeline and spoil this extraordinary landmark.
On Monday, Jan. 21, The New York Times featured an article about the controversy over LG Electronics' plans to build a 143-foot-tall corporate headquarters in Englewood Cliffs, N.J.—directly across the Hudson from the Cloisters museum in northern Manhattan. As designed, the building would be the first structure in the region to rise above the tree line and mar the green vista of the Palisades.
Scenic Hudson has filed two lawsuits challenging the rezoning of the LG site, which would allow the company to construct a building four times the height previously permitted. Together with other groups including the Natural Resources Defense Council, the New York-New Jersey Trail Conference, the Metropolitan Museum of Art, and the New Jersey State Federation of Women's Clubs, Scenic Hudson is urging LG to reconsider the design and lower the building's height so it doesn't stand out above the Palisades. Environmental lawyer Larry Rockefeller is carrying on the legacy of his grandfather, John D. Rockefeller Jr., by joining Scenic Hudson in the fight to ensure that the integrity of this National Natural Landmark is not ruined by LG's towering corporate headquarters. We would like to see the project proceed in a way that preserves the majesty of the Palisades ridge, which has served such an important historical and cultural role for those of us across the river.
In late January, NJ.com (the online arm of The Star-Ledger and several other New Jersey papers) posted a poll to gauge public opinion about the LG tower project: "Poll: Would a new corporate high-rise spoil the view of the N.J. Palisades?." So far, nearly 70% of respondents are voting in favor of protecting the Palisades.