The Earliest Climate-Friendly Farmers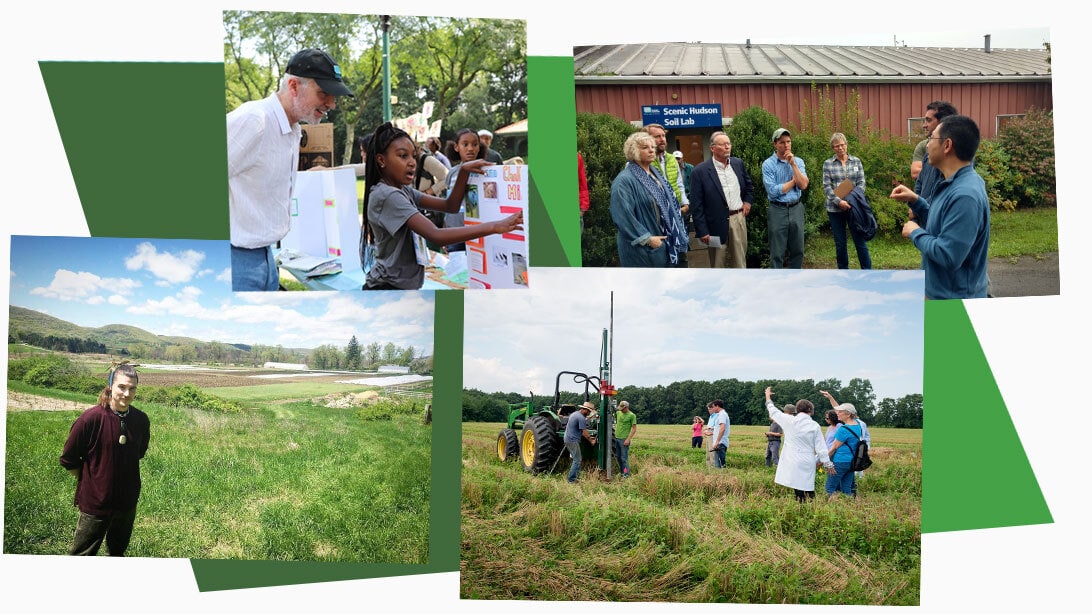 Many exciting developments are taking place in our region to confront the climate crisis by employing natural solutions. They include regenerative farming practices that sequester carbon, reducing greenhouse gas emissions while making the soil healthier and more productive. Research underway at the Scenic Hudson Soil Lab in Columbia County is measuring the effectiveness of regenerative methods and investigating the potential to provide incentives to farmers who adopt them. Other land managers, scientists and public policy experts we convened in the Northeast Carbon Alliance also are making important contributions.
This work could lay the foundation for agriculture's future in the Hudson Valley. But moving forward, it also behooves us to recognize and learn from those who contributed so much to agriculture's past, as a recent article in Civil Eats emphasizes. Its provocative title is "Does Regenerative Agriculture Have a Race Problem?"
Learning from Indigenous people

When most of us think about the roots of regenerative farming in the U.S., we hearken back to European colonists who cut down the forests and drove plows across newly "tamed" fields. In doing so, we dishonor an entire culture: Indigenous people have been relying for thousands of years on no-till farming, natural fertilizers, rotational grazing and other regenerative agricultural methods. As Chris Newman, a Black and Indigenous farmer quoted in the article says, "All of these practices are part of Indigenous land management. And yet they get presented like somebody just figured them out overnight."
The Northeast Carbon Alliance recently welcomed Sachem HawkStorm as a member. Hereditary chief of the Schaghticoke First Nations, whose ancestral homeland extends through the Hudson Valley, he is a fierce advocate for all Indigenous people. Sachem HawkStorm leads the Schaghticoke First Nations Land Reclamation Project, which is relying on traditional Indigenous knowledge to implement sustainable "agro-food-forestry" practices on land it owns in Columbia County. Methods employed will help mitigate the climate crisis, restore soils, enhance productivity — and provide invaluable information to be shared with other farmers.
Reversing the decline in Black farmers
Also overlooked are contributions by Black people. People in Africa have been making innovations to increase soil fertility and productivity for eons. A great example: Farmers in Nigeria and Ghana plant marigolds next to their food crops. The flowers attract ladybugs that eat insect pests. In the Southern United States, pioneering Black agricultural researchers like George Washington Carver used nitrogen-rich peanuts to improve soil health and promoted the use of compost. 
On a parallel track, only recently has action begun to reverse the staggering decline in the number of African American farmers, which has fallen from 925,000 in 1920 to 35,500 today. Karen Washington and Leah Penniman, two honorees of Scenic Hudson's "People Who Make a Difference" campaign, are leading efforts to turn this tide, attributable in part to a wide range of discriminatory policies. So is the Biden administration, which has proposed a novel dual approach — facilitating access to land for Black farmers who adopt regenerative agricultural practices, a win-win for equality and the climate.
Strengthening our commitment
Scenic Hudson also is taking steps to address inequities faced by farmers who are Black, Indigenous or People of Color (BIPOC). Community gardens we are creating in Newburgh and Poughkeepsie are connecting BIPOC and other growers with land. We're strengthening our commitment to keep farmland affordable — the greatest stumbling block to BIPOC farmers — by including terms in transactions ensuring the land can remain affordable to working farmers. Right now, we're exploring new opportunities to support groups focused on increasing farm ownership for Black farmers.
I know we, as an organization and as a nation, have a long way to go. Until we stop ignoring the traditions and experiences of BIPOC farmers, we'll continue denying a vital aspect of our heritage, sustain disenfranchisement that's gone on too long, and fail to connect with people from whom we have so much to learn.
"There's a learning curve that the regenerative movement has to go through that the Indigenous food movement has figured out long ago," says A-dae Romero Briones, director of the Native Agriculture and Food Systems program at the First Nations Development Institute, also quoted in the article. By empowering and shifting leadership to BIPOC farmers, we'll not only fulfill our expressed commitment to contribute to a more just, equitable, inclusive Hudson Valley, but we'll also increase the likelihood that agriculture can help put us ahead of the curve in overcoming this crisis.
Stay safe and stay strong,

Also in the news:
The state board reviewing the Danskammer permit for a natural gas plant has deemed the application "complete," starting a year of review and public comment. The board also has directed resolution of Scenic Hudson's petition to deny the permit based on its failure to demonstrate compliance with the state's climate law.

Title to Kingston's Pine Street African Burial Ground, resting place for dozens of enslaved Africans, has been transferred to the local group Harambee, one of our partners in protecting it.

Listen to my interview on the Beaconites! podcast, where I discuss Scenic Hudson's mission and decades of work to reconnect Beacon with its riverfront and attract more businesses and visitors to its downtown.