Contact:
Jay Burgess
Director of Communications, Scenic Hudson, Inc.
Tel: (845) 473-4440 x222 Cell: (914) 489-0362 Fax: (845) 473-0740
jburgess@scenichudson.org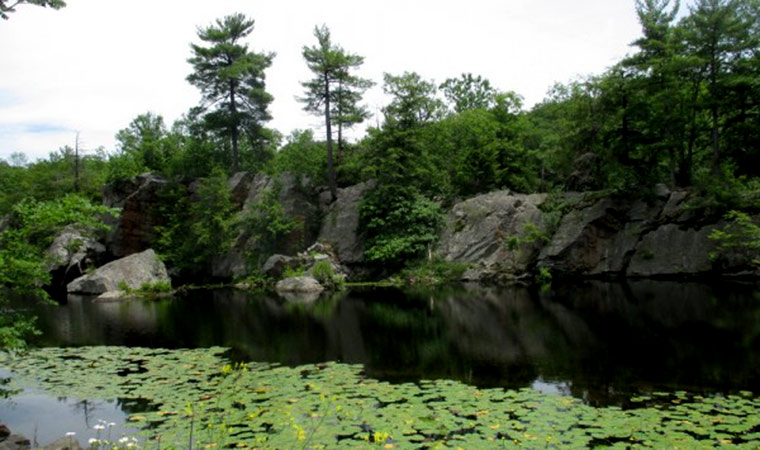 Provides new opportunities for recreation, exploring wildlife at National Historic Landmark site
ESOPUS (Ulster County)—Increasing opportunities for people to enjoy the land that inspired famed naturalist and writer John Burroughs, Scenic Hudson and the John Burroughs Association (JBA) have partnered to secure a critical five-acre inholding that will be added to the John Burroughs Nature Sanctuary in the hamlet of West Park. The transaction reunites the property with other rugged and scenic lands once owned by Burroughs (1837-1921), whose essays about wildlife contributed to the birth of America's conservation movement.
Mr. Burroughs purchased roughly 200 acres of farmland, wetlands and rock outcroppings located a short distance from his home on the Hudson River to serve as a retreat from his increasingly busy life. In Slabsides, the rustic cabin he hand-built on the property in 1895, he wrote many of his essays and entertained notable guests, including Theodore Roosevelt, Thomas Edison, Henry Ford and John Muir. Declared a National Historic Landmark in 1968, Slabsides and the 200 acres of habitats in the surrounding sanctuary help connect visitors to Burroughs' life and legacy.
The JBA, which was created to maintain the land around Slabsides as a nature sanctuary, plans to restore two stone staircases, likely constructed by Burroughs and his son Julian, one of which is located on the recently acquired land. They will be part of a new loop trail that affords an overlook of the sanctuary and out to the western hills.
In addition to major funding provided by Scenic Hudson and additional financial support from the JBA to complete the acquisition, generous support came from Brooks & Brooks, PC, of Highland, which donated its services for a boundary survey of the property, and John Wadlin, who donated his legal services.
"John Burroughs was one of America's most popular nature writers in the early 20th century—he should be a household name—yet few people know who he was and the impact he had on America's conservation movement. Protecting this land in the heart of the John Burroughs Nature Sanctuary is one more important step in bringing his legacy to life for people today," said Scenic Hudson Land Trust Executive Director Steve Rosenberg.
On behalf of the John Burroughs Association, Joan Burroughs said: "We are deeply grateful for the generosity of Scenic Hudson in providing funding that enabled this project to go forward and return these five historic acres to the John Burroughs Nature Sanctuary. This key acquisition will allow the John Burroughs Association to greatly improve the visitor experience at Slabsides and showcase the abundant nature there."
Future trail will enhance Burroughs' legacy, local tourism
This acquisition complements a larger collaborative initiative to foster recognition of Burroughs' importance and connection to the mid-Hudson Valley—while also conserving nature, enhancing recreational opportunities and supporting local tourism economies—by creating the John Burroughs Black Creek Trail. This nine-mile hiking/paddling route will extend from Scenic Hudson's Black Creek Preserve in Esopus through the John Burroughs Nature Sanctuary and Black Creek State Forest to Illinois Mountain in Lloyd. In addition to linking to the Hudson Valley Rail Trail, which leads to Walkway Over the Hudson State Historic Park and the Dutchess Rail Trail, the new trail will expand recreational options for users of Gov. Cuomo's planned Empire State Trail.
Stakeholders engaged in creating the John Burroughs Black Creek Trail include Scenic Hudson, John Burroughs Association, New York State Department of Environmental Conservation, local business groups, and the towns of Esopus and Lloyd. An ecological survey currently is underway to help determine the best route for the trail.
About the John Burroughs Association
The John Burroughs Association, founded in 1921, seeks to increase engagement in nature by bringing to life the legacy, writing and natural world of renowned literary naturalist John Burroughs. The Association makes his historic property and surrounding Nature Sanctuary available to the public and recognizes distinguished nature writing through annual national literary awards. It preserves and interprets the National Historic Landmark "Slabsides," his iconic 1895 rustic cabin retreat in West Park, N.Y., and offers education programs and field trips. The awards include the prestigious John Burroughs Medal for distinguished natural history writing in book form, the Nature Essay Award and the Riverby Award for natural history books for young readers.
About Scenic Hudson
Scenic Hudson helps citizens and communities preserve land and farms and create parks where people experience the outdoors and enjoy the Hudson River. We also bring together people, businesses and government to protect the river and natural resources that are the engines of the valley's local economies. Started in 1963 by a handful of citizens who cherished the simple pleasures of the outdoors along the Hudson, Scenic Hudson is credited with launching the modern grass-roots environmental movement. Today, in the face of new challenges and the effects of climate change, we are dedicated to making the Hudson Valley a great place to live, work and play. Our focus is on strengthening and maximizing benefits all can enjoy from the region's great assets—beautiful open spaces, working farms, and vibrant cities and town centers.
###