Contact:
Jay Burgess
Director of Communications, Scenic Hudson, Inc.
Tel: (845) 473-4440 x222 Cell: (914) 489-0362 Fax: (845) 473-0740
jburgess@scenichudson.org
TAGHKANIC (COLUMBIA COUNTY)—Working together with the Zapp family, Scenic Hudson, Columbia Land Conservancy (CLC) and Equity Trust recently protected the 83-acre Delapenta Farm in Taghkanic. By acquiring a conservation easement on this third-generation dairy farm, the groups ensured the land's permanent availability for agricultural use. An innovative provision in the easement will keep the land affordable for future farmers.
In operation since 1913, Delapenta Farm's Holstein operation provides milk to the Northeast Dairy Producers Association cooperative. The land consists of more than 40 acres of USDA Prime farmland or Soils of Statewide Importance and is adjacent to other land previously protected by CLC.
Scenic Hudson paid the farmers a portion of their land's value to ensure its permanent protection through the conservation easement. Simultaneously, Equity Trust's Hudson Valley Farmland Affordability Program purchased a Pre-emptive Purchase Right (PPR) on the farmland. This resale restriction gives CLC the ability to ensure that all future sales of the land will be to farmers at agricultural value.
By granting a PPR the Zapps not only ensured the land's permanent availability for agricultural use but provided long-term stability for their own operations. Funds from the conservation easement and PPR will support the family's plans to transition to an all-organic operation and enable them to update dairy infrastructure and invest in on-farm processing of their milk for direct sale to local and regional consumers.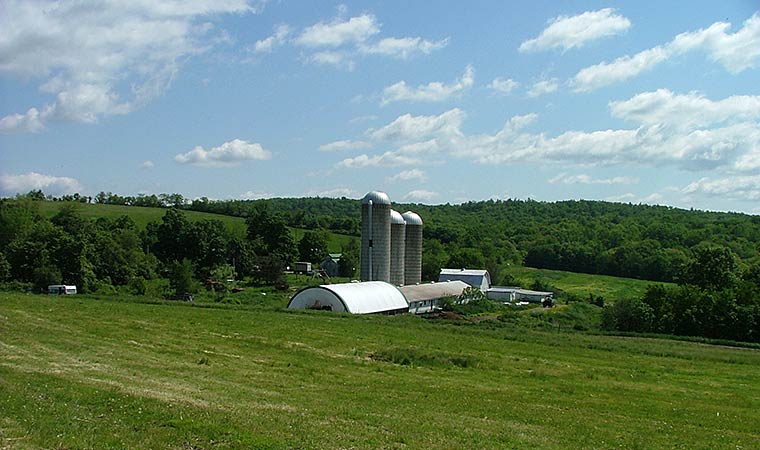 Scenic Hudson acquires easement, CLC to manage it
Scenic Hudson purchased the conservation easement with funds from the organization's Lila Acheson and DeWitt Wallace Hudson Valley Land Preservation Endowment. Scenic Hudson Assistant Land Conservation Director Cari Watkins-Bates negotiated the transaction in partnership with CLC's Acting Director of Conservation Programs Marissa Codey. CLC will hold and manage the easement.
Land a protection priority of Scenic Hudson, CLC
Conserving this farmland was a priority of Scenic Hudson's NYC/Hudson Valley Foodshed Conservation Plan, a blueprint for ramping up collaborative farmland-protection efforts to create a secure source of fresh, local food for the Hudson Valley and New York City. The transaction also accomplishes priority conservation goals of CLC.
"This partnership between Scenic Hudson, Columbia Land Conservancy, the Zapp family and Equity Trust means the Delapenta Farm's high-quality agricultural land always will be available for supplying fresh, local food to consumers in the Hudson Valley and New York City. It also provides capital for the Zapp family to grow their operations," said Steve Rosenberg, executive director of The Scenic Hudson Land Trust.
"The protection of Delapenta Farm is the culmination of years of work and is a tribute to patience, perseverance and the Zapp family's commitment to farming. While the technical challenges of this project were immense, the outcome is simple—another hard-working Columbia County farm family has been given the opportunity to continue doing what they love—farming. And for that we are enormously grateful to our partners at Scenic Hudson and Equity Trust. Their investments in the county will yield a future from which we will all benefit," said CLC Executive Director Peter Paden.
Farmer-friendly provision adds new level of protection
Inclusion of a resale restriction in the easement ensures that the land will remain in active agriculture through any future sales. Equity Trust worked closely with Scenic Hudson and CLC to develop this provision, until now rarely used in New York State easements, in a form satisfactory to all parties.
"We are delighted to have the opportunity to collaborate with such committed partners to ensure that Delapenta Farm will always remain a working farm," said Jim Oldham, executive director of Equity Trust. "The goal of our Hudson Valley Affordable Farm Program is to build on and add to the great farmland protection work being carried out in the region. This project is an excellent example of how that can happen."
"We are very grateful for the opportunity provided to us by Scenic Hudson and the Columbia Land Conservancy. Agreeing to the conservation easement and the PPR was a win-win in our opinion. It ensures that our farmland will be protected in the long term, and it has provided us with the capital necessary to continue providing local milk to consumers. Each year more and more valuable farmland is lost to development, so we are glad that we will not be adding to that statistic," said Michele Zapp.
Previous collaborations between Scenic Hudson and CLC have resulted in the protection of more than 2,600 acres of productive agricultural land on 21 working family farms.
Farmland essential to sustaining community's agriculture-based economy, rural charm
This transaction is part of Scenic Hudson's collaborative campaign to Save the Land That Matters Most and supports the goals of the organization's groundbreaking Foodshed Conservation Plan (www.scenichudson.org/foodshedplan). Conserving agricultural land through conservation easements provides current farmers with capital to invest in their operations and makes it more affordable for the next generation of farmers. It also supports the viability of agriculture-related businesses and helps secure the region's agricultural vitality, which contributes substantially to the Hudson Valley's $800-million agricultural and $4.75-billion tourism economies. Conserving farms also is a buffer against rising local property taxes: Studies have shown that farms contribute more in taxes than they consume in tax-paid services.
Over the past 17 years, conservation easement programs in the Hudson Valley have put more than $100 million directly into the hands of farmers. This investment has allowed agriculture to continue to thrive, advanced new opportunities for young farmers and allowed farmers to invest directly in their operations. At the same time, it has benefited communities. According to the American Farmland Trust, for every $1 invested in farmland conservation, $4 is returned to the local economy.
Protected farmland also safeguards critical wildlife habitat. According to the American Farmland Trust, half of the nation's protected species use farmland for over 80 percent of their habitat.
About Columbia Land Conservancy
The Columbia Land Conservancy is a nonprofit organization and relies on the financial support of individuals to conserve the farmland, forests, wildlife habitat, and rural character of Columbia County, strengthening connections between people and the land. CLC has established 5,750 acres of public land, including the 10 Public Conservation Areas owned and managed by CLC. It has helped some 200 local families protect nearly 24,000 acres of land. CLC provides outdoor and educational activities to over 2,000 participants per year. CLC works to support and strengthen agriculture by matching landowners seeking farmers with farmers seeking land, by providing a corps of experienced farmers who mentor landowners and new farmers, and by helping facilitate the sale of important farmland to farmers or conservation minded farm buyers. CLC also assists the county and its towns in a variety of land use planning efforts. www.clctrust.org
About Equity Trust
Equity Trust is a national organization that has pioneered efforts to protect affordable farms for farmers for over 20 years. In 2013, Equity Trust launched the Hudson Valley Farm Affordability Program to complement and enhance the farmland protection efforts of the many conservation groups working in the Hudson Valley by introducing effective tools that can keep farmers on the land and by providing technical assistance to farm protection projects together with funding in the form of grants and loans. www.equitytrust.org
About Scenic Hudson
Scenic Hudson works to protect and restore the Hudson River and its majestic landscape as an irreplaceable national treasure and a vital resource for residents and visitors. A crusader for the valley since 1963, we are credited with saving fabled Storm King Mountain from a destructive industrial project and launching the modern grass-roots environmental movement. Today with more than 25,000 ardent supporters, we are the largest environmental group focused on the Hudson River Valley. Our team of experts combines land acquisition, support for agriculture, citizen-based advocacy and sophisticated planning tools to create environmentally healthy communities, champion smart economic growth, open up riverfronts to the public and preserve the valley's inspiring beauty and natural resources. To date Scenic Hudson has created or enhanced more than 65 parks, preserves and historic sites up and down the Hudson River and conserved over 35,000 acres.
-30-
###