Contact:
Jay Burgess
Director of Communications, Scenic Hudson, Inc.
Tel: (845) 473-4440 x222 Cell: (914) 489-0362 Fax: (845) 473-0740
jburgess@scenichudson.org
Donation safeguards prime habitat, provides critical link between 260 previously conserved acres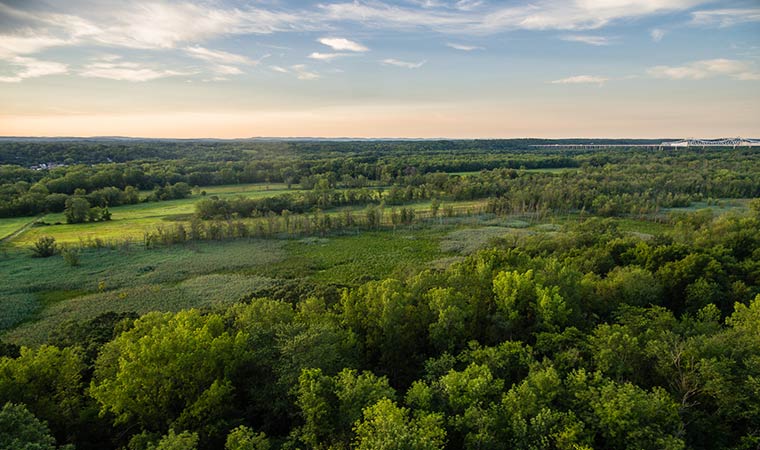 BETHLEHEM (ALBANY COUNTY)—Generous landowners have donated eight ecologically important acres to Scenic Hudson. Located along the Binnen Kill, an important Hudson River tributary, the property also provides a critical connection between two parcels of land—in total encompassing nearly 260 acres—previously conserved by the organization.
Donated to Scenic Hudson by Richard Orsi and Laurel Dickerson, the property consists primarily of non-tidal wetlands. It also contains a small portion of the Binnen Kill, a major spawning and nursery ground for American shad, blueback herring, alewives and striped bass. Lands along the stream offer prime habitat for imperiled bird species, including ospreys and peregrine falcons, as well as a wide variety of migrating waterfowl.
Scenic Hudson has made the protection of lands along the Binnen Kill a priority of its Saving the Land That Matters Most campaign. To date it has conserved more than 400 acres, including floodplains, tidal and non-tidal wetlands; Hudson Riverfront; and adjacent upland forests, farm fields and meadows. All of the conserved lands are located within an Audubon-designated Important Bird Area and state-designated Estuarine Biologically Important Area (BIA). The A rating assigned this BIA means its habitats are of the highest ecological significance.
Lands play role in helping community adapt to rising sea levels, storm surges
Land Scenic Hudson protects in the Binnen Kill Priority Area also will play a crucial role in helping the community adapt to rising sea levels and storm surges. Mudflats and wetlands within the area provide an excellent natural buffer against flooding, while adjacent uplands offer a pathway for habitats and species to migrate away from rising waters. Further, conserving large, contiguous landscapes expands habitat networks on which many wildlife species depend.
"The lands in Scenic Hudson's Binnen Kill Priority Area are among the most ecologically vital in the Capital Region. Protecting these lands enhances the area's importance as wildlife habitat and provides direct benefits to the community. We thank Richard Orsi and Laurel Dickerson for their commitment to safeguarding these wetlands and providing the link essential for connecting adjacent properties we've conserved," said Steve Rosenberg, a senior vice president of Scenic Hudson.
"It has been a great pleasure to collaborate on this preservation effort. To have this special ecosystem preserved for all to enjoy makes us very happy. Thank you to everyone at Scenic Hudson," said Richard Orsi.
Scenic Hudson Land Project Manager Mike Knutson worked with Mr. Orsi and Ms. Dickerson to facilitate the donation.
Land preservation boosts economic opportunity
Scenic Hudson's Saving the Land That Matters Most campaign preserves lands of scenic, ecological and agricultural importance—critical for sustaining the Hudson Valley's economy. The region's parks and open spaces contribute substantially to a 10-county tourism industry that generates $5 billion in spending annually (including more than $950 million in Albany County responsible for nearly 15,000 jobs), while its farmland is the cornerstone of a of an $800-million agricultural economy. A study by the Trust for Public Land notes that executives looking to relocate or start firms rank quality of life, including an abundance of parks and open space, higher than housing, cost of living and good schools.
Conserving natural areas improves human health
Protecting open space also offers myriad human health benefits. Trees sequester pollutants that contribute to asthma, lung cancer and cardiovascular disease, while releasing oxygen. In addition to helping keep drinking water clean and avoid flooding, conserved land maintains biodiversity, which plays an important role in preventing diseases such as West Nile virus and Lyme disease. Scenic Hudson's parks also encourage people to be active, contributing to their better overall health.
Collaborative campaign targets protecting valley's most important landscapes
Scenic Hudson's campaign to Save the Land That Matters Most is a multi-year, collaborative effort with fellow land trusts, governments, individuals and businesses to protect lands of the highest scenic, ecological and agricultural significance throughout the Hudson Valley. Since initiating the Saving the Land That Matters Most campaign in 2007, Scenic Hudson has conserved 14,113 acres and our land trust partners an additional 2,669 acres.
About Scenic Hudson
Scenic Hudson works to protect and restore the Hudson River and its majestic landscape as an irreplaceable national treasure and a vital resource for residents and visitors. A crusader for the valley since 1963, we are credited with saving fabled Storm King Mountain from a destructive industrial project and launching the modern grass-roots environmental movement. Today with more than 25,000 ardent supporters, we are the largest environmental group focused on the Hudson River Valley. Our team of experts combines land acquisition, support for agriculture, citizen-based advocacy and sophisticated planning tools to create environmentally healthy communities, champion smart economic growth, open up riverfronts to the public and preserve the valley's inspiring beauty and natural resources. To date Scenic Hudson has created or enhanced more than 65 parks, preserves and historic sites up and down the Hudson River and conserved over 35,000 acres.
###