Scenic Hudson stands united with Black people in the struggle against racism and systemic inequality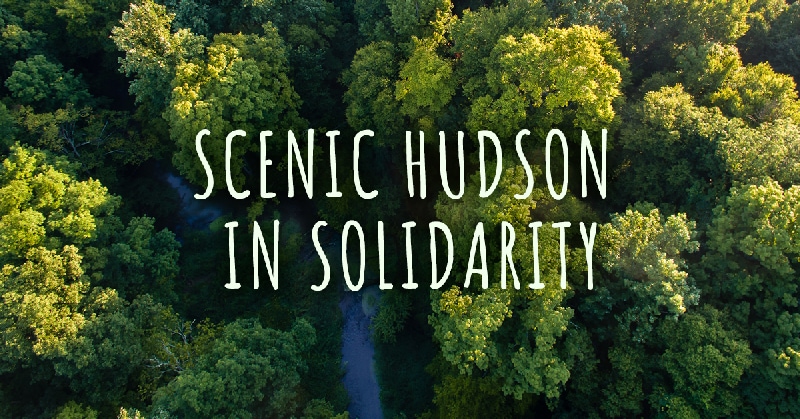 We are committed to taking a good, hard look at how we carry out our work, to ensure we embrace diversity, inclusivity and justice to the fullest. And while we don't have the answers to how to stem America's pervasive tide of racism, we are resolved to stand up against it and work toward ending it. We're committed to engaging in a dialogue with our community partners on best ways to listen and learn from those who have endured hatred, divisiveness, fear and oppression their entire lifetimes.
The coincidence of recent tragedies — death in police custody of George Floyd and the killings of Ahmaud Arbery and Breonna Taylor — combined with the devastating impacts of the COVID-19 pandemic and the disproportionate impacts of suffering and death on Black people leave me, and all of us at Scenic Hudson, grieving for the individuals, families, communities and people in the Hudson Valley, across America and the world.
Last month, we witnessed the shooting of Mr. Arbery while jogging and the experience of birdwatcher Christian Cooper in Central Park — whose request that a woman leash her dog led to her 911 call claiming "There's an African American man threatening my life." These unacceptable events remind us that Black people continue to be denied the basic right to safely enjoy the benefits of outdoor exercise and nature. Hate has no place in our parks.
Scenic Hudson also is resolved to move ahead fearlessly to ensure that Black, Indigenous and all People of Color have access to clean water, safe open spaces, healthy neighborhoods and fresh food. Providing these benefits to communities is at the core of our mission. To fulfill this mission, we must be an active participant in ending racism, inequality and blatant violations of human rights.