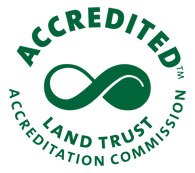 Scenic Hudson is one of only 39 currently accredited land trusts in the U.S.
Earlier this month, the Land Trust Alliance announced that Scenic Hudson is one of the first organizations in the United States to be awarded accreditation by the Land Trust Accreditation Commission. Only 39 land groups have currently achieved accredited status, indicating they have met national quality standards for land protection and have undergone an extensive external review of their management, systems and policies.
"We're honored that our 45-year track record in saving land and creating parks up and down the river has received this 'gold seal' of credibility and professionalism," said Scenic Hudson President Ned Sullivan.
Additional details about this prestigious accomplishment are in this press release.