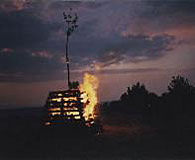 High-tech xenon lights will replace traditional bonfires as mountaintop beacons on Nov. 25.
Tuesday, Nov. 25, 2008 is the 225th anniversary of the evacuation of the United States of America by British troops during the Revolutionary War. To celebrate, Scenic Hudson is taking part in a symbolic lighting of five mountaintop beacons that replicate original signal locations used by the Continental Army.
In addition to Scenic Hudson's Mount Beacon and Snake Hill parks, beacons will be placed at Bear Mountain State Park, Storm King Mountain State Park and the Washington's Headquarters State Historic Site in Newburgh. As a 21st-Century alternative to the original bonfires, the mountaintops will be lit with symbolic xenon light displays.
Scenic Hudson's partners in the celebration include the Palisades Parks Conservancy, the Hudson River Valley National Heritage Area, the New York State Office of Parks, Recreation and Historic Preservation, and the Palisades Interstate Park Commission.