Our Revitalizing Hudson Riverfronts illustrated guide and Riverfront Action e-newsletter are bringing citizens together to promote positive change in Hudson River communities.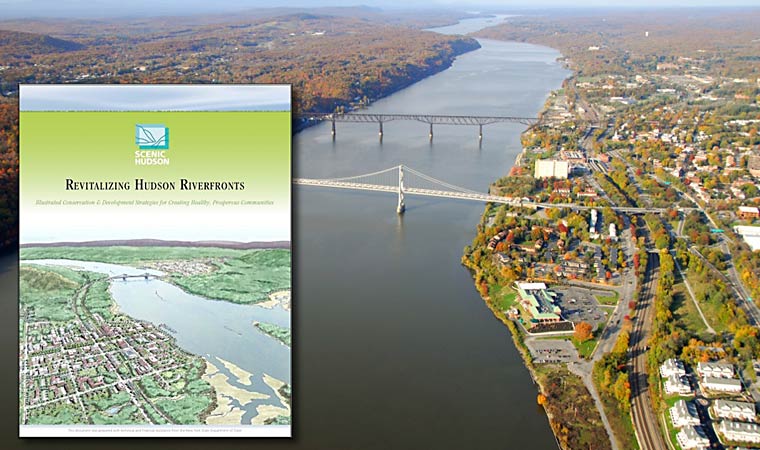 Revitalizing Hudson Riverfronts — Scenic Hudson's 100-page illustrated guide to responsible waterfront planning — is available as a 10MB downloadable PDF file. Printed copies can be requested by sending an email to janzevino@scenichudson.org.
In 2010, Scenic Hudson published Revitalizing Hudson Riverfronts: Illustrated Conservation & Development Strategies for Creating Healthy, Prosperous Communities. This 100-page illustrated guide is now helping local officials, planners, developers, citizen activists and other stakeholders enhance and preserve the unique qualities of the Hudson River waterfront. The principles in the guide, developed by Scenic Hudson with a grant from the New York State Department of State, offer tools to promote the development of lively, pedestrian-friendly, mixed-use riverfronts in and adjacent to municipal centers while conserving forests, farms, wetlands and fields, and provide for a continuous public greenway corridor along the river. A PDF version of Revitalizing Hudson Riverfronts can be downloaded via this link. Printed versions can be requested by contacting janzevino@scenichudson.org.
NEWSLETTER: Riverfront Action offers updates on regional revitalization efforts
Hudson Valley residents with a personal or professional interest in helping to revitalize our riverfront communities are invited to subscribe to our quarterly Riverfront Action e-newsletter. Each issue offers updates on progress that's being made to in the ongoing efforts to apply principles of sound riverfront development in communities up and down the Hudson River corridor. See this page for sample issues and to subscribe.
WORKSHOPS: Putting Revitalization Principles into Practice
Starting in the Fall of 2011, Scenic Hudson began presenting a series of Revitalizing Hudson Riverfronts workshops in partnership with with the New York State Department of Environmental Conservation's Hudson River Estuary Program and Hudson River National Estuarine Research Reserve. The first workshop—held at Scenic Hudson's River Center in Beacon in November— was extremely well-attended and featured a range of presentations and panel discussions targeted to help municipal officials, developers, consultants and residents work toward redeveloping hudson waterfronts in ways that will stimulate the economy, connect people to the river, protect the environment and help prepare for rising sea levels along the Hudson.