We reached a historic settlement with LG Electronics over plans for its new North American headquarters in Englewood Cliffs, N.J., concluding our three-year campaign to protect vistas of the Palisades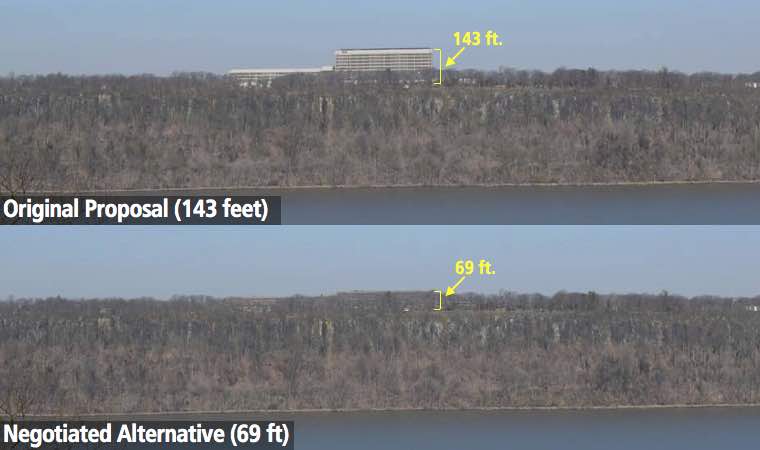 A great example of how corporate and environmental interests can work together to the public's benefit, the agreement:
reduces the building's height from 143 feet to 69 feet, significantly minimizing its impacts on spectacular Palisades views
allows LG to retain jobs in the region while providing space for the planned doubling of its local workforce
To achieve this win-win outcome, we used every strategy in our playbook: We served as leading plaintiff in a lawsuit challenging changes to local zoning rules that permitted towers along the ridgetop. We collaborated with the New Jersey State Federation of Women's Clubs (a co-plaintiff), the Natural Resources Defense Council, New Jersey Conservation Foundation, New York-New Jersey Trail Conference and Larry Rockefeller in negotiations with LG. We also helped establish the Protect the Palisades coalition—uniting more than 30 environmental, cultural and civic groups to fight the plan—and secured key support from The New York Times and other influential media.
As originally designed, the building would have stood nearly 70 feet above the treeline, making it the first building prominently visible along an unspoiled, 20-mile stretch of this National Natural Landmark. A recent New Jersey court decision affirmed our contention that unique natural and historic resources such as the Palisades merit special protection—a precedent that will help assure future conservation victories.
We continue working with LG and other stakeholders to ensure that the building as agreed to in the settlement receives the necessary permits for construction.
Partners