The Rebirth of a River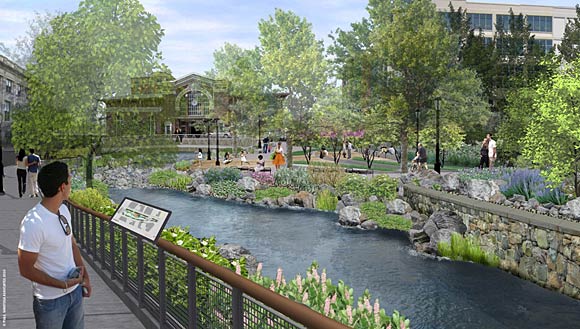 Artist's rendering of daylighted Saw Mill.
On December 15, 2010, Scenic Hudson President Ned Sullivan joined city and state officials and local stakeholders at a groundbreaking ceremony marking the start of a project to uncover -- or "daylight" -- the historic Saw Mill River where it flows through Larkin Plaza in downtown Yonkers. The rebirth of this Hudson River tributary in the heart of New York's fourth-largest city culminates years of successful collaboration led by Mayor Philip Amicone and inspired and supported by many, including Scenic Hudson. We first recognized the benefits of daylighting downtown portions of the Saw Mill, buried beneath pavement in the 1920s. Then-Governor George Pataki suggested Scenic Hudson conduct a feasibility study for the project. After walking through pipes carrying the river beneath city streets with leaders of Groundwork Hudson Valley and touring a successful daylighting project in Providence, R.I., our planning experts realized that restoring the Saw Mill's flow not only was possible, but could be a key to revitalizing downtown Yonkers. Scenic Hudson went on to develop the initial Saw Mill daylighting plans -- for which we won the prestigious William H. "Holly" Whyte Award from the American Planning Association in 2007. We then worked to make daylighting a reality, joining city leaders and developer Struever Fidelco Cappelli to secure state funds for the project. The Pataki Administration and then-state Senator Nicholas Spano provided grants for daylighting as part of the city's downtown redevelopment. While there has not always been complete accord about details of this development, all agreed on a daylighted Saw Mill as the centerpiece of these plans. (More recently state Department of Environmental Conservation Deputy Commissioner Jim Tierney helped secure a $2 million state Clean Water grant for the project.)
Daylighted river will benefit economy, water quality and wildlife
The first phase of daylighting will uncover 800 feet of the river, currently flowing beneath a city-owned parking lot, and create attractive walkways along its banks in a two-acre park. The project offers myriad benefits, beginning with 200 immediate construction jobs and an estimated 1,000 permanent new jobs once work is completed. Projections also indicate a $5-million to $6-million rise in revenues for local businesses and restaurants from the spectacular new park. Some future development will be built along an expanded riverwalk. In addition to attracting more visitors and spurring new investment in the downtown, the project restores an important part of the city's history -- the settlement of Yonkers began along the Saw Mill's banks in the 17th century. It also will provide important water-quality improvements for both the tributary and the Hudson River. The project is being engineered to capture 170 tons of trash that empties annually into the Hudson from the Saw Mill. At the same time, the new, open-air streambed will make it easier for declining populations of American eels and river herring to swim up this tributary, where herring lay their eggs and eels stay until reaching adulthood and returning to the sea. What's more, people will be able to witness these amazing journeys that link the Atlantic Ocean to the Hudson Valley, reminding us that Yonkers is a coastal community.
A longtime partner in Yonkers' riverfront restoration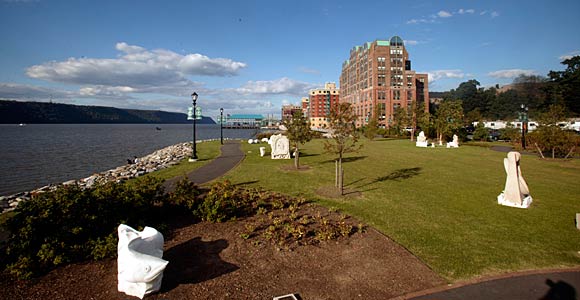 Scenic Hudson helped shape Yonkers' revitalized waterfront.
Scenic Hudson has been involved in Yonkers since the mid-1980s, when we went to court to block construction of six riverfront skyscrapers. Working with the city and residents, we helped shape a reasonably scaled development that includes a mix of housing, commercial space and a five-acre park and esplanade. For the first time in decades, the public could enjoy the city's waterfront. Scenic Hudson's vision for Yonkers also included a necklace of parks spanning the length of the city's four-and-a-half-mile shoreline. Under new zoning regulations spearheaded by Mayor Philip Amicone, each new riverfront development must provide public space -- in some instances up to 300 feet wide -- along the water. These parks will be essential in attracting new residents to the city and will facilitate completion of the Westchester County RiverWalk, the planned 51-mile trail spanning Westchester's Hudson shoreline. Scenic Hudson also worked with the city and county to create Habirshaw Park, home of the Beczak Environmental Education Center, on Yonkers' riverfront. it is the only place in the city where schoolchildren can dip a net in the water and learn how to become future stewards of the magnificent, inspiring Hudson.