Created to ferry rail cars across the Hudson, this man-made peninsula now connects people to the river's power and majesty.
Beacon, Dutchess County (19 acres)—A critical 19th-century transportation link between New England and points west, Long Dock once contained a rail ferry terminal, warehouses and other buildings. More recently, it was home to an oil terminal, salt-storage facility and junkyard. All traces of its industrial past have been removed to create an exciting riverfront destination boasting a kayak pavilion and beach for launching boats, rehabilitated wetlands and meadows that attract wildlife, a river overlook deck and a shaded plaza for informal dining.  The park's restored, historic red barn, now Scenic Hudson's River Center, hosts arts and environmental-education activities.
Kayak and paddleboard rentals are available through Mountain Tops Outfitters (845-831-1997), our official paddlesports concessionaire. Bicycle rentals are available Thursday through Sunday from Cold Spring Bike Rental & Tours.  One of the most popular attractions in the park, at Long Dock's tip, is Beacon Point, a shoreline installation by renowned artist George Trakas. The work projects out over the river (at high tide, water actually flows through it), making this a perfect place to fish, sunbathe and admire magnificent vistas of Newburgh Bay and the Hudson Highlands.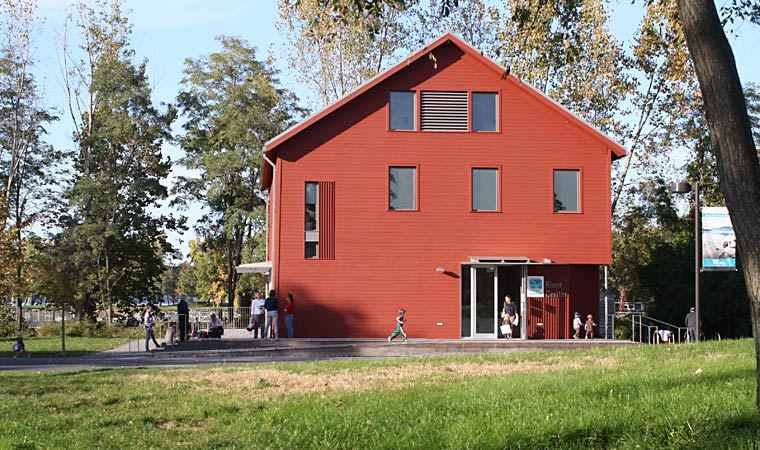 Seasonal Boat Storage
Scenic Hudson holds a public lottery every year for a boat storage berth in the kayak and canoe pavilion. Lottery winners can store their boats for a fee for the Hudson River paddling season (1st weekend in May – 1st weekend in November).
 If you would like to be alerted via email when lottery registration opens, please fill out this form.
Trails
Universally accessible walking paths connect the park's myriad amenities. There also is a link to the 1-mile Klara Sauer Trail (named for Scenic Hudson's former president), which spans the waterfront from the Beacon train station to Denning's Point State Park. Dia:Beacon is a short walk uphill from the park. PLEASE NOTE: The Denning's Point bridge is closed of construction as of February, 2017. Park visitors using the Klara Sauer Trail should adjust their route accordingly.
When to visit
Year-round daily dawn to dusk. PLEASE NOTE: an electronic gate blocks access to the park after dark. Closing times vary seasonally, as follows:
| | |
| --- | --- |
| Nov. 1–March 13 | 6:30 p.m. |
| March 14–Memorial Day | 8 p.m. |
| Memorial Day–Labor Day | 9 p.m. |
| Labor Day–Oct. 31 | 7:30 p.m. |
Scenic Hudson's Long Dock Park
From Newburgh-Beacon Bridge, go 1.8 miles south on Route 9D, right on Beekman St., right on Red Flynn Drive then immediate left on Long Dock Rd.
Maps & Resources
More to Explore — Nearby Parks