Fighting power plants on the Hudson River is in Scenic Hudson's—and America's—environmental DNA. It was during the course of our successful 17-year battle to save fabled Storm King Mountain from a poorly sited hydroelectric plant that U.S. citizens gained the legal right (known as standing) to participate in environmental disputes.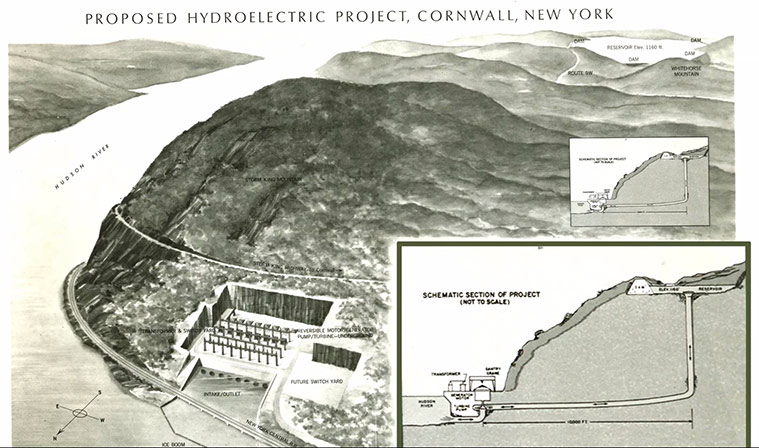 We remain committed to protecting the Hudson and lands along it from ill-conceived proposals that could pollute our air, destroy iconic views and other irreplaceable natural resources, and reverse great strides we've made to revitalize downtown waterfronts. Right now, we're fighting to safeguard these assets from plans to build two new fossil-fuel power plants.
Danskammer
Background
Danskammer is a natural gas-fired plant located on the Hudson Riverfront in the Town of Newburgh. Built in the 1950s, it currently runs as a "peaker" facility, meaning it operates less than five percent of the time, providing energy only during periods of high demand.
In 2018 Danskammer's new owner, Tiger Infrastructure, announced plans to build a new plant next to the existing one (which will be decommissioned once operations commence in the new facility). The plant will be reviewed by the New York State Board on Electric Generation Siting and the Environment (Siting Board) under New York State's Article 10 process, essentially a one-stop shop for environmental review of "new and repowered or modified major electric generating facilities." The Siting Board is charged with determining whether to grant a certificate for the project to be constructed.
What's at stake?
Building a new major fossil-fuel facility on the Hudson River is inconsistent with New York's goal to reduce greenhouse gas emissions (GGE) from 1990 levels by 40 percent. To hit this ambitious target, we must lower the amount of carbon contaminating the atmosphere. A new fossil-fuel facility like this will increase the carbon polluting our air—and our lungs.
In 2009, the U.S. Environmental Protection Agency (EPA) reported that the current Danskammer plant dumped more than 1.5 million pounds of toxic chemicals into Newburgh's air, land and water. Unlike this peaking facility, the new plant will operate virtually nonstop—so in addition to spewing more carbon, there will be a vast increase in emissions of harmful nitrogen oxides, ozone, particulate matter and sulfur dioxide (which causes acid rain).
The Process
As required under Article 10, in May 2018, the developer submitted a Public Involvement Program Plan (PIPP), which provides details about the proposed facility. The PIPP allows interested parties to express concerns and participate in the environmental permit review process.
On February 15, 2019, the developer filed a Preliminary Scoping Statement (PSS) with the Siting Board, which initiates the preliminary scoping phase of the proceeding. The preliminary scoping phase will determine the nature and scope of the studies the developer must undertake to develop the information that must be included in its formal application for a Certificate. In general, such studies will identify and evaluate the potential impacts of a project on the environment, public health, and other public interest factors.
How can I get involved?
The Article 10 process provides many opportunities for you to speak out.
Tell NYS you don't want a new fossil fuel plant along the Hudson!
Danskammer Energy's proposal for a new natural gas plant in the Town of Newburgh would increase pollution and accelerate climate change! The existing plant operates less than five percent of the time, providing energy only during highest-demand periods, but the new plant would run nearly 100 percent of the time.
HELP STOP THE PLANT: submit an official comment opposing the proposal.
Subscribe to Scenic Hudson's email list to get updates and find out how to weigh in on this proposal.
Resources
Glidepath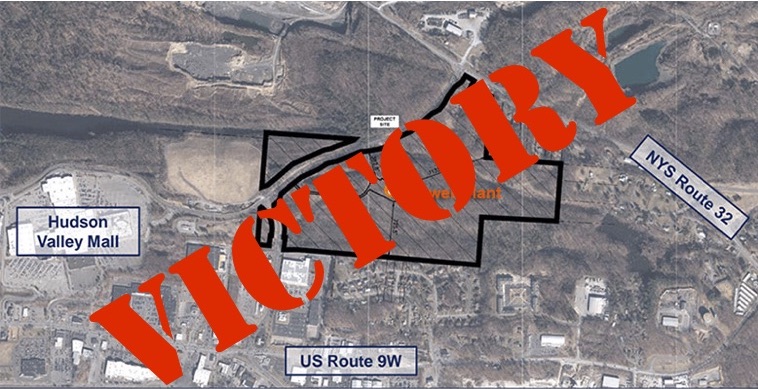 VICTORY! A groundswell of opposition to Glidepath's plan to construct a new, climate-warming fossil-fuel plant in Ulster County resulted in the company withdrawing the plan and replacing it with a renewable energy project.
Lincoln Park DG, LLC, proposes to build a natural gas "peaker" power plant on a three-acre section of an approximately 120-acre property in the Town of Ulster, Ulster County. This 20-megawatt facility would include a battery storage component.
As required in the State Environmental Quality Review Act (SEQRA), the lead agency—in this case the Town Board—has completed a scoping document for this project. It identifies and describes the extent of environmental studies that should be conducted to determine potential significant environmental impacts.
What's at stake?
In addition to undermining New York's clean energy goals, this project would set back excellent progress made by Ulster County to promote renewable energy development.
Increased GGE from the burning of natural gas and diesel fuel will perpetuate climate change.
The facility itself—as well as its cooling tower plume and associated exhaust emissions—will impact views of the nearby National Landmark Historic District and state-designated Scenic Areas of Statewide Significance.
Projected emissions have yet to be determined, but fuel combustion will most certainly result in increased pollution from carbon dioxide, nitrogen oxides and carbon monoxide.
Noise and potential odor impacts for the surrounding area.
What has been done?
Scenic Hudson partnered with Kingston Citizens to host a February 2018 forum on the SEQRA process for the plant. At a town meeting later that month, community members voiced concerns and helped inform the scoping process, ensuring a thorough, transparent environmental review will be conducted.
Speaking out against the plant in June 2018, Ulster County Executive Mike Hein wrote to New York State expressing the county's opposition to the project and urging it to take action to ensure that new gas "peaker" plants are not offered economic incentives.
Scenic Hudson and a coalition of partners submitted SEQRA scoping comments on the project's Draft Environmental Impact Statement, advising the town/lead agency to consider adverse impacts on land, community character and the viewshed (including from the Hudson River, historic sites and districts, parks, highly traveled transportation routes and residential areas). Scenic Hudson also requested that the applicant fully evaluate alternatives, including solar or a battery storage-only facility.
On Sept. 25, 2018 Scenic Hudson and Citizens for Local Power participated in a webinar with Kingston Citizens and Citizens for Local Power to provide municipal officials and professional planners with information about how the Federal Energy Regulatory Commission's (FERC's) new capacity zone has made the Hudson Valley a target for gas-fired peaker power plants and how municipalities can implement zoning to prevent these gas plants from damaging their community. If you missed it, click here to find out what your town can do to protect itself from the impacts of fossil fuel power plants!
How can I get involved?
Stay informed, share information and network with local coalitions like the Town of Ulster Citizens and Kingston Citizens, which are working diligently to increase public awareness and participation, and ensure that the project is not built.
Resources
Indian Point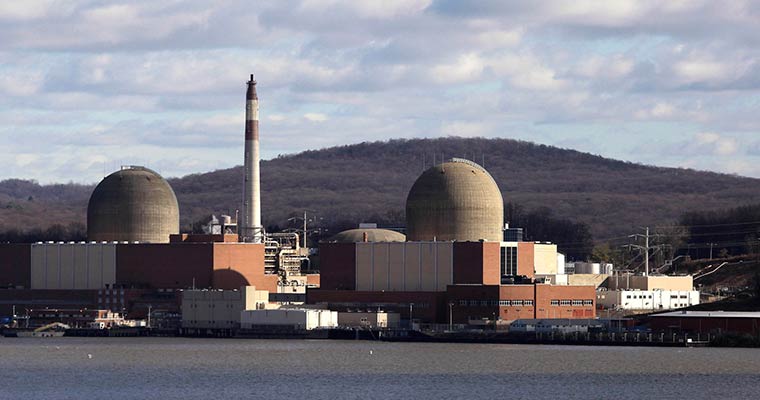 We were victorious: Indian Point Closure is Good for the Hudson River, Public Safety and our Economy!
The planned shutdown of two aging nuclear reactors at the Indian Point Energy Center is set to occur by 2021. See more details about the negotiation here. The Indian Point nuclear plant in Westchester County withdraws more than two billion gallons of water from the Hudson River each day to keep its reactors cool—then dumps the heated water back into the river. This outmoded cooling process has devastating impacts on the river's ecology, killing billions of aquatic organisms each year. Installation of closed-cycle cooling at Indian Point would reduce these impacts by more than 95 percent and is a feasible technology used at other large power plants around the country.
In order to receive a license extension, Indian Point must also receive a certification from the New York State Department of State (DOS) that its operations are consistent with New York's coastal policies. In November 2015, DOS ruled that Indian Point's operation is not consistent with the state's coastal policies and did not grant a coastal consistency certification. Entergy is fighting the applicability of the state coastal program in court, and Scenic Hudson joined with Riverkeeper and the Hudson River Sloop Clearwater to file an amicus brief supporting New York State.
In January 2017, it was annouced that New York State and Entergy, the company who operates Indian Point, reached an agreement to shut down two reactors by April 30, 2021. Riverkeeper was party to the agreement on behalf of Scenic Hudson and other partners.
Our press release details the conditions that will be met under this agreement with the Unit 2 reactor to permanently cease operations no later than April 30, 2020, and the Unit 3 reactor will permanently cease operations no later than April 30, 2021. Annually, Entergy will be responsible for moving a set number of spent fuel rods from its dangerous storage pools to dry cask storage on site—a much safer technology for storing radioactive material. The agreement includes an emergency provision that will allow the reactors to remain open for a maximum of four additional years—subject to approval by New York State—only by reason of war, a sudden increase in electrical demand, or a sudden shortage of electrical energy.
Partners
Resource Center