Our sold out spring 2018 symposium—"Solar Smart Hudson Valley: Building Clean Energy while Preserving Important Lands"—featured interactive discussions and presentations that explore important questions and tough issues surrounding the rapid development of solar energy projects in the Hudson Valley.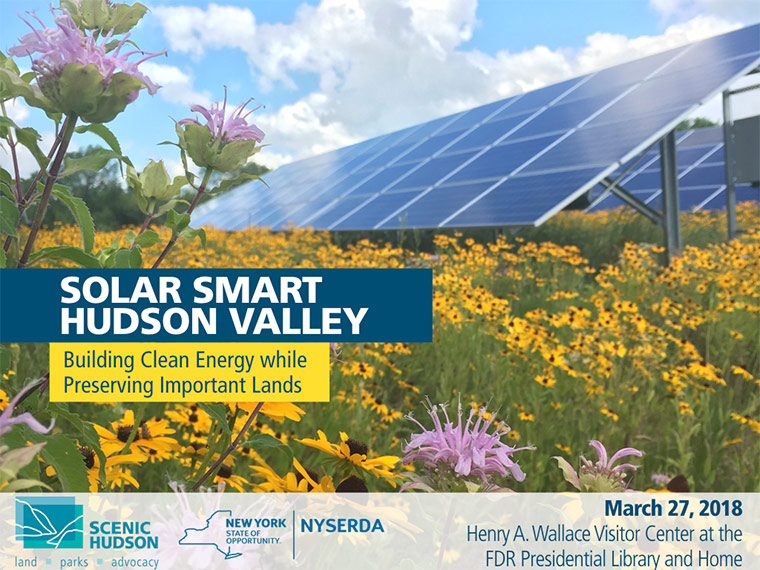 The symposium was held to highlight the publication of Scenic Hudson's Clean Energy, Green Communities: A Guide to Siting Renewable Energy, a free 28-page guide to boosting clean energy development and protecting nature and communities. The symposium gathered citizens, community groups, environmental organizations, land trusts, local conservation advisory commissions as well as municipal boards, regional planning groups, energy developers and other stakeholders. Key topics included:
the state policy and market forces that are driving renewable energy development
maximizing renewable energy development through planning and zoning
reducing public opposition
developers' responsibilities
responsible building of renewable energy on farmland, conserved lands and previously disturbed areas
how to develop a regional renewable energy plan
Archived presentations from the symposium are showcased below.
Opening Remarks
SESSION ONE—The Renewable Energy Horse has Left the Barn
An overview of the State policy, siting considerations and market forces that are driving solar energy development in the Hudson Valley.
SESSION TWO—Yes in My Backyard: Building Public Support for New Renewable Energy Projects
A presentation of the local, regional and global benefits of renewable energy development, and a conversation about the myths surrounding solar energy facilities.
SESSION THREE—Smart from the Start: Maximizing Renewable Energy Development While Preserving the Hudson Valley's Natural and Visual Resources
A discussion of principles, strategies and tools for guiding development to appropriate sites and maximizing solar energy development through local comprehensive planning and zoning.
SESSION FOUR—Have Your Cake and Eat it Too: Developing Solar Energy on Conserved Lands, Farmland, and Previously Disturbed Lands
An informational session on how to achieve mutual benefits in solar energy development through siting on conserved lands, use of pollinator friendly plantings, and re-use of previously disturbed sites such as brownfields and landfills.
SESSION FIVE—Developing a Hudson Valley Regional Renewable Energy Plan: Plenary Discussion
A facilitated discussion of who the stakeholders should be, what information is needed, what form it should take, and the next steps for creating a renewable energy development plan for the Hudson Valley.
Closing Remarks