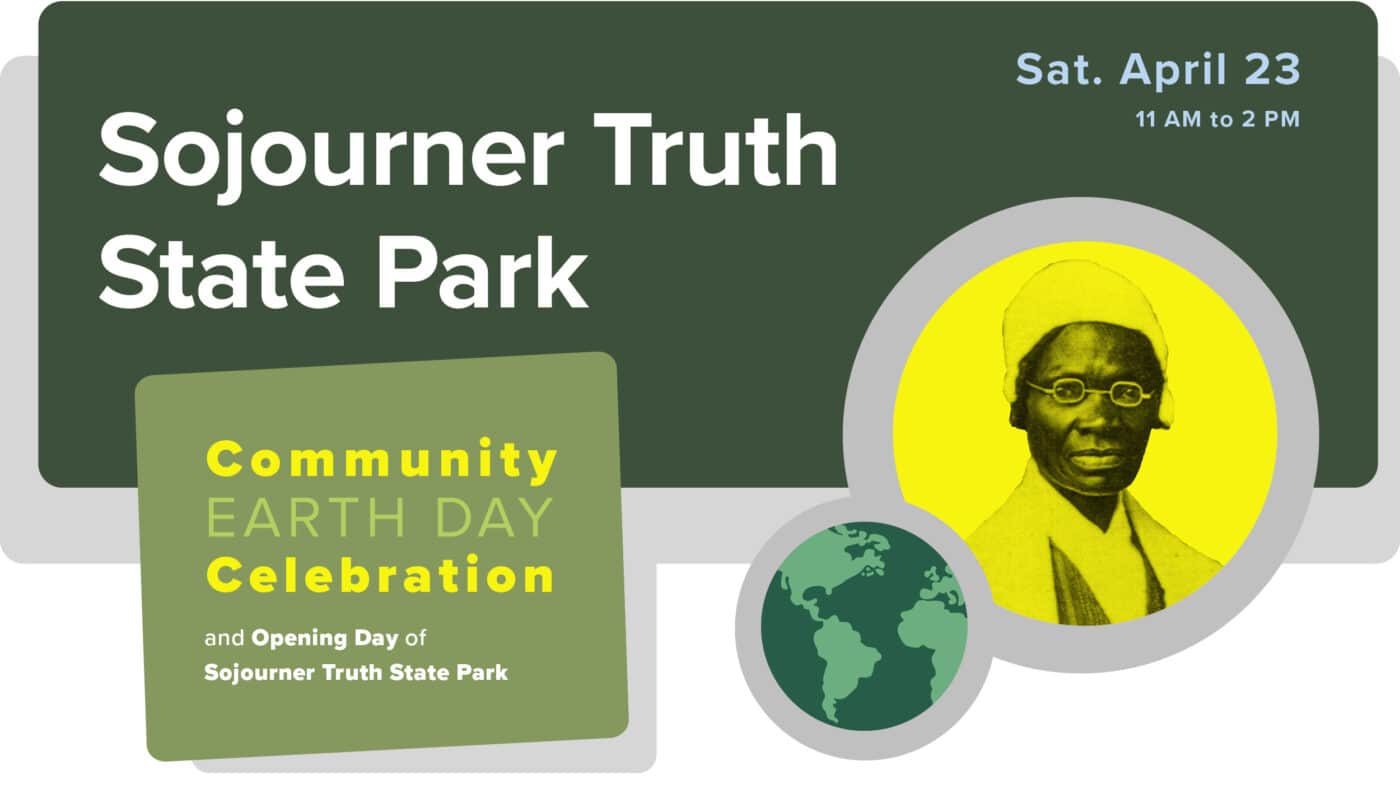 Welcome! We're so glad you're here!
We hope you have an afternoon filled with exploration, fun, food, music, and community spirit as we mark the opening of this incredible new park.
In partnership with: New York State Parks, Palisades Interstate Park Commission (PIPC), Scenic Hudson, City of Kingston, and Radio Kingston.
Spanish interpretation and bilingual assistance is provided today.
Please visit the INFO HUB table for details.

EVENT SCHEDULE
11:00 am Park Gates Open
11:30 am Ribbon Cutting & Remarks
12:15 pm Community Earth Day Celebration
1:00 pm Guided Park Tour by NY State Parks Staff (meet at INFO HUB table)
2:00 pm Event Ends

ENTERTAINMENT SCHEDULE (MAIN STAGE)
12:00 pm Annalysee & Ryan (live music)
12:20 pm My Kingston Kids Dance Party
12:30 pm Emily Beck (live music)
12:50 pm My Kingston Kids Dance Party
1:00 pm Stephen Clair (live music)
1:20 pm My Kingston Kids Dance Party
1:30 pm Lara Hope (live music)
1:45 pm CCE Dance Performance
1:50 pm Lara Hope (live music)

ACTIVITIES, ART & EDUCATION SCHEDULE
COMMUNITY TERRACE (MAIN STAGE AREA)


Dance Party:
Hosted by My Kingston Kids

Poster Exhibit:
"People Who Make a Difference" installation: Celebrating BiPOC grassroots environmental leaders (in collaboration with Dutchess Community College)

Wildflower + Pollinator Seed Giveaways:
Hosted by YMCA Farm Project

Immersive Storybook Walk:
A children's book by Barbara Allen (about her great-great-grandmother, Sojourner Truth)


Food Vendors (see Vendor list)

Live Music (see Main Stage lineup)

Face Painting with the Youth Crew


Hands-on wildlife exhibit with Kingston Parks and Recreation:
Experience the mammals, reptiles, and other creatures that call Sojourner Truth State Park and the Hudson River home. Come experience pelts, furs, skulls, skins, shells, and more.


"The People's Picnic" (Optimistic yellow picnic tables): Come sit, chat, connect, and draw a flower that will later be added to "Community Garden" murals (which pop up in surprise locations). In collaboration with Midtown Rising, Scenic Hudson, ŪMEWE, artist 'Uncle Riley' and You!

WATERFRONT (BLUE TRAIL) Environmental Education Hub


Binoculars Station

Fish Prints arts and crafts

Nature Experts and More

STEEP ROCKS (GREEN TRAIL)


Guided Tour of the Land — Starts at 1:00 PM
(Meet at the Community INFO HUB table)

Self Guided Hike(s):
The trail includes a quarried lake, canyon, meadows, and sweeping views of the Hudson River

VENDORS
Seasoned Delicious Foods
Masa Midtown
Rosie's Bakehouse
Pink Elephant
Ram's Valley
Benny's Tropical Ice
Hersh's Classic Hot Dogs & More
Lakeside Licks Ice Cream
SHARE your Photos & Videos of the Day:

#STStatePark
#EarthDay2022
@ScenicHudson
Park Map
About the Park

Scenic Hudson, New York State Parks, and Palisades Interstate Park Commission (PIPC) have worked together to create a new State Park on 500+ acres of former industrial property along the Hudson River shoreline in Ulster County. This is the first State Park in the City of Kingston and Town of Ulster.

Photo: Robert Rodriguez, Jr.

Exciting park features include:

over 1 mile of Hudson River shoreline;
river overlooks affording breathtaking vistas;
over 17 unique habitats (including woods, wetlands, and a dramatic cliff and ridgeline);
historic remnants of the brickmaking and ice harvesting industries; and quarried canyons; and
a new trail to Steep Rocks — past a stunning quarried lake and leads to a canyon sweeping view.

The park hosts a key segment of the Kingston Greenline, connecting Kingston Point Beach with East Kingston. It's also one of the few places where the 750-mile Empire State Trail connects directly with the Hudson River.

History of the Land

500+ acres of history and natural beauty

Photo: Robert Rodriguez, Jr. / Courtesy of ScenicHudson.org

The site of Sojourner Truth State Park encapsulates much of the Hudson Valley's history — geological, cultural, and industrial. For approximately 3,000 years, this land was hunted and farmed by Indigenous people known as the Esopus. The Esopus are part of the Lunaape, an association of peoples linked by their shared use of Algonquin language dialects. The Lunaape land, known as Lenapehoking, spans from western Connecticut to eastern Pennsylvania, and the Hudson Valley to Delaware. Today, the Lunaape diaspora is comprised of six federally recognized nations in the United States and Canada.

Dutch colonists first entered the Kingston area in the early 1600s, building a trading post along the Mahicannituck, today known as the Hudson River. Ongoing conflict between the Indigenous people and the colonists led to the two "Esopus Wars," which ended with the Esopus being forced westward and northward.

By 1803, this land — previously set aside for shared use by residents and known as the "Kingston Commons" — was divided and parceled out for agricultural purposes to private landowners. By the mid-to-late nineteenth century, the farmland here had been converted to industrial complexes. Through the twentieth century, workers mined limestone and clay and turned them into bricks and cement that were shipped across the region, but primarily to New York City. During the winter, laborers "quarried" ice from the Hudson River. When the last industrial operation closed, ecological succession began to return the land to a more natural state. Today, its important habitats — from forest to wetlands — are home to many plants and animals.

In 2002, a pair of major developments was proposed for the land that would have resulted in over 2,500 units of housing and 250,000 square feet of commercial space. Addressing public concerns about the project's scale, visual impacts from the Hudson River and popular riverfront destinations on its eastern bank, and lack of public access, Scenic Hudson and the grassroots Friends of the Kingston Waterfront commissioned an alternative plan that resulted in a redesign reducing the amount of housing to 1,600 units and creating a public esplanade along the river. In 2019, Scenic Hudson acquired 500 acres of the land from the primary developer, with the intention of creating a public park encompassing the extraordinary natural features throughout the site.

The first public amenity created was the Hudson River Brickyard Trail, completed by the City of Kingston and opened to the public in January 2021. In addition to being part of the Kingston Greenline, a system of trails, linear parks, and complete streets facilitating non-motorized transit throughout the city, the trail is a designated section of the 750-mile Empire State Trail stretching from Manhattan to Buffalo and the Canadian border. It is one of the few places along this trail where travelers can directly connect with the Hudson River.
History of Earth Day

The world's largest secular observance

For the last 52 years, this annual celebration of our planet has brought together millions of people around the globe, increasing awareness about threats to the environment and motivating action to protect it. Dosomething.org, the largest not-for-profit exclusively for young people and social change, compiled the following Earth Day facts:

1. U.S. Senator Gaylord Nelson founded Earth Day after witnessing a massive spill that leaked millions of gallons of oil into the Pacific Ocean off the California coast in 1969.

2. Sen. Nelson chose the mid-April date for Earth Day because it fell between most students' spring break and final exams, and he specifically wanted to encourage young people to participate.

3. The senator's goal was to infuse the energy of student anti-war protests with an emerging public consciousness about air and water pollution.

4. On the first Earth Day — April 22, 1970 — some 22 million people, about 10% of the total U.S. population, participated.

5. The event sparked an environmental movement that led to the creation of the National Oceanic and Atmospheric Administration and U.S. Environmental Protection Agency later that year.

6. Earth Day also was influential in passing environmental legislation like the Clean Air Act, Clean Water Act, Endangered Species Act, and National Environmental Education Act.

7. By 1990, Earth Day had become recognized worldwide. Today, it's estimated that more than a billion people take part in activities celebrating it, making it the largest secular observance in the world.
About Sojourner Truth

A pioneer in securing justice and equality for all

Sojourner Truth was enslaved for the first 29 years of her life — until she literally walked to freedom. Named Isabella at her birth in 1797, she was one of 12 children of James and Isabella Baumfree enslaved by Col. Johannes Hardenbergh in Rifton, Ulster County. All of the children would be sold away from their parents and each other.

By age 13, Isabella had been sold three times and enslaved by four different Ulster County families. Her rough childhood left physical and emotional scars she kept throughout her life. In 1826 John Dumont rescinded his promise to free her, so Isabella escaped. She walked 11.5 miles with her infant daughter Sophia — leaving three other children behind — to secure her freedom. "I did not run off, for I thought that wicked, but I walked away by daylight, believing that to be all right," she later said.

Isabella had barely begun to get used to her new life as a free person when she learned that Peter, her youngest son, had been sold illegally over state lines. The case she fought to gain his return from Alabama was one of the first in which a Black woman successfully challenged a white man in a U.S. court.

Isabella eventually felt a calling to speak out about the injustices she saw. Inspired to legally change her name to Sojourner Truth in 1843, she went on to travel and spread her message of freedom. She continued to speak passionately on the subjects of women's rights, universal suffrage, and prison reform until old age. She died in Michigan on November 26, 1883.

Today, Sojourner Truth is remembered as one of the foremost leaders of the abolition movement and an early advocate of women's rights. She is perhaps best known for her 1851 speech "Ain't I a Woman" and her advocacy for reparations for enslaved African Americans. A bust installed in the U.S. Capitol in 2009 recognizes Sojourner Truth's invaluable contributions to securing equality and justice for all. At Shaupeneak Ridge Preserve in Esopus, on land Truth likely passed during her walk to freedom, Scenic Hudson also has created a trail honoring her life and legacy.
SOJOURNER TRUTH STATE PARK PARTNERS