"I used to walk by this park all the time and never thought there would be a farm here."
That's Nick Jackson talking about the Pershing Neighborhood Farm and Garden, located in Poughkeepsie's Northside neighborhood, a historically redlined part of the city. He's not alone among local residents in marveling over the transformation of the formerly wooded site behind Pershing Park's basketball court and playground. It's quickly gone from dodgy, trash-strewn area to food-producing community hub.
But Jackson now has an added incentive, not to mention boundless enthusiasm, invested in the turnaround: He's in charge of the farm.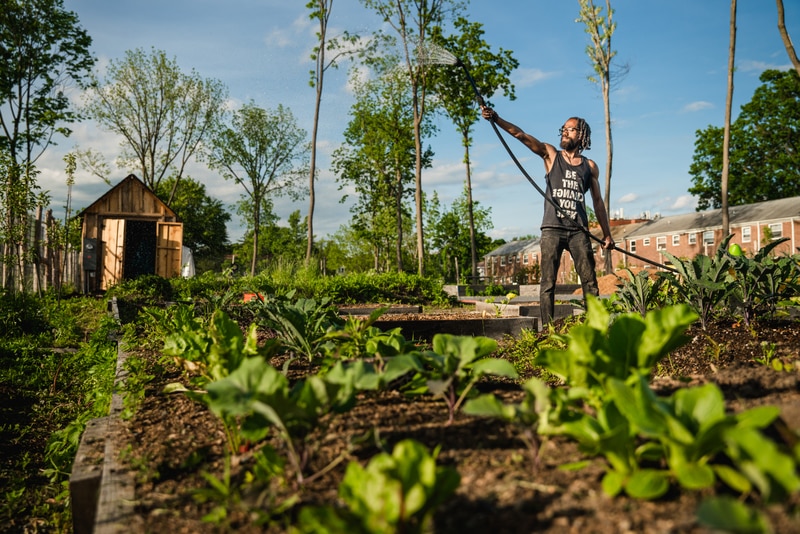 The Pershing Neighborhood Farm and Garden came about through a team effort by the City of Poughkeepsie (which owns the land), the Ecological Citizens Project, Poughkeepsie Farm Project, Nubian Directions II, and Scenic Hudson. It got off to a great start last spring, when the community garden portion of the farm opened to the public. Within weeks, all the raised beds available for residents to grow their own vegetables and fruits were snapped up. This year, additional beds were added. Again, all have been claimed.
At a harvest festival held last fall, volunteers came out to help plant berry bushes and garlic on the farm portion of the land. That kickstarted this first growing season in the 500-square-foot space that Jackson thinks will yield more than a ton of fresh produce. If things grow according to plan, this month the farm's initial yield will begin being distributed free of charge to Northside residents at an adjacent farmstand.
During a tour of the farm in early May, the garlic was shooting up, heralding the coming of a rainbow of fruits and veggies — from broccoli to beets, kale to corn, tomatoes to turnip greens. To help connect many Northside residents with their heritage, Jackson is cultivating lots of foods with ties to Native cultures and the African diaspora — special varieties of eggplants, tomatoes, and beans — as well as hard-to-find items popular with some segments of the local population.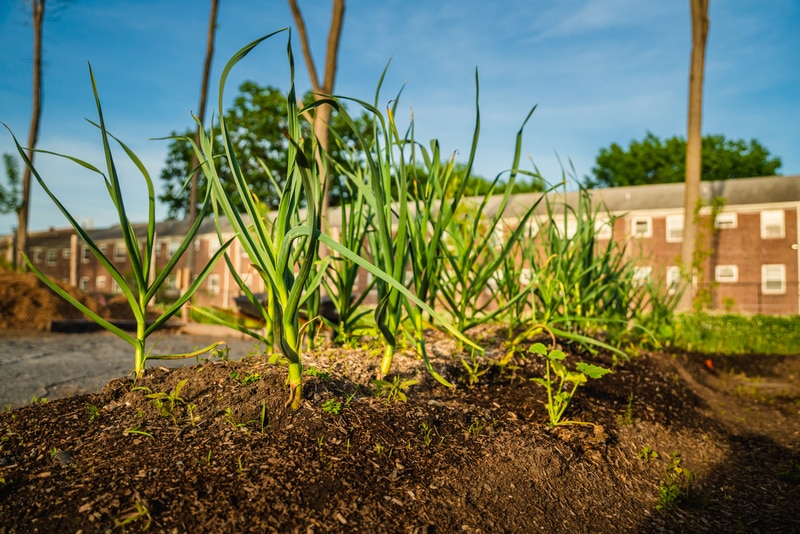 "In this neighborhood, there isn't a wide array of fresh vegetables," he says. "I picked out ones that people aren't used to, so they can try new things. I also want to provide things that remind people of home," whether it's a prior place where the people lived or where their ancestors came from.
"There were some Caribbean people who stopped by the other day and they were ecstatic that I'm growing callaloo," Jackson adds with a laugh. (This leafy green vegetable figures in a stew of the same name that arrived in the Caribbean with enslaved people from West Africa.)
Jackson's selection of produce also reflects his own Black and Iroquois heritage, and so does his transition into farming after a decade as a chef in popular local restaurants and a continuing career as a hip hop dancer and instructor. It also builds upon his family's ties to farming that stretch back at least three generations.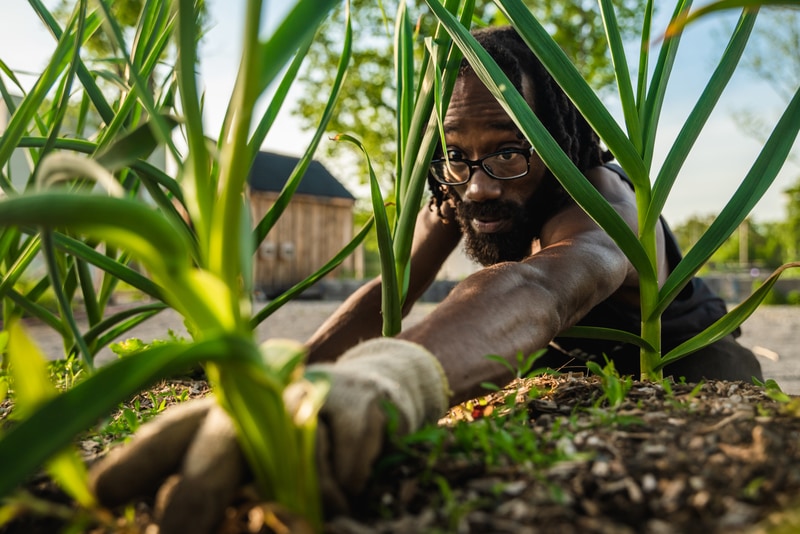 While Jackson is grateful for the many practical skills he learned via an apprenticeship with the Ecological Citizens Project, which teaches both climate-friendly farming methods and effective ways to engage the community, he says an innate feel for the land also seems to guide his work at Pershing Farm. "When I stick my hands into the soil it's as if I'm getting downloads," he says. "It's new to me, but it feels familiar."
Another plus: "I've always had a green thumb," Jackson says.
In addition to meeting a dire need for fresh, healthy food in Poughkeepsie, where one in four households are considered "food insecure," he hopes to encourage youth, especially people of color, to consider careers in agriculture through hands-on participation in the farm's operations and by sharing his own zeal.
"There's been a huge push for farming, a vacuum. There are opportunities to get into the field and make it your own," he says. And while recognizing the high hurdles that Black and other minority farmers face, especially the high cost of productive land and lingering discriminatory practices, Jackson expresses optimism. "The more people of color who get involved, we'll be able to turn the tide. There's strength in numbers."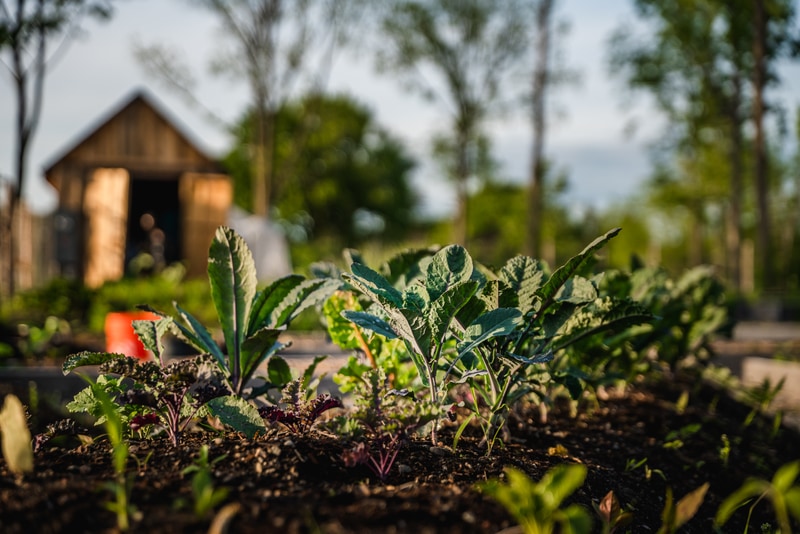 Jackson also is hopeful for the example set by the farm, something else that traces back to his Iroquois roots. "Working the land, being harmonious with nature — we were able to be productive and prosperous. That harmony has been disrupted. We're working to bring it back together." Or as he rephrases it later, "You're taking care of the earth, which in turn is taking care of you."
Jackson admits establishing the farm has presented some challenges, especially the fluctuating temperatures this spring. The work also has proven tougher at times than he anticipated. "I definitely was a bit arrogant at first. I expected it to be a lot of work, but there were a few moments where I'd say, 'Man, I wish I had someone to help with this.' But I'm no stranger to hard work."
The smile on his face throughout spring's guided tour proves that Jackson is in the right place and the farm is in good hands. "It was meant to be," he says. "I feel very proud to be part of this."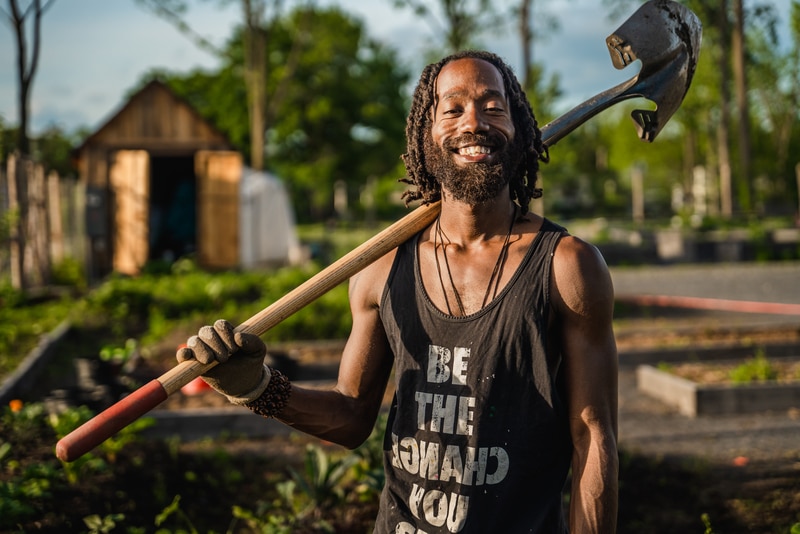 Those interested in helping at the farm can sign up here to volunteer. For more information about the Pershing Neighborhood Farm and Garden and other projects of the Northside Collaborative, visit https://northsideconnected.com.