In August 2007, Scenic Hudson protected 231.5 acres of picturesque, working farmland along an important Hudson River tributary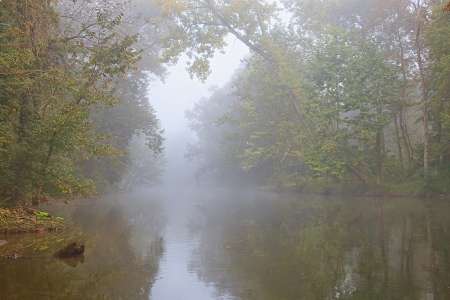 View of creek on newly protected Stonington Farm in the Town of Clermont.
Robert Rodriguez, Jr.
This mix of rolling fields and woods, highly visible from local roads, features more than a mile of frontage along the Roeliff Jansen Kill, an important Hudson River tributary. Approximately 65 percent of the land has been designated Farmland of Statewide Importance or rated Prime Farmland by the U.S. Department of Agriculture. Our purchase of development rights to this property guarantees it will remain a working, taxpaying farm. The transaction builds on our support of Clermont's agriculture-based economy and efforts to preserve its rural character. Since we initiated plans to protect a "critical mass" of working farms in the town in 2004, we have conserved 522 acres encompassing four farms. Further, safeguarded lands in creek and river flood plains will mitigate ecological and property damage from sea-level rises and storm surges under predicted climate-change scenarios. The purchase is part of Scenic Hudson's collaborative campaign to Save the Land that Matters Most, protecting 65,000 acres of great scenic, ecological and agricultural significance.
Project highlights
Adds to "critical mass" of working, taxpaying farms protected in southern Columbia County
Safeguards scenic views
Will help mitigate damage from of global climate change
Location
To view the Stonington Farm property in relation to other nearby protected lands,
download this map (pdf, 819k)