NYC Gallery Features Hudson River Photography
A show featuring photographs by former Scenic Hudson Board member Carolyn Marks Blackwood is opening at the Paul Rodgers Gallery in New York City on November 15. Scenic Hudson is delighted to offer an online gallery previewing some of these dramatic Hudson River photographs.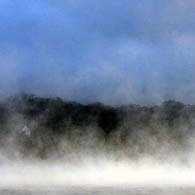 Click here to view an online gallery of Blackwood's Hudson River photographs
When Blackwood first saw the little Rhinecliff house, on the 100 foot cliff, overlooking the Hudson, she knew instantly that this was the place she had been dreaming of. It offered a 180 degree view of the Hudson River, the Catskills, and looked across into the Kingston Rondout and the Kingston Lighthouse. The beauty of the 50 mile view took her breath away, and the house, only 30 feet from the edge of the cliff, faced west, which meant sunsets every night.
As a writer and producer of films and television, she found it difficult to get any work done for the first six months. She would often find herself staring out the window at the ever changing view, the Bald Eagles and Great Blue Heron which flew over head many times per day -- the great ships and sail boats, the clouds over the mountains, and the storms which came from the south or west... the morning fog and the dramatic sunsets. As an admirer of Contemporary Art, she saw elements in the water and clouds and fog that reminded her of her favorite paintings -- from the Hudson River School of painting to the paintings of Agnes Martin and Gerhard Richter. She could see the "whole" and yet also started to see how she could deconstruct the elements, to her great delight.
Carolyn Marks Blackwood has been taking photographs for the past 30 years. Six months ago, she showed her work for the first time, and her life has not been the same since. She is preparing now for a show in New York City at the Paul Rodgers gallery on Nov. 15th. She will have another show in the spring at the Hudson Opera House in Hudson, NY.