Polychlorinated biphenyl (PCB) contamination of the Hudson River has hurt generations of Hudson Valley residents.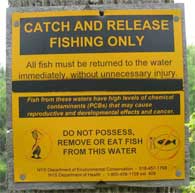 PCBs -- a group of toxic chemicals once in widespread use as coolants and lubricants in transformers, capacitors and other electrical equipment -- are insoluble and extremely resistant to natural decay. Now banned, PCBs also are incredibly difficult and costly to destroy by chemical, thermal and biochemical processes. PCBs dumped in the Hudson River will remain in the ecosystem unless permanently removed. Aside from injuries to human health, PCB exposure threatens substantial economic development along the upper Hudson, wildlife (including striped bass, once the basis of a $40-million annual commercial fishery), surface and groundwater sources communities depend on for drinking water, and productive agricultural soils.
Back Then
For over 30 years -- from the 1940s to the 1970s -- GE discharged an unknown amount of PCB-laced waste (estimates are in the billions of pounds) into the Hudson River from its capacitor manufacturing plants at Hudson Falls and Fort Edward above the Federal Dam at Troy. PCBs continue to flow at high levels from these deeply contaminated areas, traveling over the dam and many miles downstream toward New York Harbor. These toxins accumulate in the land, river sediment and food web all along the river. For 30 years Scenic Hudson has been a leader in the fight for a Hudson River free of PCBs, providing a voice for the many citizens who want a river whose water is safe to drink and fish in. All along, we've collaborated with other organizations that share our commitment. In 1999 we helped form Friends of a Clean Hudson, a coalition of national, state and regional environmental groups, as well as municipalities, advocating for the removal of PCBs from the river. We've also insisted that the ultimate cleanup be based on science, not expediency or the bottom line. In 2002 the U.S. Environmental Protection Agency (EPA) completed decades of investigation and issued a Hudson River PCB cleanup decision. As the nation's largest Superfund site -- 200 miles long -- it was divided into two parts: the upper portion of the river, from Hudson Falls to Troy; and the lower portion, extending from Troy to the Battery in Manhattan. With the 2006 Consent Decree, GE agreed to design and implement the selected remedy -- mechanical remediation -- for an initial year of dredging (Phase 1). Phase 1 was completed in 2009. An ensuing independent scientific review showed that the remediation project can and should go forward. With much deeper contamination discovered during actual in-the-water operations, Phase 2 will begin with a better knowledge of real river conditions and improved management of dredging operations.
What's Happening Now
In December 2010 the EPA announced that in Phase 2 it will require GE to remove an estimated 95 percent or more of PCBs from areas designated for dredging along a 40-mile stretch of the river. Later that month, GE agreed to move forward with the project in the spring of 2011 -- an enormous victory in our battle for a clean, healthy, economically prosperous Hudson River. Phase 2 is estimated to take up to seven years to complete. As the project continues, Scenic Hudson is strongly encouraging the EPA and GE to incorporate the expert recommendations put forth by the federal, state and local agencies tasked with the ongoing and future care of the Hudson. Supported by community partners and our dedicated members, Scenic Hudson remains present at every stage of this historic remediation. Through our presence on the Hudson River Community Advisory group -- a forum through which a broad and diverse sample of community needs and interests are represented during the cleanup decision-making process -- we continue to press for the most comprehensive cleanup possible to restore the river to full environmental and economic health.