The Dutchess County Fair is up and running this year, from August 22-27. It draws close to half a million people, making it the second-largest county fair in New York (after Erie) and the 45th biggest state or county agricultural extravaganza in the U.S.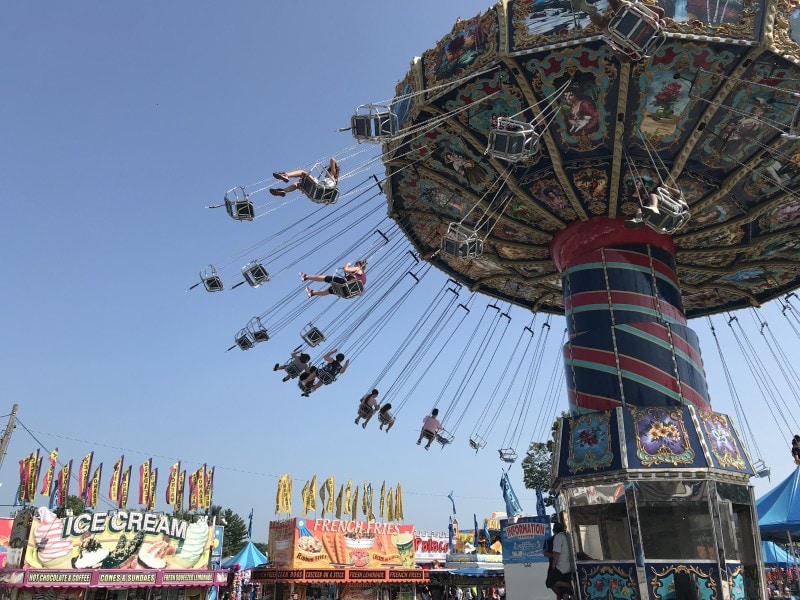 In anticipation of the cows, corndogs, and country music you'll enjoy, here's a sampling of fair lore.
Established by the Dutchess County Agricultural Society, the inaugural fair opened in October 1842 behind a hotel in Washington Hollow, a hamlet between Millbrook and Poughkeepsie. (Today, a State Police barracks is located on the site.) It featured displays of farming tools and competitions for best fruit and vegetables, best crop seed samples, and best homespun wool and flannel cloth. Prize money awarded totaled $294.
The 1843 fair took place in the City of Poughkeepsie (at the corner of Mill and Catherine Streets), and then began alternating between the two sites each year through 1852, when Washington Hollow was chosen as the fair's permanent location.
Then as now, not everyone agreed with the judges' decisions. In an 1850 letter addressed to the agricultural society's Board of Managers, John Cotting of Rhinebeck complains that his horse should have won the top prize at the previous year's fair. "By some most unaccountable mistake," he grouses, "the premium was awarded to a grey colt presented by Gen. Wyncoop which in fact had no more pretensions to superiority than I could have to the strength of Hercules."
One of the most crowd-pleasing early attractions was the plowing competition. Isaac Sands took home the top prize in 1846 by turning over a quarter-acre of soil in 28½ minutes.
The fair moved to its current Rhinebeck home in 1919.
Dignitaries who have attended the fair include Presidents Theodore and Franklin Roosevelt, and NY Governors Thomas Dewey and Averill Harriman.
"American Pie" singer Don McLean won the fair's first talent competition, held in 1964.
2020 marked the sixth time the fair had been cancelled. It also was called off in 1916 and 1918 (for financial difficulties), 1927 and 1928 (heavy rains and flooding) and 1942 (World War II). In 2011 the fair closed early because of Hurricane Irene.
No trip to the fair would be complete without sucking down one of the Dutchess County Dairy Committee's milkshakes, a fair staple since the 1970s. What makes them so tasty? Lots of butterfat—13% compared to the 6-7% found in most milkshakes.
Why do people go back to the fair year after year? Where else can you see something like this?