The Hudson Valley's modern riverside parks (15 of which Scenic Hudson partnered to help create) have become places where people flock to enjoy green space and water views. In the early 20th century, a different kind of attraction drew people to the shoreline: amusement parks.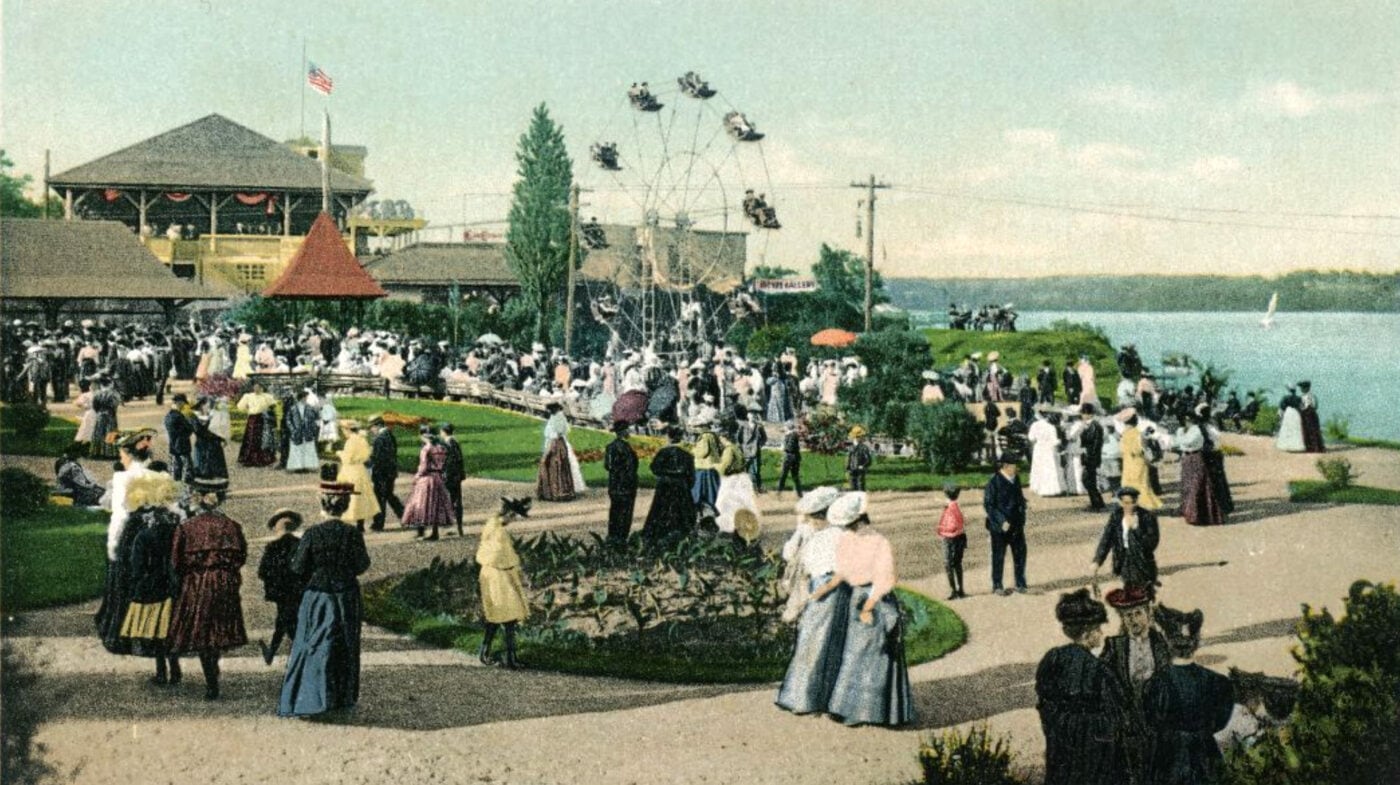 These old-time destinations were created to build ridership on another vanished slice of valley history: the Hudson River Day Line, whose ships cruised from Manhattan or Albany. A trip on one of these floating palaces allowed city residents to escape the summertime heat and humidity. Providing a fun place to disembark for a few hours gave people extra incentive to buy a ticket.
These are the vanished treats that awaited their arrival.
Indian Point Park
Natural beauty with beer, dancing, and even speedboat rides
Long before Indian Point became a place where energy was created (by the nuclear power plant Scenic Hudson fought for decades to shut down), people went there to expend it. Once farmland and later a brickyard, this peninsula just south of Peekskill provided an ideal location for the Hudson River Day Line Company to create a park: It was close enough to Manhattan for its customers to enjoy a full day's worth of outdoor activities before they headed homeward.
A unique feature of visiting the park? Local boys who waded into the river at a day-liner's approach and begged young female passengers to toss them a penny. Those lucky enough to catch one would re-gift the coin to the thrower and propose to be her chaperone for the day.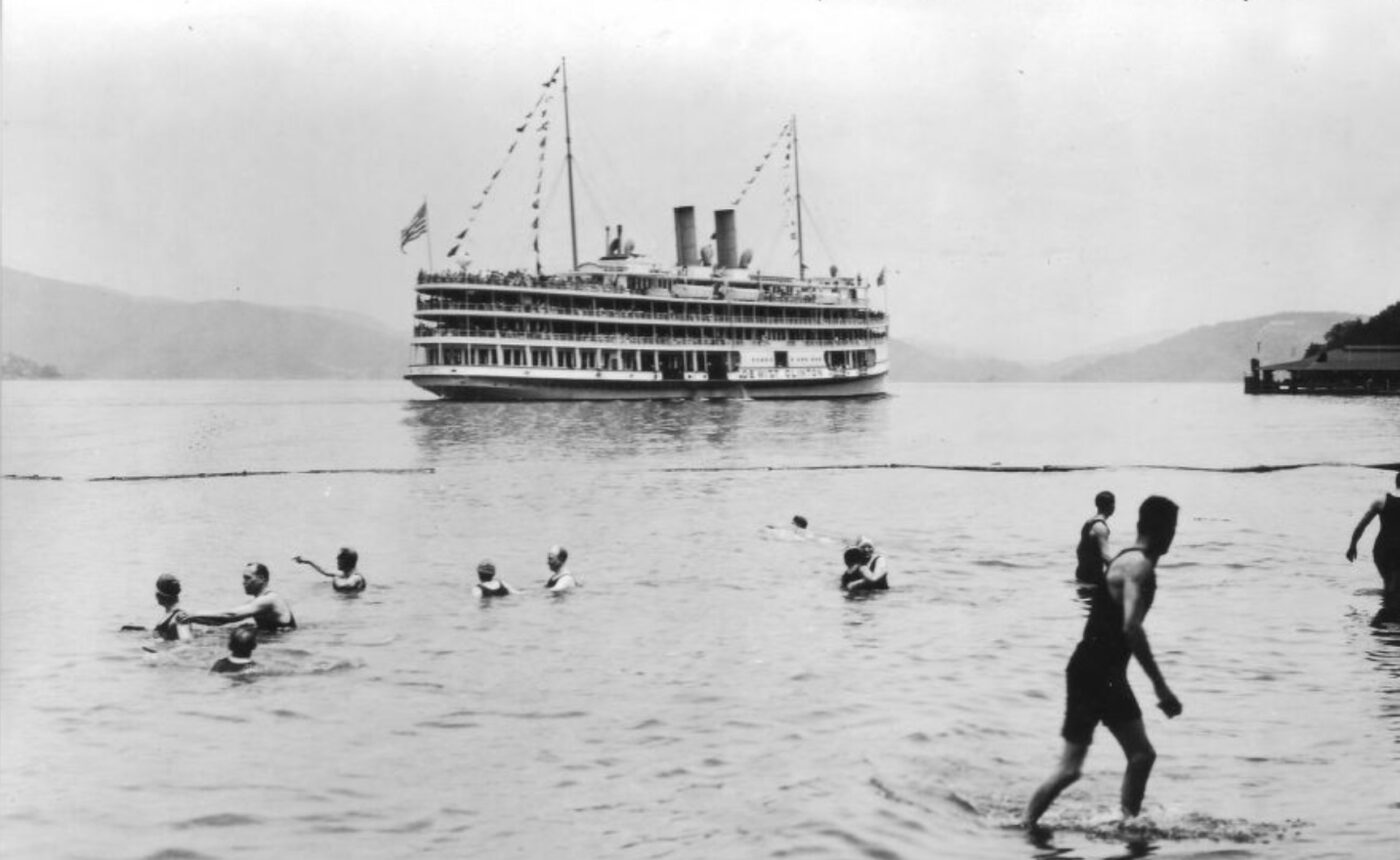 When it opened in 1923, the 320-acre Indian Point Park relied primarily on its stunning natural features to lure visitors. These included a riverfront beach, walking trails through forests and wildflower-filled meadows, tree-shaded picnic areas, and a tranquil lake for rowing. Later, the company upped the excitement ante by adding a swimming pool (advertised as the largest on the East Coast), beer and dance halls, mini-golf, amusement rides, and speedboat excursions on the river. During its boom years, weekend attendance reached 10,000.
When the Hudson River Day Line Company went bust in 1948, it sold off the land. A Westchester businessman who purchased a 50-acre portion kept the park alive by introducing rides bearing descriptive names like the Double Looper, the Caterpillar, and the Jumping Jack. Beginning in 1950, thrill-seekers came by car and bus to hop aboard.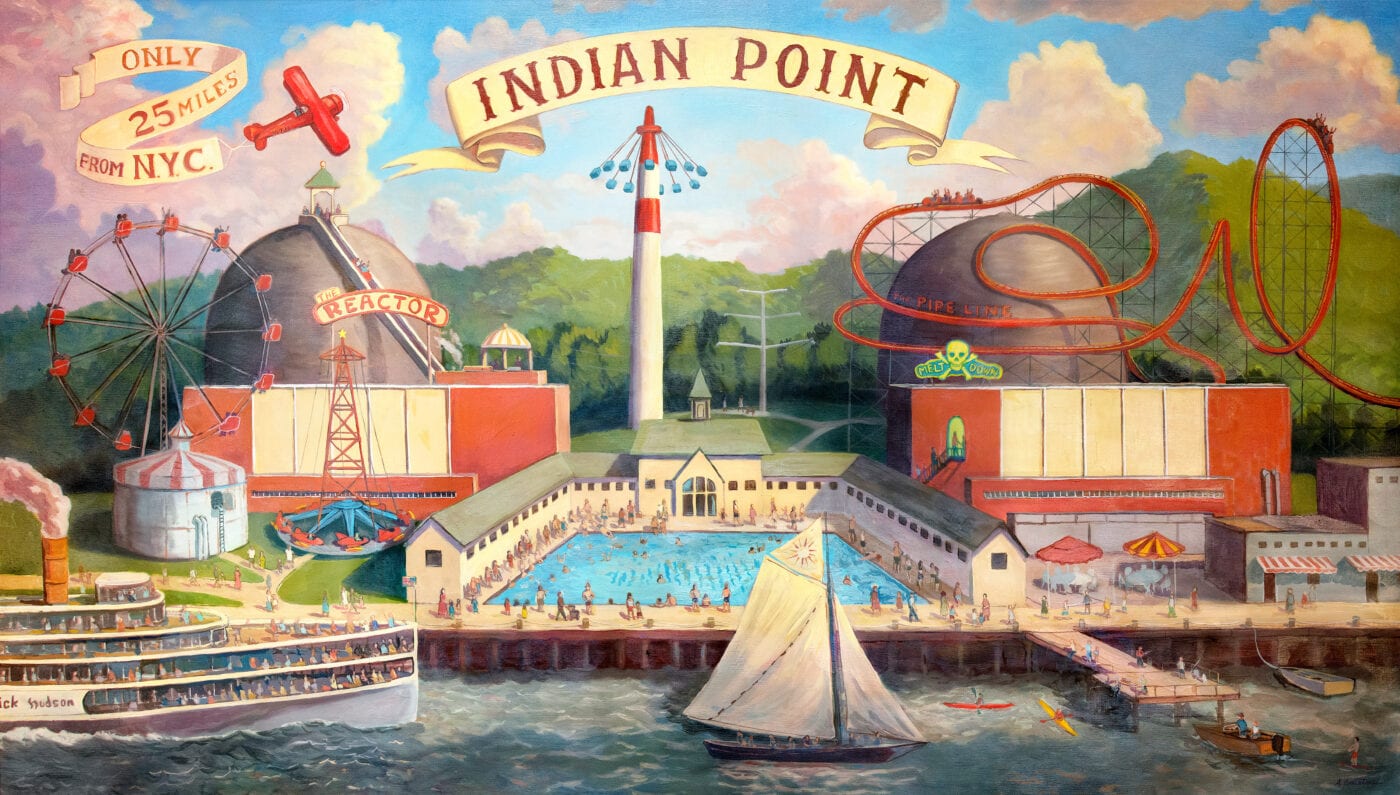 Their enjoyment was short-lived: After five seasons, this last section of Indian Point Park closed. Shortly after, Con Edison purchased the site for $250,000, paving the way for construction of the nuclear plant.
Woodcliff Pleasure Park
Home of the world's fastest rollercoaster
When entrepreneur Fred Ponty opened Woodcliff Pleasure Park on July 14, 1927, he billed it as "the world's most beautiful amusement resort." Fourteen years later, it earned another, more dubious, superlative — fastest and most shocking demise.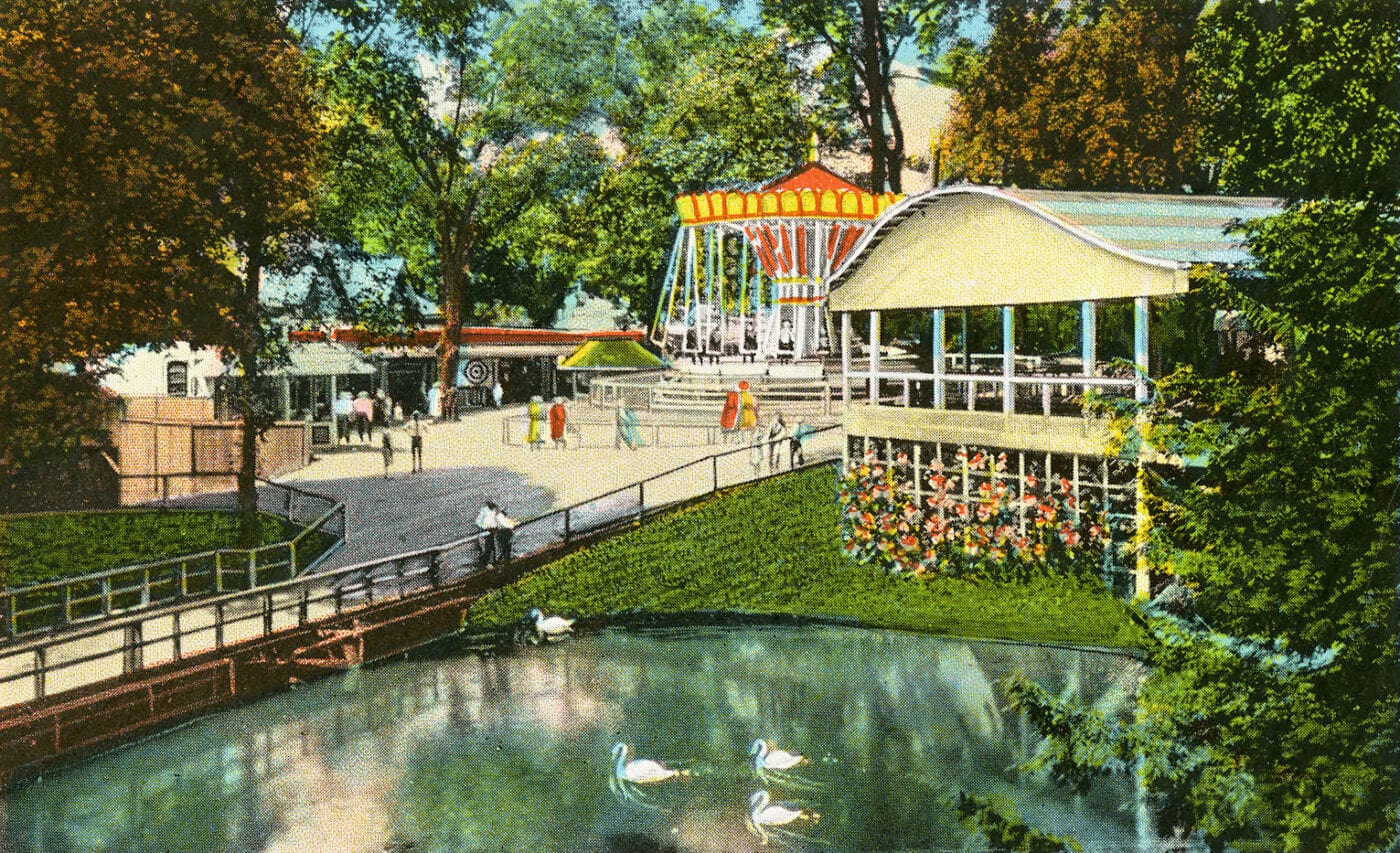 Woodcliff was once the estate of industrialist John Flack Winslow (who financed construction of the ironclad warship Monitor), and is today part of the Marist College campus in Poughkeepsie. Its location halfway between Albany and New York City made it ideal for attracting visitors. Ponty spent an estimated $1 million to assure they'd come, whether by boat, train, or car.
For its 27-acre size, Woodcliff boasted an incredible variety of excitement. Its offerings included a roller skating rink, swimming pool that could accommodate 3,000 bathers, the state's largest ballroom, a mammoth midway arcade, and even a sunken garden. Plus there were heart-in-your-mouth rides like Mangle's Whip, billed as making "old people young — and young thrill with joy."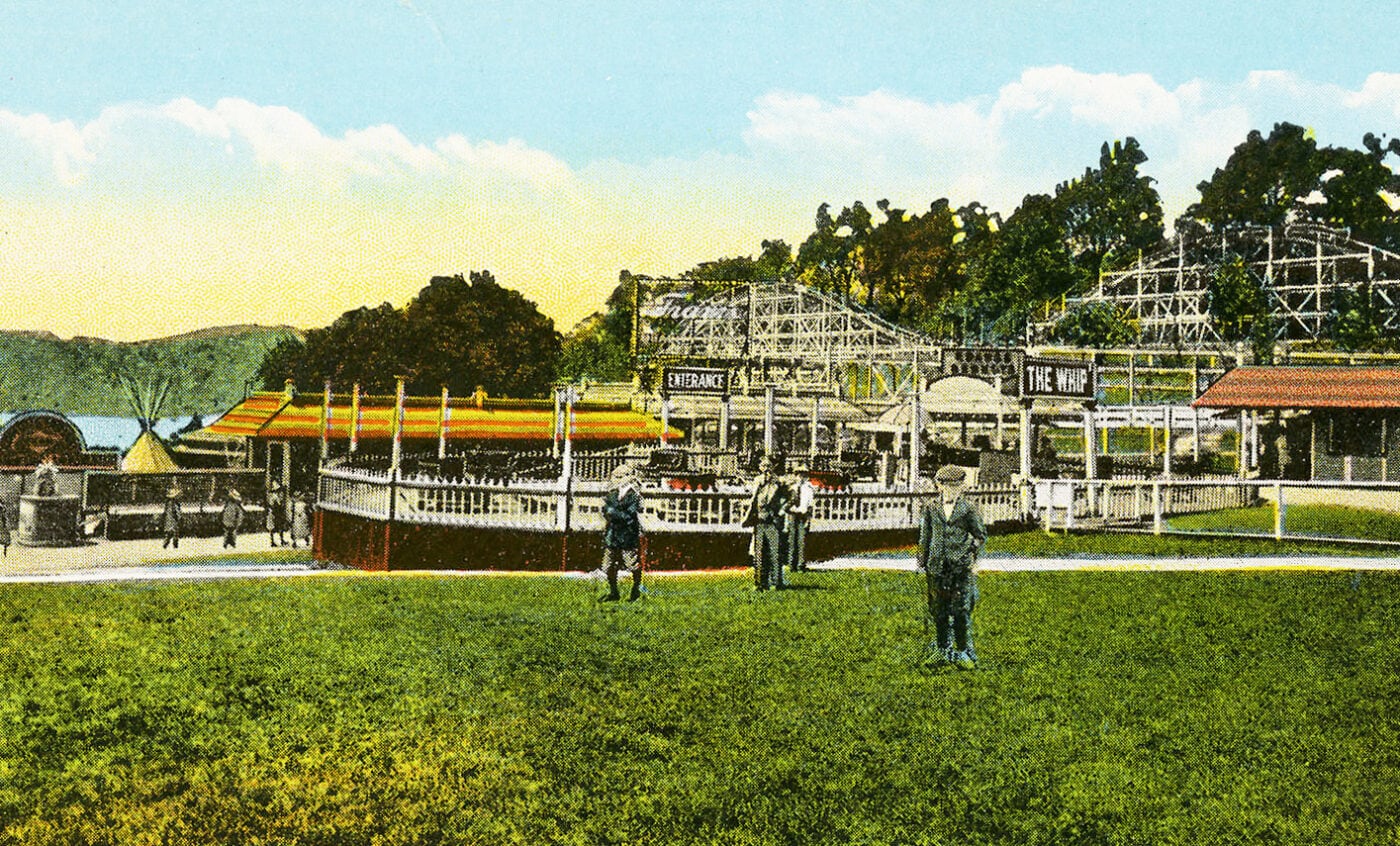 But Woodcliff's highlight was its roller coaster, the Blue Streak. Created by the designer of Coney Island's Cyclone, it reached heights of 130 feet and speeds above 65 mph (a record that stood for 54 years). Built over an apple orchard, its tracks swerved oh-so-close to the site's riverfront bluffs, giving riders an extra jolt of adrenaline.
Early on, Woodcliff Park attracted up to 20,000 weekend visitors, but the Great Depression took a big bite out of those numbers. Still, it remained open until a fateful day in August 1941, when a snafu resulted in the double booking of the park's inn to 3,000 members of the Odd Fellows fraternal organization from New York City and 1,000 parishioners of a Poughkeepsie church. Cooler heads did not prevail, and a riot ensued. Before police could restore order, Woodcliff had sustained significant damage — so much that it never opened again.
Kingston Point Park
A people-pleasing solution to a transportation dilemma
Until 1896, Kingston didn't have a dock sizable enough for day-liners. Instead, passengers disembarked across the river in Rhinecliff and had to catch a ferry to reach the city. Kingston businessman Samuel Croykendall had a vested interest in coaxing the ships to "switch sides." It would ease travel to Catskill mountain resorts via the Delaware & Ulster Railroad, where he served as president.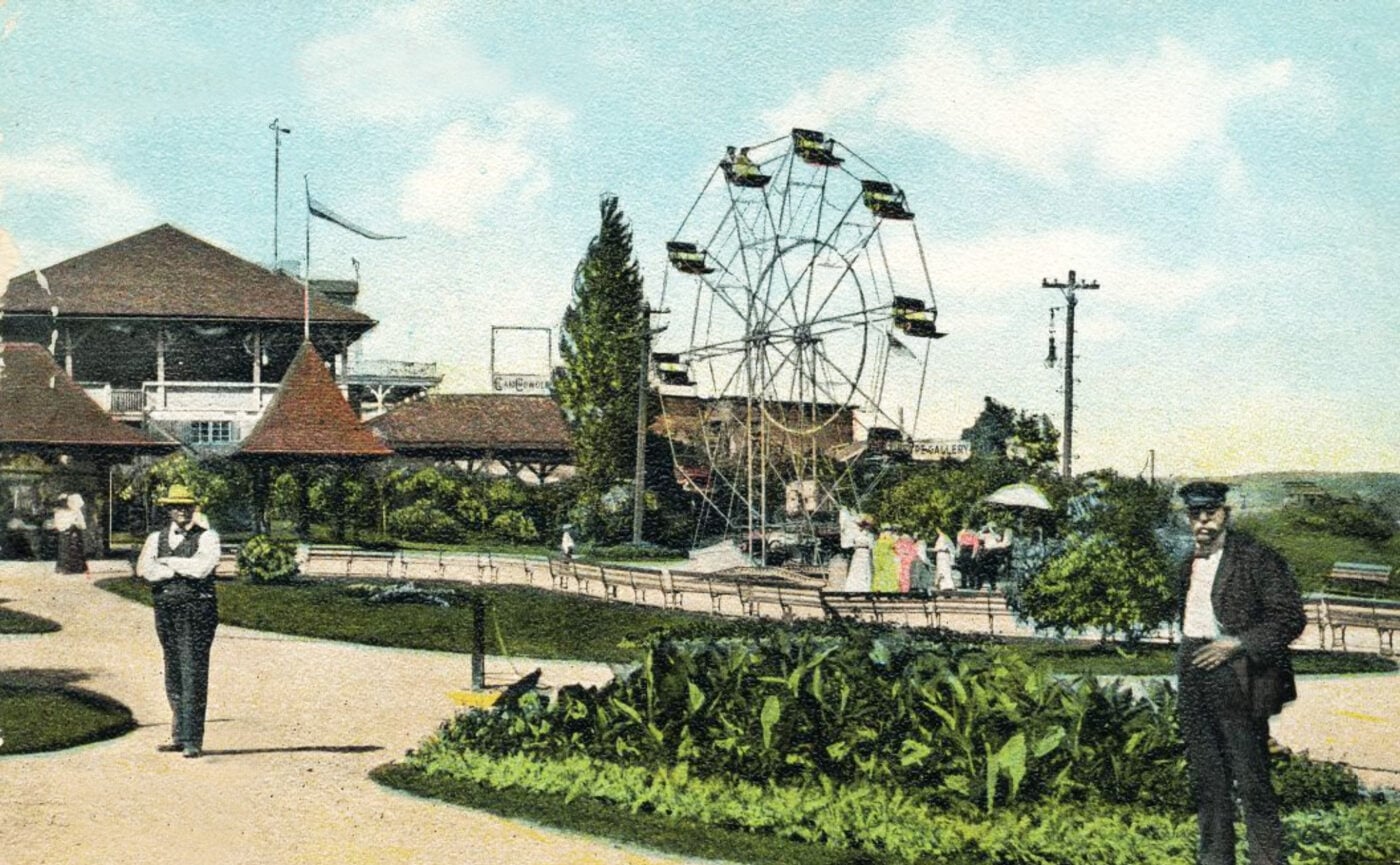 So that year he financed construction of a new dock and a D&U rail line extension to the dock. He turned a swamp next to them into Kingston Point Park, a 12-acre oasis for day-trippers to spend a little time (and money).
Designed by Downing Vaux, son of Central Park co-designer Calvert Vaux, Kingston Point Park featured winding paths, a rowboat lagoon, lush gardens, and rustic picnic shelters, all of which caught fresh river breezes. The pleasure grounds eventually sported a Ferris wheel and merry-go-round, dance pavilion, shooting gallery and penny arcade, and a bowling alley, as well as a small swimming beach. Band concerts and theatrical performances further enlivened the entertainment.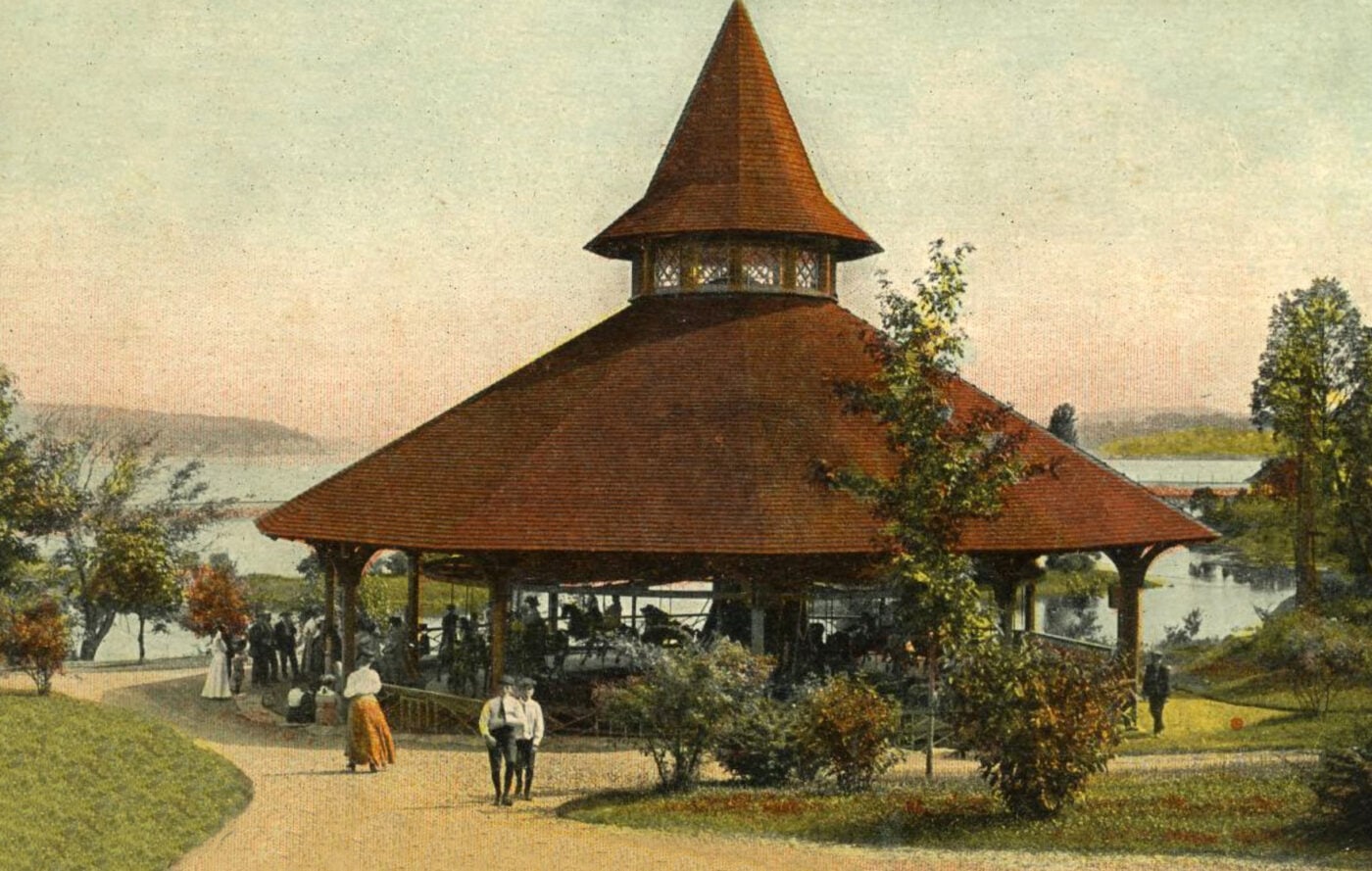 Kingston Point Park advertised itself as a family-friendly place and, unlike Woodcliff and Indian Point, strictly banned the sale and consumption of alcohol. (Croykendall built the Oriental Hotel next to the park, which did serve liquor; it's said that while mothers and children enjoyed the park, many fathers gathered at the hotel bar.)
The hotel caught fire in 1922, and the park had begun to age by the time day-liners stopped running in 1948. The following year, the site was acquired by the City of Kingston; in the 1990s, it was adopted by the local Rotary Club. Today known as Rotary Park at Kingston Point, it remains full of low-key amusements, with recreation offerings like a BMX track, softball field, frisbee golf, and a dog park.
Reed Sparling is a staff writer and historian at Scenic Hudson. He is the former editor of Hudson Valley Magazine, and currently co-edits the Hudson River Valley Review, a scholarly journal published by the Hudson River Valley Institute at Marist College.