As an invasive pest kills millions of U.S. trees, a creative new approach to timber manufacturing could give sustainable new purpose to wood that would otherwise go to waste.
The Ashen Cabin in Ithaca, designed and built by a Cornell University architectural team, demonstrates how ash trees damaged by the notorious emerald ash borer beetle can be reclaimed for construction.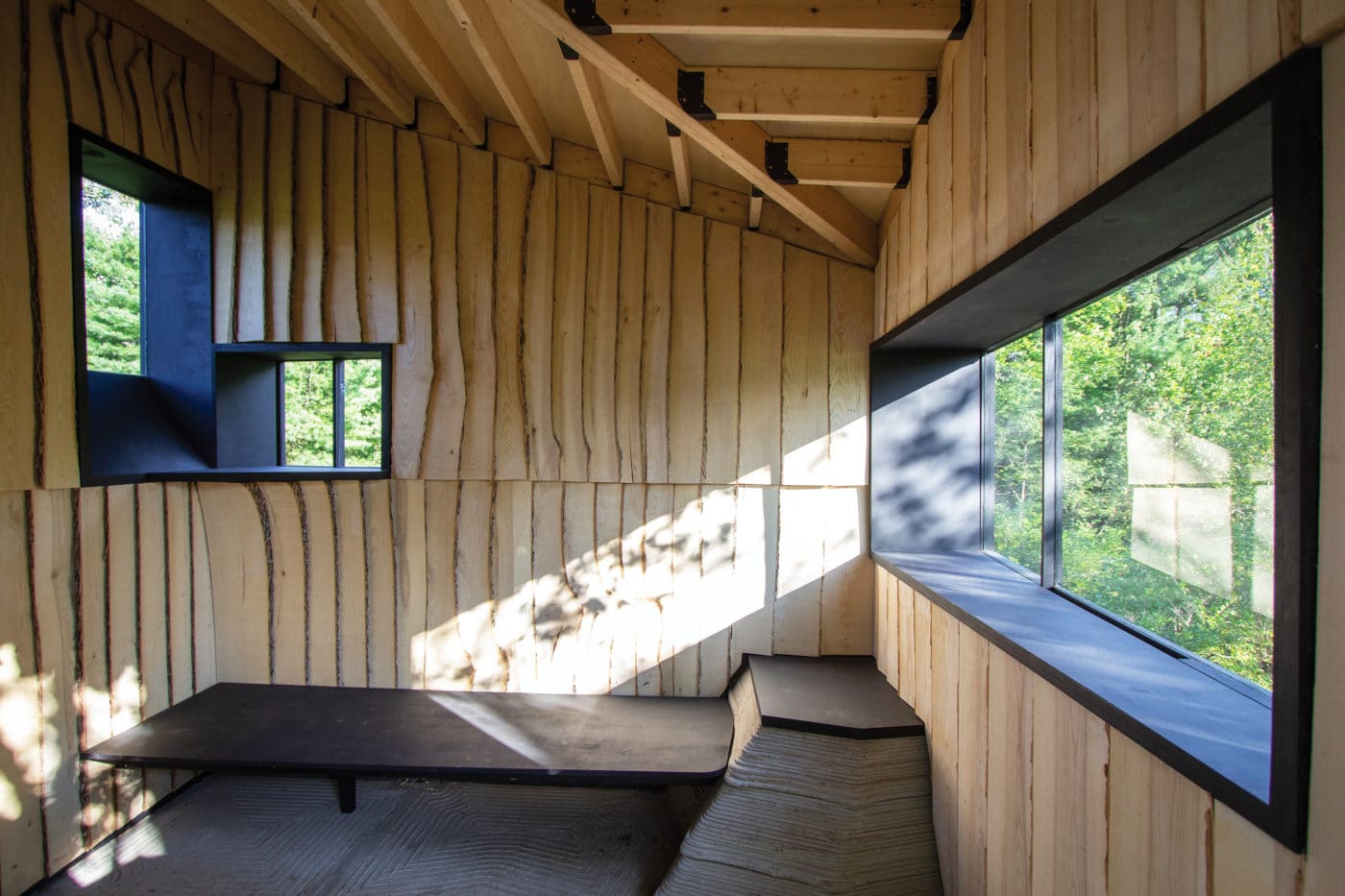 This insect has cost the U.S. billions of dollars and destroyed upwards of 200 million trees since its confirmed arrival from Asian origins in the early 2000s. And the already dismal situation is only expected to get worse.
There may not yet be a way to halt the invasion altogether, but now, with a little help from 3D scanning and a repurposed automotive robot, there's hope that something meaningful can be salvaged from the destruction.
Building the Ashen Cabin meant removing about 10 pest-damaged ash trees from the university's Arnot Teaching and Research Forest, which has an estimated 100,000 ash trees in all. The emerald ash borer only recently arrived at Cornell, where its presence on campus was first noted in 2018.
The team selected trees that were "still more or less healthy trees in the sense that the infestation had just started, so they weren't dead yet," says Sasa Zivkovic, an assistant professor of architecture at Cornell, who led the project alongside colleague Leslie Lok. "But they were slowly dying."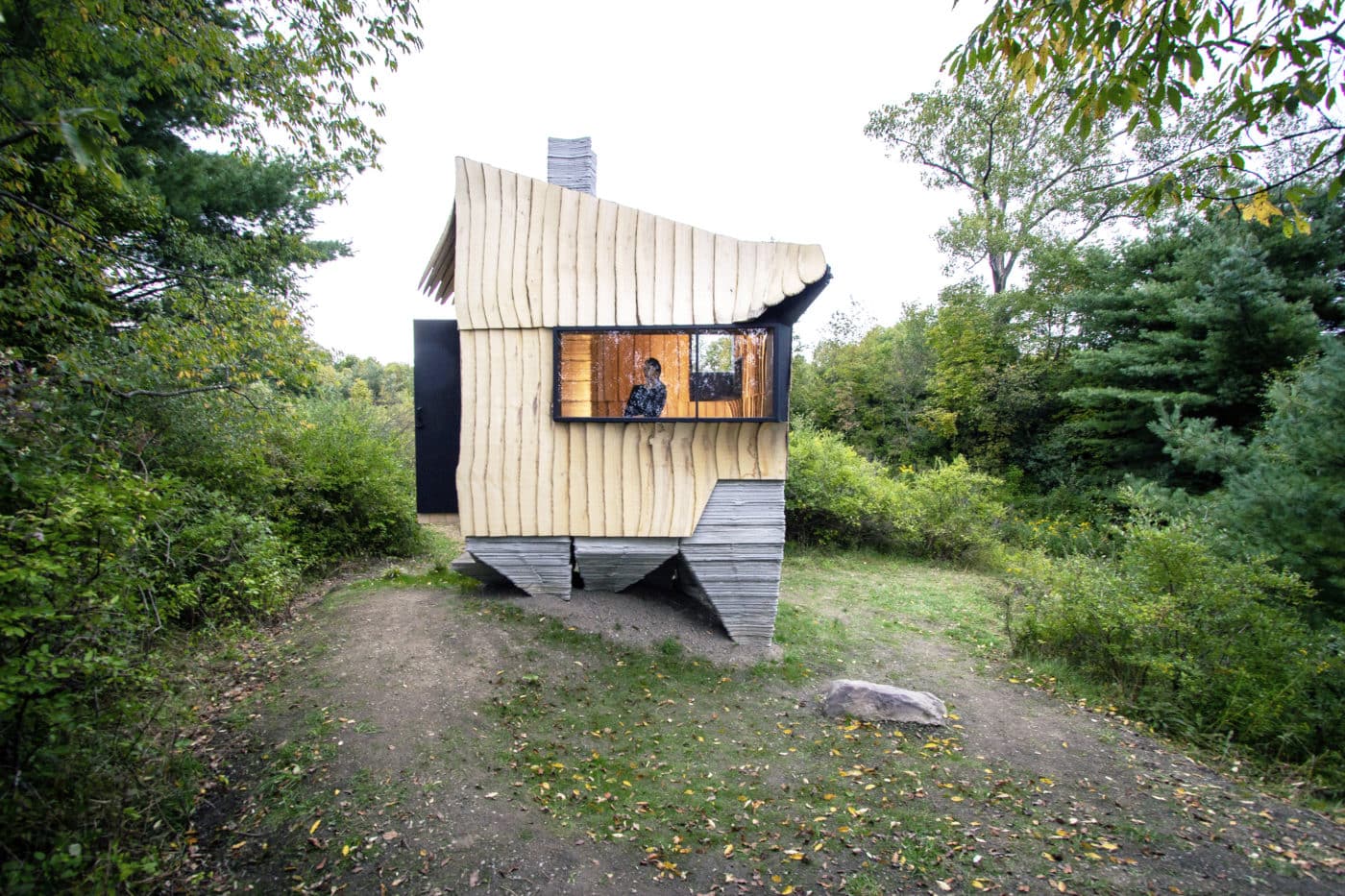 In a typical scenario, this wood is otherwise burned or left to decay. Healthy ashwood, however, can be a desirable building material, so long as the user is prepared to work with its quirks. It's known to be rather curvy, growing in a way that's far more irregular than other sources of wood; there are straight portions, there are forked portions, there are portions that range from "slightly bent" to "really bent," Zivkovic explains. But with modern tools, those irregularities can be woven right into the design.
So the team purchased a retired General Motors welding robot for $8,000 on eBay and got to work. They stripped it of its welding instruments, "hacked it a little bit" to fit their needs, and built a bandsaw that could be adapted to the robot. That, coupled with 3D scanning, allowed for a lot more freedom.
"Those are not straight logs, and so what we've done with the robot is slice these irregular geometries. So you get boards that are not straight, which in our case we thought is something desirable," Zivkovic says. "We will use that to accentuate certain architectural moments, like an entranceway, roof, windows. We're using this otherwise kind of unusable wood to our advantage.
"There's an interesting step in the process because, based on the logs that you get, you have to redesign the project again to fit the material, because it's not like going to Home Depot and picking a 2×4," he adds. "It's a different process — you might have in mind a kind of range of possible geometries."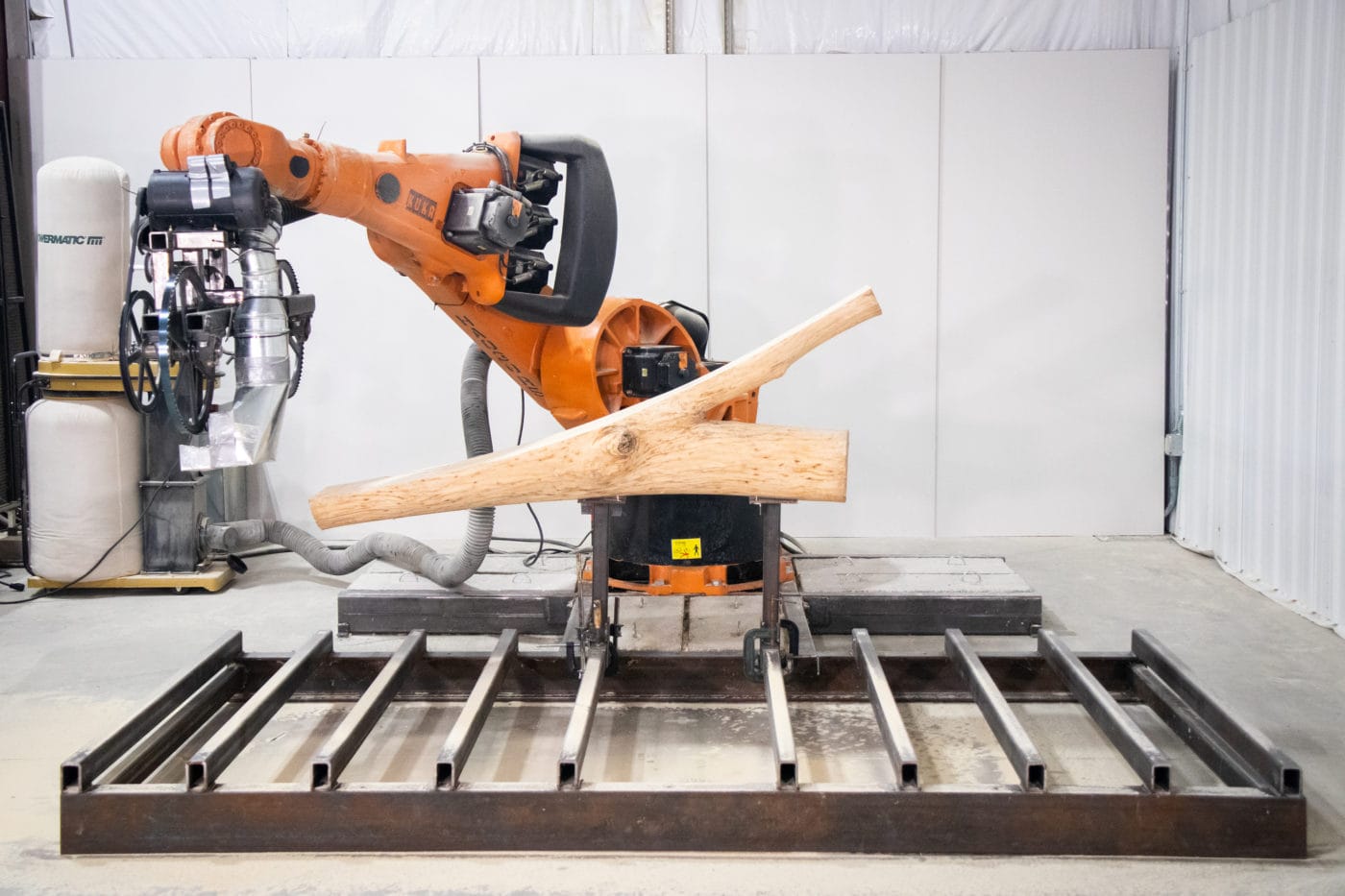 It is a testament to the possibilities of sustainable building. In addition to upcycled waste wood and robotic parts, the Ashen Cabin incorporates 3D-printed concrete. That, too, shaves a significant amount of carbon emissions off the manufacturing process.
"We know that concrete is responsible for 8 percent of total CO2 emissions," Lok said in a statement earlier this summer. "By using 3D printing, we eliminate the use of wasteful formwork and can deposit concrete smartly and only where structurally necessary, reducing its use considerably while also maintaining a building's integrity."
The Ashen Cabin wants to go beyond academia and get adoption in the real world. Zivkovic and Lok, who also run a design firm called HANNAH, want to take it from concept to reality. The duo was recently awarded a grant from Cornell's Atkinson Center for Sustainability and has linked up with building industry partners like Unalam to figure out how to scale up the process for larger use-cases.
There's much to consider when thinking beyond a standalone installation like the Ashen Cabin, though. Builders can't help but wonder about the long-term structural integrity of something built from wood that was once, to some degree, home to pests, says shipwright and timber framer Andrew Cooper (who was not involved in the project). The process also has implications for any potential repairs down the line, he says, being what many might see as "reinventing the wheel" based on the use of the robotic bandsaw.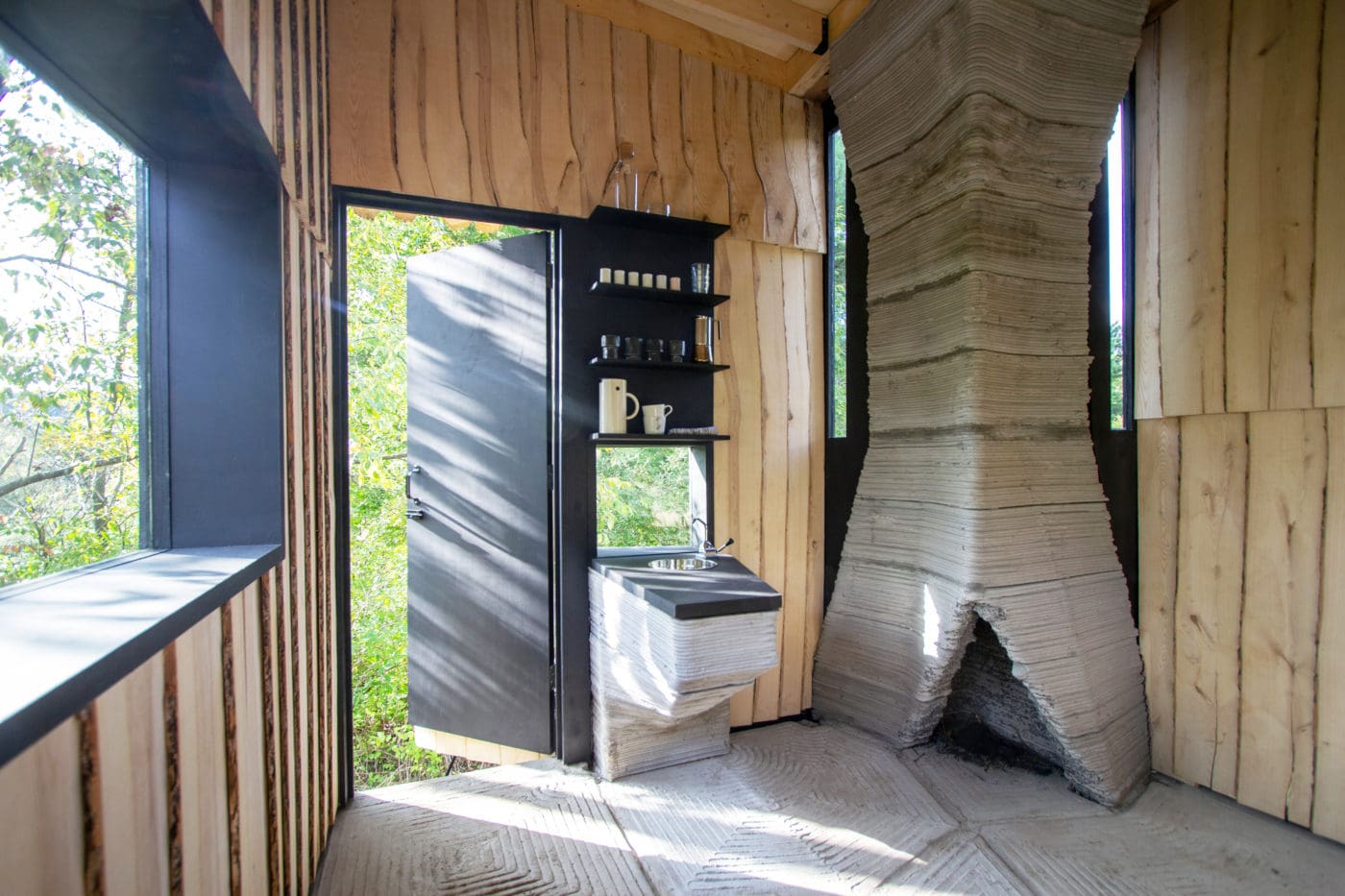 That's not to say the artistry and innovation shown here aren't worthy of appreciation, says Cooper, who owns Fortier Woodworks LLC in Olivebridge. But if sustainability is the goal, then what matters most is building things that last, he says.
Historically, ash has been considered a wood of high enough quality to use not only in building construction, but also ship-making, furniture and even baseball bats. The cabin, made with their novel approach to the classic structural insulated panel (SIP), is just one example of how upcycled ashwood could be incorporated in practical solutions.
Demand for cabins and rural getaways has shot up since the COVID-19 pandemic began, including in the Hudson Valley and the Catskills, and a new breed of nature retreats here emphasizes sustainability. One, the Catskill Project, is aiming for carbon neutrality, with solar panels and triple-glazed windows. It will use ash felled in construction for floors in the houses.
But the potential for building with ash goes beyond high-end second homes, the designers argue. One day, they say, it could even encompass affordable housing.
"Currently, these ash trees are — you can have them almost for free," Zivkovic says. "They have the value of firewood, which is low. That is kind of an absurd thing because it's just really great wood. To bring costs down, one needs a bigger transformation in the building industry. But this is already happening." Just look at how 3D-printing has flourished in the last few years, he notes.
"These technologies move quickly," Zivkovic says. "We will close the gap soon between mass standardization and mass customization, making mass customization more affordable. I think we're moving towards that step bit by bit."
Watch ash go from bent, damaged wood to sophisticated modern cabin here.
Cheyenne MacDonald is a science and technology journalist based in the Hudson Valley. She leads the daily churn of news at Input as deputy editor and runs a science newsletter, the perpetual stew, in her spare time. When she's not writing, you can find her in the woods.