In the shadow of the Walkway Over the Hudson sits a plain white shipping container. It reads as overflow storage for the Poughkeepsie restaurant Farmers & Chefs. From the restaurant's ample terrace, patrons would just think it's part of the infrastructure.
When Farmers & Chefs owner John Lekic spreads open the doors, however, the unit becomes part of the impressive river view scenery and reveals an interior that looks like a futuristic movie set. Columns of LED lights run down the middle, and along the sides are the kind of showy "living walls" seen in corporate headquarters, with plants growing from floor to ceiling. The smell of mustard greens and bronze fennel peppers the air.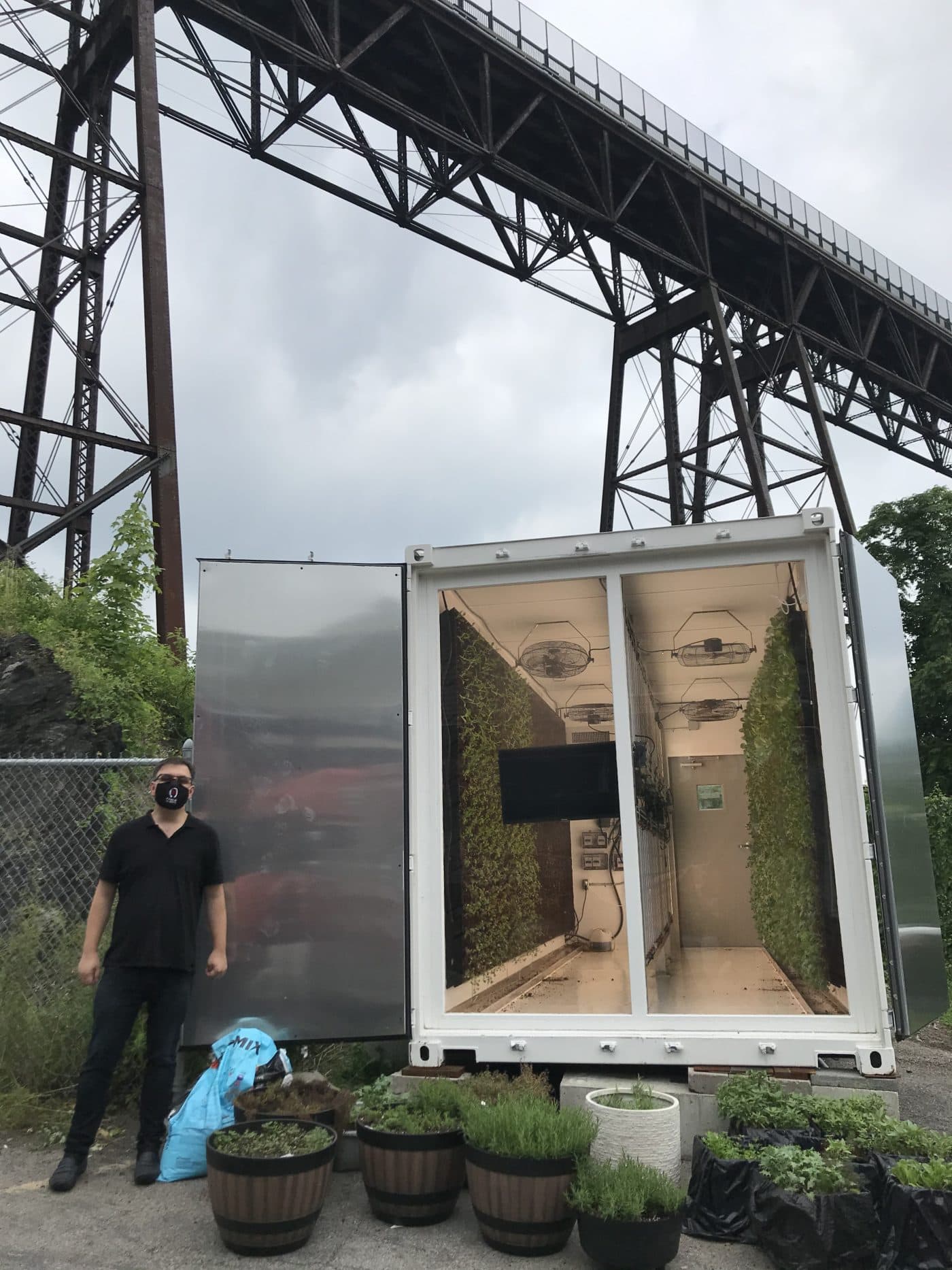 This is no junky storage unit — it's a $120,000 high-tech farming tool that's the among the first of its kind in the Hudson Valley. Israeli firm Vertical Field makes the intricate agricultural setups. For Farmers & Chefs, it's become a further selling point for a restaurant Lekic has styled as locavore. Further down the valley in Rockland County, Evergreen Kosher Market is also testing a Vertical Field container during the pandemic.
A native of Montenegro, in the former Soviet bloc, Lekic came to New York City at 14 and learned the business by working at his family's restaurants. He opened the now-shuttered Le Express Bistro in Wappingers Falls and operated Farmers & Chefs food trucks starting in 2012. Two years ago, he bought a building in a prime spot in Poughkeepsie's Little Italy neighborhood and opened Farmers & Chefs there.
The restaurateur learned about Vertical Field's technology in October 2019 at a Culinary Institute of America expo and ordered a container to lease. He and his staff found themselves setting it up in late March 2020, just as things began to shut down from COVID-19. "This thing came, and it kept us busy through all the madness," he says.
The 20-foot container is currently divided into four "fields" of what look like regular plastic gardening containers tipped over on their sides. Inside, the air is cooled and humidity-controlled, with irrigation lines along the walls, fans on the ceiling, and lights that run 16 hours per day. (The unit is currently connected to the grid, although Lekic would eventually like to power it with solar panels.)
"It's a lot of labor, it's a lot of work, but there is a reward there. It's not just cheaper lettuce. With what I'm doing, I'm hoping to create a story."

John Lekic
Along with bronze fennel, the Farmers & Chefs team is currently growing mizuna, arugula, rosemary, Russian kale, Thai basil, and buttercrunch lettuce. Lekic rhapsodizes about the grilled salmon dishes and vegan ice cream flavors that will use the fennel and other herbs to come.
Lekic had hoped to show off the technology at parties and events. While that won't be happening anytime soon, he and Vertical Field plan to wrap the container with graphics that will highlight their brands and the plants growing inside.
Next he'd like to add a container for growing mushrooms. Does he save more than he spends to grow his own lettuce? Not yet, Lekic acknowledges. He expects to save some money on greens eventually. In the meantime, it fits into his farm-to-table marketing. "I see the value," he says. "It's a lot of labor, it's a lot of work, but there is a reward there. It's not just cheaper lettuce. With what I'm doing, I'm hoping to create a story."