Hand-painted "here comes the sun" signs dot the entrance of an extra-inviting field on Sleight-Plass Road near La Grange. 2022 marks the fifth year Hudson Valley Cold Pressed Oils is welcoming a field of blooming sunflowers. It's among just a handful of local sunflower fields visitors can frolic to this time of year.
The farm, previously known as Plass Farm, dates back to the early 1900s, when it was widely known as the first electric egg farm in New York. With Central Hudson's help, the farm became equipped with a hot water heater, washing machine, and incubators for hatchlings in 1939. Original buildings that housed the chickens and eggs remain standing. Previous owner Bill Plass recently retired from driving the tractor — as he neared age 96.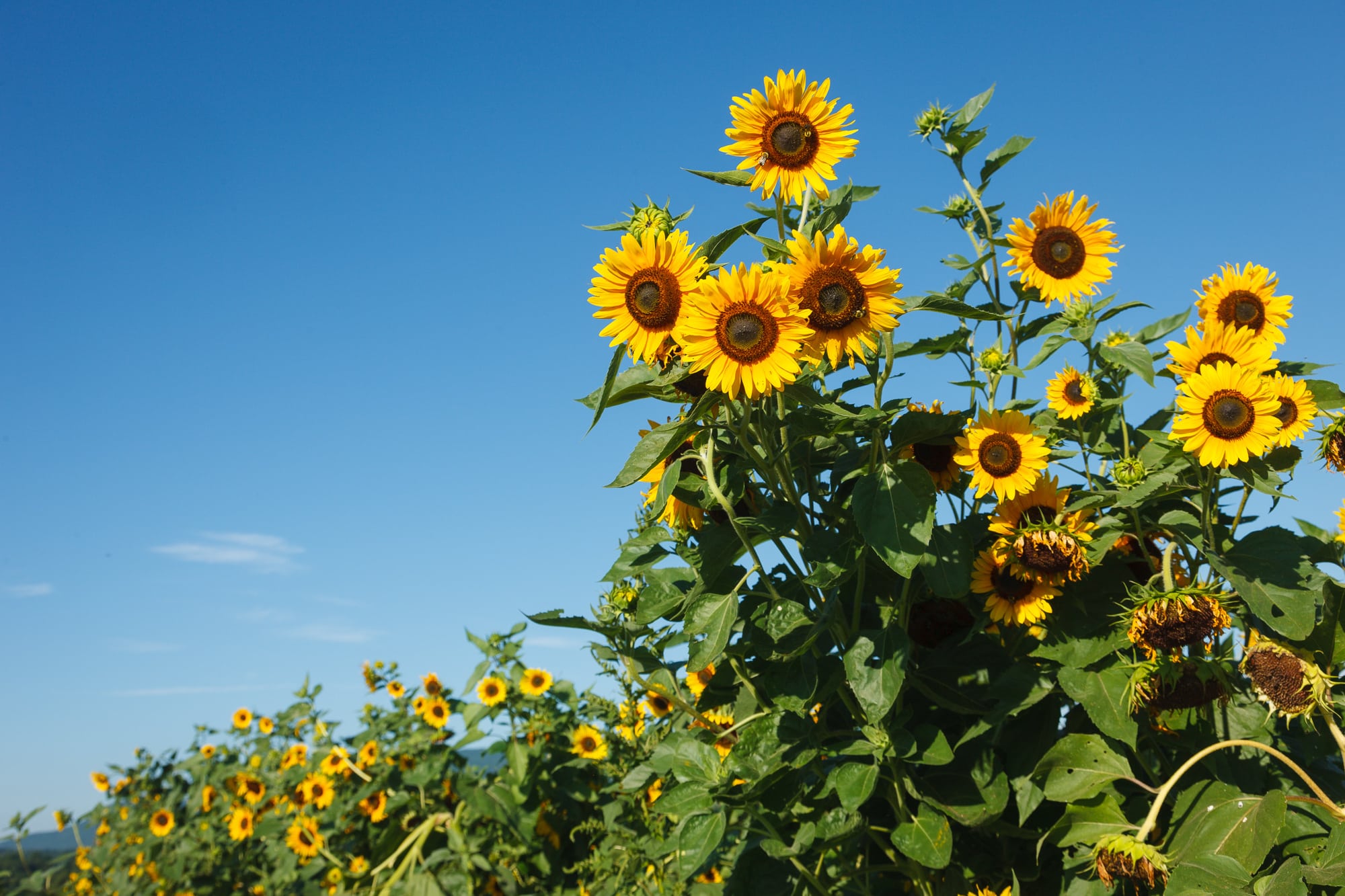 Over a decade ago, the farm was sold to the Allison and Jeff Haight family and remains as the only farm left on the Sleight-Plass Road. A new development has taken over the land previously marked as Sleight Farm. The Haights, both Culinary Institute of America graduates, enthusiastically describe the farm's turn toward sunflowers to me in terms of mission.
Jeff Haight estimates the field holds about 500,000 sunflowers this year. The flowers are grown without pesticides, encouraging a happy buzz of some of the most social bees you'll ever meet. Up to three different kinds of bees can be spotted on an inviting sunflower. I would've invited them over for tea and cookies if I could.
Domestication of the wild sunflower, native primarily to North and South America, is credited to Native American tribes. Some archeologists believe sunflowers may have been domesticated before corn — which means sunflowers may have been around as crops as early as 3000 B.C., according to the National Sunflower Association.
Native Americans put the sunflower to a variety of uses, many of which are still prized today. Sunflower seeds may be eaten as a snack, ground into a gluten-free flour or used to extract a double-smoke oil that is often compared to olive oil.
Other uses for sunflowers include natural pigment and tea from the petals, herbal medicine for ailments like snake bites from the crushed leaves and building-material supplement from the dried stalk.
Today the blooms are valued for aspects of their sustainability as well. Sunflowers are drought-resistant, meaning they also require little water and do not need rich soil. Sunflower fields can also provide habitat, with their heavy canopy and large leaves giving cover to animals like wild turkeys and deer. Due to the plant's deep roots and necessary crop rotations, sunflowers also have the ability to absorb radioactive material. With that I decide they're both pretty and fierce, like a heroine straight from a movie screen.
If I still haven't sold you to the beauty of sunflowers yet, perhaps revealing that sunflower seeds are arranged in a Fibonacci sequence will do it. A Fibonacci sequence explains that each number sequence is the sum of the previous two numbers. Check out this video for a deeper dive into the mathematical connection.
If you're more of a psychology person, you'll be pleased that sunflowers follow a circadian rhythm similar to our internal clockwork. These wondrous blooms follow the sun in accordance with growth hormones, allowing greater biomass and faster growth rates. Once the sunflowers reach maturity, they fixate on a single position towards the east.
These charismatic flowers may serve as an artist's muse, a farmer's greatest joy, a mathematician's pet party fact and of course, your favorite new photo backdrop. Check out the Hudson Valley Cold Pressed Oils field or fellow sunflower fields at the Scenic Hudson-conserved Jones Farm in Cornwall or Kelder's Farm (by appointment) near Kerhonkson.