Long before a national network of pipelines brought natural gas to the Hudson Valley, gas for lighting, heating and cooking was manufactured at plants up and down the river.
Coal or other petroleum products were heated to produce a gas mixture that, once cooled and purified, was distributed through a local pipeline network to homes and businesses. These plants operated from the 1800s to the 1950s. And when they closed, they left a harmful environmental legacy: coal tar, which leaked from storage vessels and piping and contains high levels of cancer-causing benzene, among other chemicals.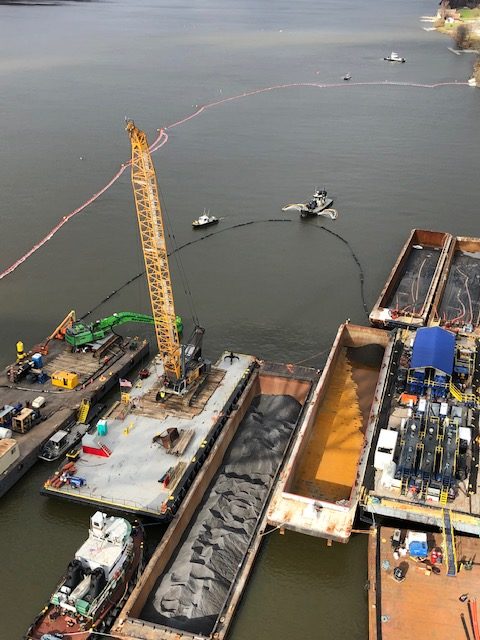 One such plant sits hard by the Hudson River in Poughkeepsie, just north of Walkway Over the Hudson State Park. The Poughkeepsie manufactured gas plant opened in 1911 and closed in the 1950s.
Here, Central Hudson Gas & Electric Corp. has launched the latest effort in a state-mandated cleanup: an $11 million test of a dredging program to remove coal tar that seeped beneath the former plant site and into the riverbed.
The pilot program, which can been easily viewed from the Walkway, is being closely watched by state and local authorities after Central Hudson was forced to shut down cleanup operations two years ago.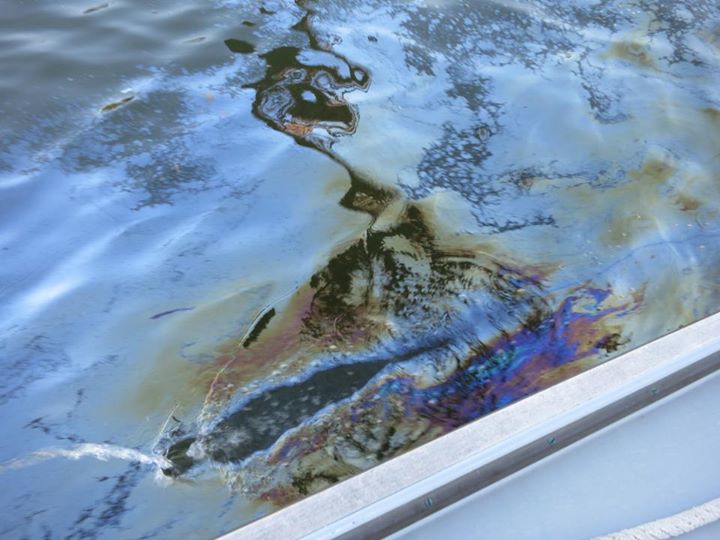 On Dec. 5, 2018, Central Hudson and its contractor, Weeks Marine, were performing work on the east side of the river when contamination escaped a containment area, according to a statement from the state Department of Environmental Conservation.
The oily sheen forced a temporary shutdown of a water treatment plant that sits just upriver of the cleanup site and sources drinking water from the Hudson for customers in Poughkeepsie, Hyde Park and East Fishkill. (Because of the tidal nature of the Hudson, the river can flow both ways.)
"We cannot accept any potential corrupting of the system that a large percentage of the county's population depends on for their water," Colleen Pillus, spokeswoman for Dutchess County Executive Marcus Molinaro, says.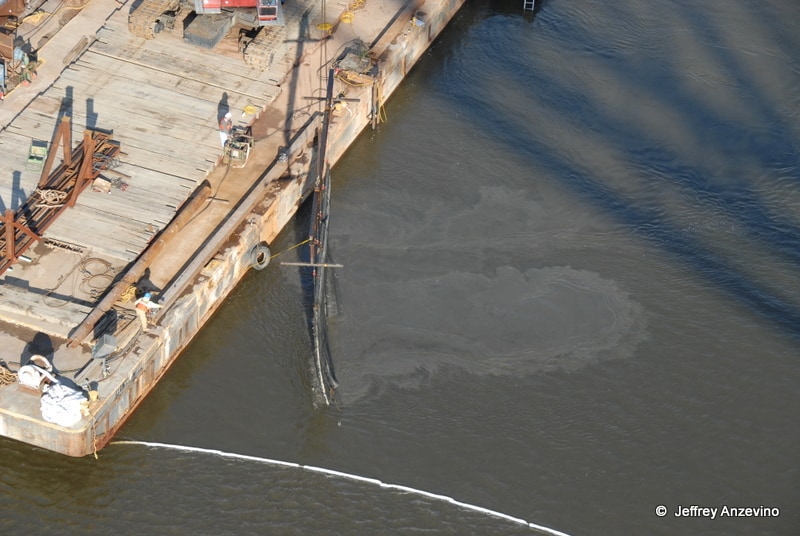 Since then, Central Hudson has worked with the DEC and local stakeholders to design a dredging regimen that prevents contaminants from escaping. The key change, according to Poughkeepsie City Administrator Marc Nelson, was upgrading from a clamshell/claw process that scoops out sediment — similar to what was used in General Electric's PCB Superfund cleanup in the upper Hudson River — to one that relies on hydraulic technology that acts more like a vacuum.
"The current dredging plan is a significant improvement over what was originally proposed," says Nelson, who also serves as vice chair of the Poughkeepsie Joint Water Project's board.
Central Hudson has also implemented in-water sampling, containment booms, response boats both within and outside the enclosure, spotters on the Walkway and other safety measures.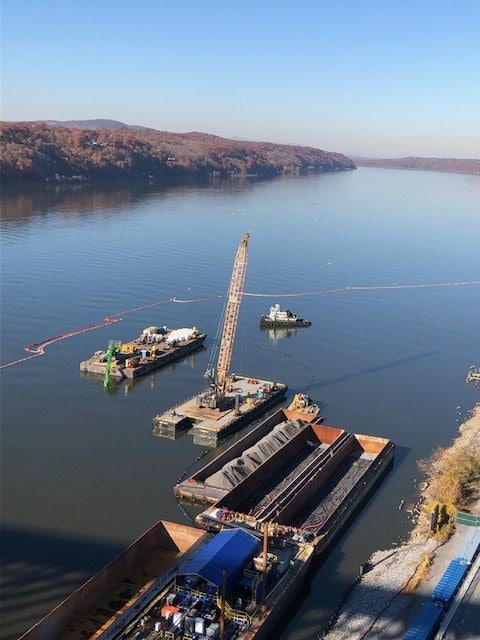 "Central Hudson is committed to protecting the Hudson River as well as our local residents and communities," Central Hudson president and CEO Charles Freni said in a statement. "We believe this hydraulic dredging system offers a safe, efficient way of conducting this important environmental cleanup, and this pilot project allows us to fully test this method."
The hydraulic dredging system will only be used for removing riverbed sediment. And the test is focusing initially on uncontaminated areas before moving on to areas with small concentrations of contamination. The dredged materials will be transported by barge to a permitted facility in New Jersey for stabilization and then to a permitted thermal treatment facility located in Pennsylvania, according to Central Hudson spokesman John Maserjian.
At the river's edge, a steep drop-off provides different challenges for the cleanup. Maserjian says the side-slope is slated to be capped, as will areas over two natural gas transmission lines and one fiber optic line located in the river. Prior onshore work included installation of a below-grade barrier wall along the waterfront that also serves as a new bulkhead.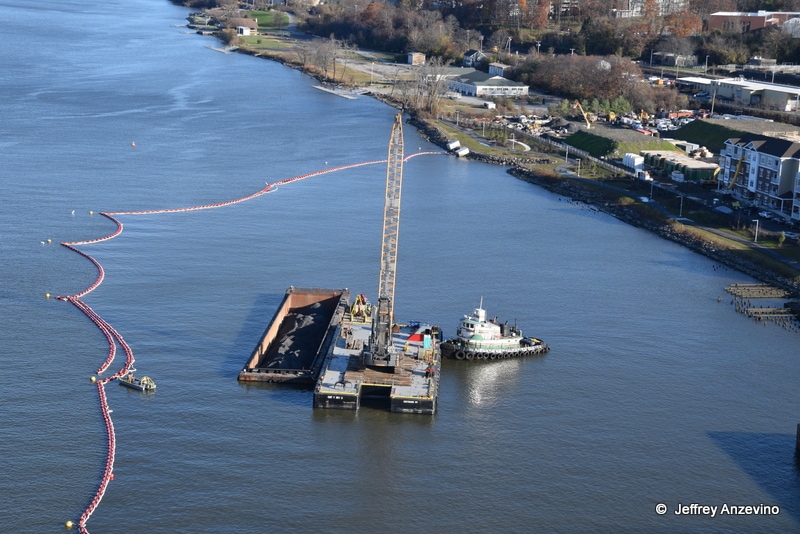 If the hydraulic dredging technology successfully and safely removes sediments, Central Hudson says it will work with relevant agencies and stakeholders to initiate a full-scale remediation project beginning in the fall of 2021.
Dan Shapley, water quality program director at Riverkeeper, says the dredging changes are a tribute to the collaborative power of one of those stakeholders: the Hudson 7, a group of mid-Hudson municipalities that draw drinking water from the Hudson. The group includes the towns of Esopus, Hyde Park, and Lloyd; the town and city of Poughkeepsie; and the town and village of Rhinebeck.
"Everyone is now aligned around common goals," Shapley says, "of removing a 100-year-old stain on the Hudson River ecosystem without imperiling the drinking water supply for 100,000 people."