Water + wind = speed
For centuries, that equation has driven sport in the Hudson Valley. Today it motivates people who go windsurfing, haul historic ice boats out of storage, or set sail on pocket-sized Sunfish dinghies.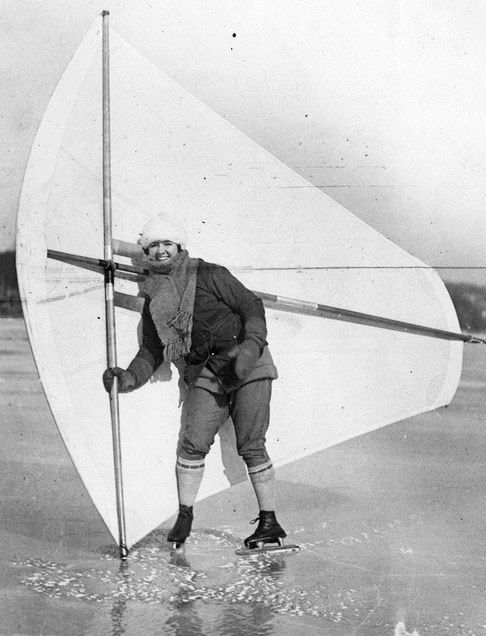 Sadly, the curtain has all but fallen on another fascinating entrant in this category: skate sailing, which once attracted a small but devoted legion of winter athletes, mainly in the Capital Region.
Skate sailing provided big thrills — speeds up to 50 mph. In fact, stated the New York Times, "Among athletes who strive for speed on their own two feet, only downhill skiers are faster." But its appeal also had much to do with its do-it-yourself ethos and fast learning curve. Anyone with rudimentary carpentry and sewing skills could get up to speed in no time.
According to Spalding's Winter Sports, the Bible of the season's outdoor enjoyment in the early 20th century, "The skate sail…can be made by almost any amateur, will cost less than five dollars, and will return more sport for its cost than almost any other winter sport implement." The book goes on to note that "anyone can learn the use of the skate sail with a few hours' practice."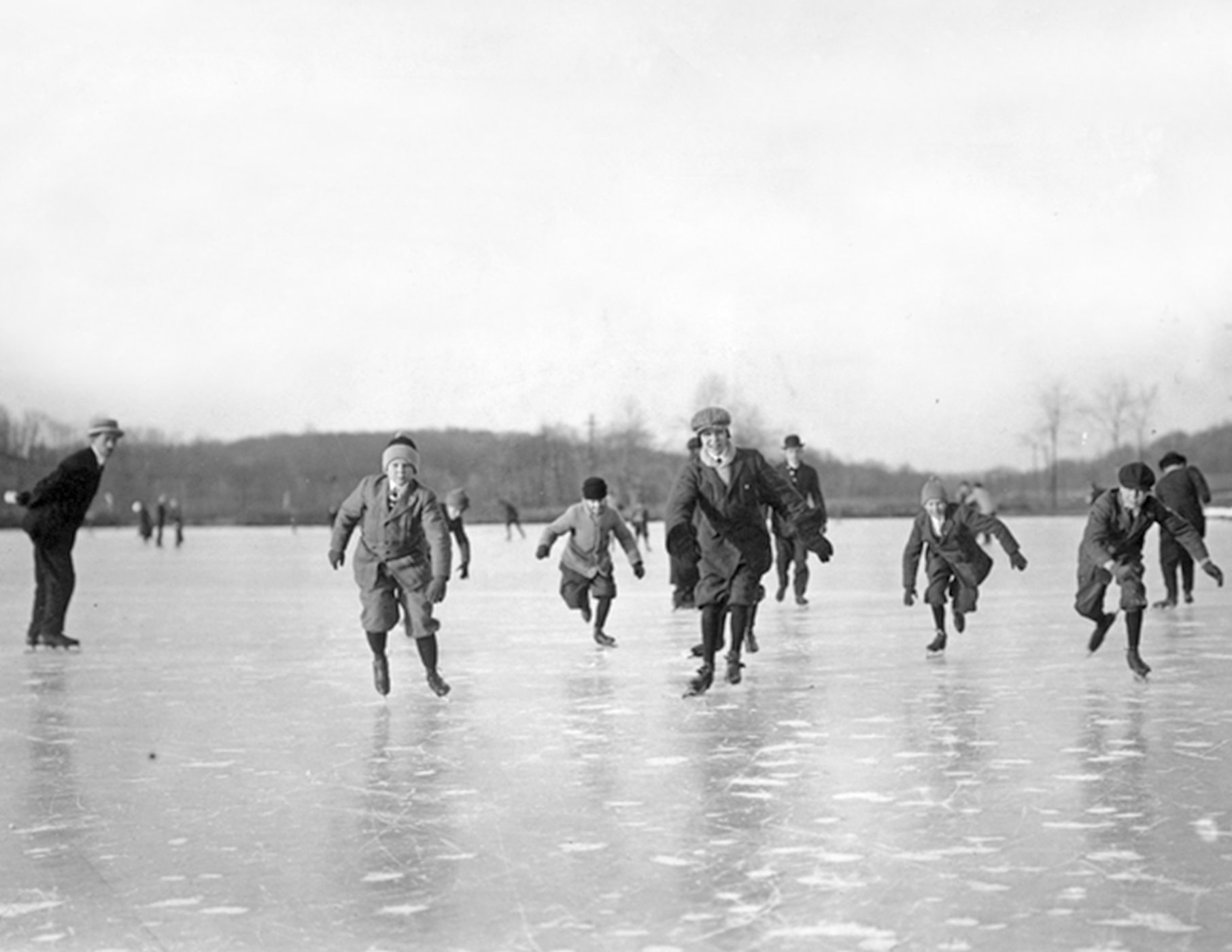 Trendsetting in Schenectady
The origins of skate sailing are obscure. Different accounts trace it to Scandinavia or the Netherlands or both, places with long, cold winters and lots of frozen water. What's not disputed is that Eskill Berg, an emigrant from Sweden, introduced the sport to this region around 1895, when he became an engineer at General Electric in Schenectady.
John Apperson, one of Berg's GE colleagues, took to skate sailing like a duck on (ice) water and became its biggest booster in the region, "promoting the sport on lakes and rivers near Schenectady, and eventually organizing trips to the islands of Lake George," according to one account. Amazingly, skate sailing played a role in turning the Adirondacks into a four-season playground. Before the opening of its commercial ski slopes, folks like those Apperson filmed in this movie began venturing to the area's frozen lakes to strap on skates, grab a sail, and fly like the wind.
The first skate sails, made of cotton or muslin, were kite-shaped and attached to a couple of spruce or bamboo poles — up to nine feet high by 12 feet across — joined in a cross pattern. The boom (the pole more or less parallel with the ice) rested against a shoulder, while the mast was held in front of the body…clumsy, but efficient.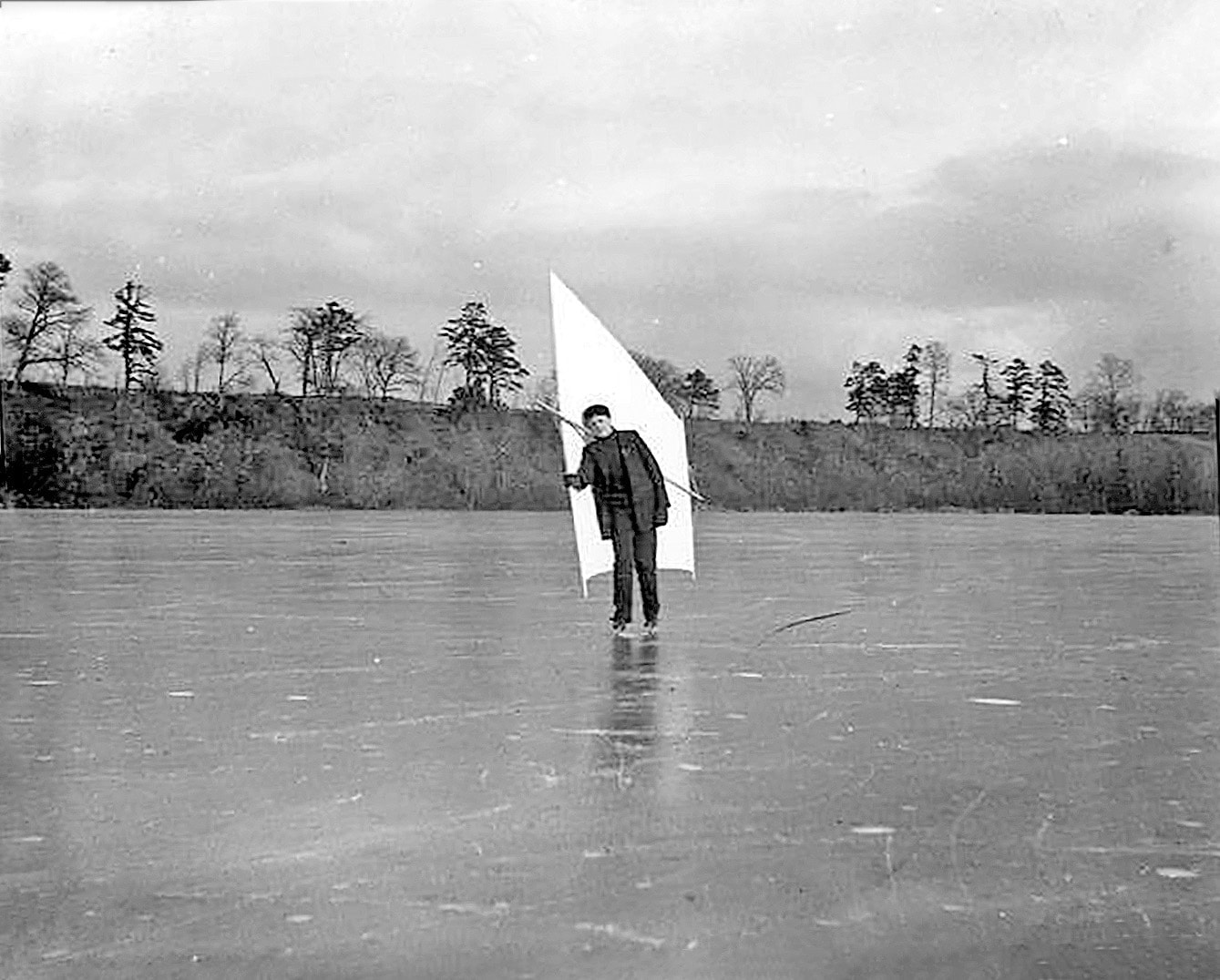 To steer, people just swiveled their hips. Skaters who wanted to keep track of where they were going cut an oval "window" out of the sail at head height and filled it with transparent celluloid.
In 1916, Apperson introduced a groundbreaking new sail design, with a trapezoidal shape and detachable jib, that increased possible speeds. Sporting 65 square feet of fabric, the so-called Apperson or Schenectady sail quickly became the equipment of choice for those who wanted to maximize their excitement. Whatever the design, sails were crafted in basements or home workshops, often by the people intending to use them.
As for skates, Spalding's Winter Sports recommended the hockey or figure-skating variety, which allowed for quick turns.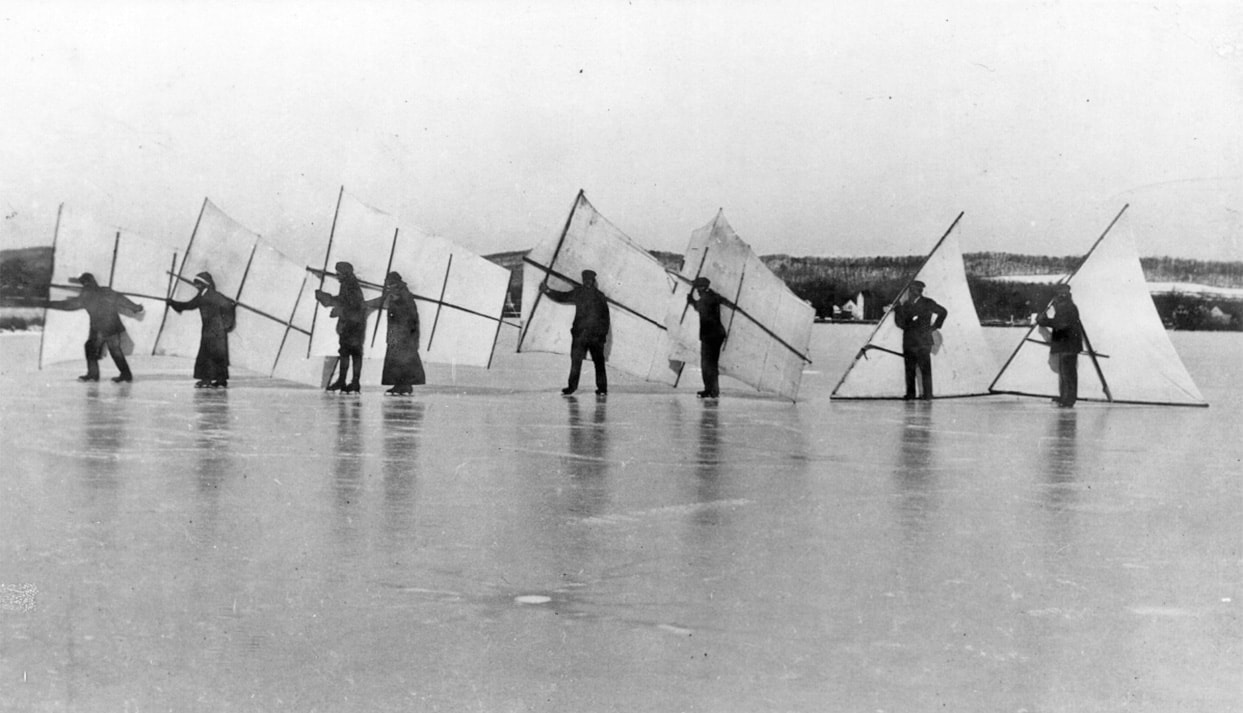 "Flinging one's self at the wind"
Anyone capable of handling a sail, which weighed a tad less than 20 pounds back then, could enjoy skate sailing. "Women pick up the sport readily and find it most interesting," says Spalding's Winter Sports. One drawback, faced by all newbies, men and women alike, was learning how to "tack," navigating into the wind (usually in a zigzag pattern) to get back to the starting point. With a strong tailwind, a newbie skate sailor could go miles in a matter of minutes. (Heading back, covering the same distance could take several tedious hours).
The other universal drawback was finding the right mix of ice (thick, smooth, not snow-covered) and wind (blowing around 25 miles per hour). "It is a happy moment when the Gods favor the skate-sailor with such a perfect day," wrote Caperton Tissot, author of Adirondack Ice: A Cultural and Natural History. "Like so many of the best things in life, one must be on location and ready to grab the opportunity… What a joy to swoop across a lake with the lightness of air and carefree as a bird."
Skate sailing became prominent enough in the 1920s that a national association was founded to organize championship races. Members primarily came from the Schenectady area, plus New Jersey, Connecticut, and Wisconsin. The organization remained active until the 1990s — although the allure of the sport in the Capital District began wearing off in the 1940s, in part because of the increasing rarity of "perfect days."
Today, only a few diehards (like this man on Wisconsin's Lake Nokomis) keep their fingers crossed and gear ready for a return to the ice. [Editor's note: Don't skate on thin ice — literally, DON'T. Make sure that any frozen body of water you're considering is thick enough to skate on.]
It should come as no surprise that John Apperson, who became a major advocate for conserving the Adirondacks, summed up this chilly pursuit so well: "Ice bound people can find no other sport that can surpass skate-sailing for the exhilarating sense of freedom and action; the stimulation of flinging one's self at the wind."
Reed Sparling is a staff writer and historian at Scenic Hudson. He is the former editor of Hudson Valley Magazine, and currently co-edits the Hudson River Valley Review, a scholarly journal published by the Hudson River Valley Institute at Marist College.