The Hudson Valley takes on a different beauty in every season. This little pocket of New York enchants both locals and travelers year-round, including in the starkness of winter. Perhaps no one knows this better than the many farms that call the valley home.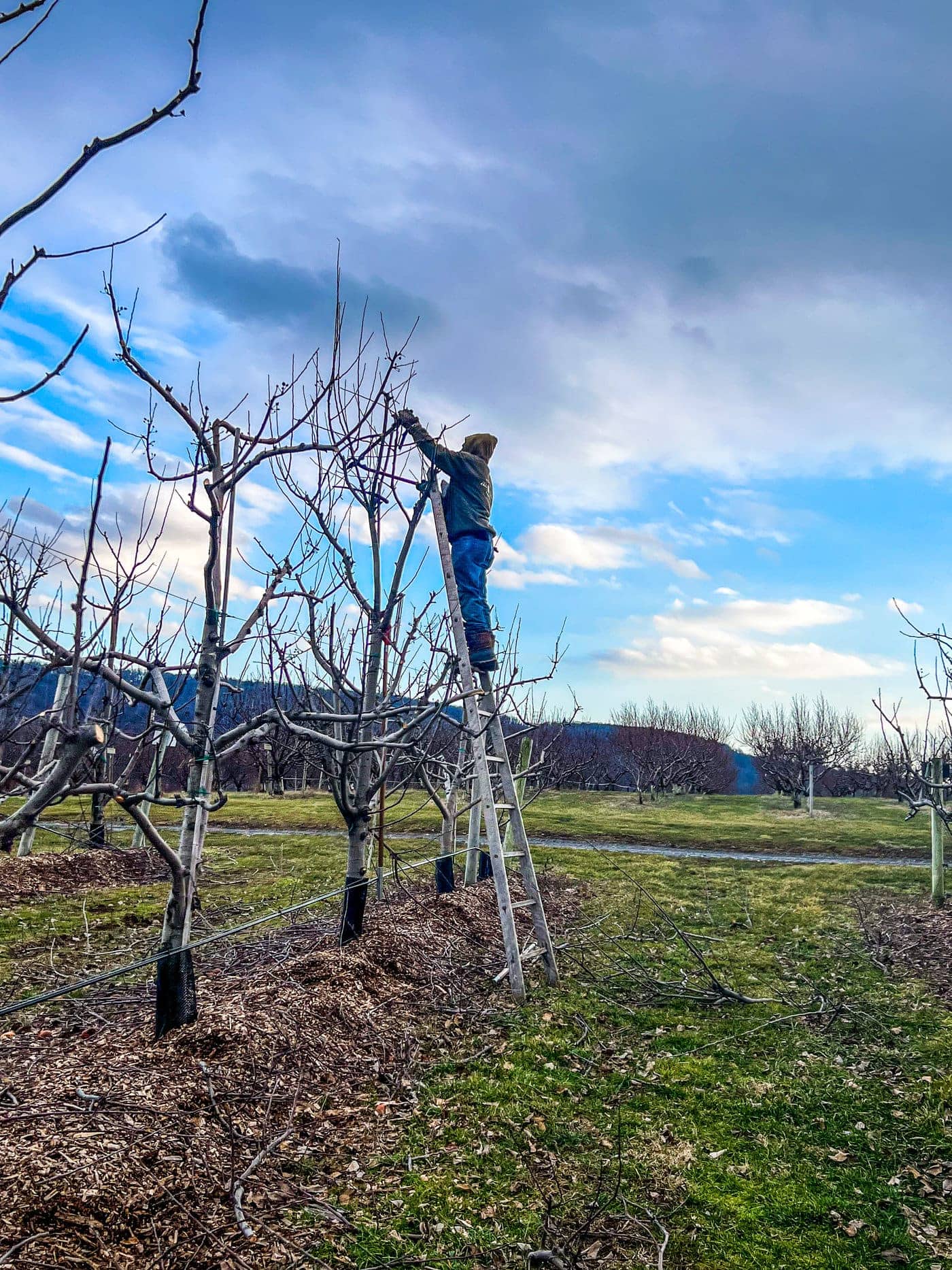 When thinking of these farms, images of verdant fields or bountiful harvests probably pop to mind first. But what happens in those months when frost settles on the grass, when our warm breath creates clouds before our eyes, the leaves drop down but the hoop houses host greenery? Though it may seem like the land goes still, Hudson Valley farmers know it's still alive and well — it only looks a little different.
Fishkill Farms
During any snowfall, Fishkill Farms is transformed. "It's such a different picture," says General Manager Mark Doyle. "There's such a beautiful variance. . . an extraordinary amount of color and vitality."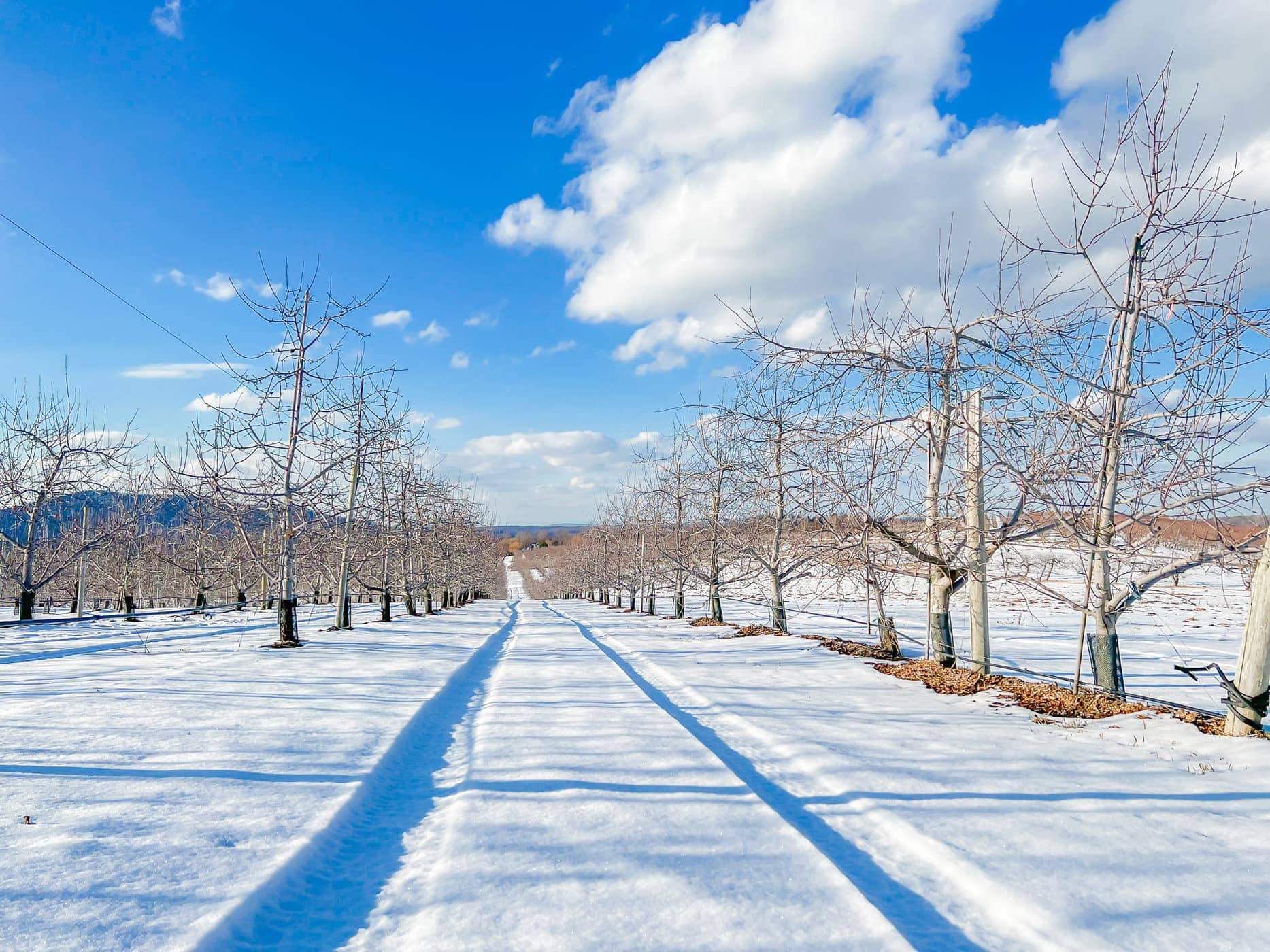 Aisles of apple, pear, and peach trees are blanketed in white, illuminating perfect columns of 20,000 trees. The winter sun shines through delicate icicles, refracting onto the frost and snow below. The land becomes a playground of contrasting light as the snowy branches of the orchard simultaneously reflect the sun and create shadows. But don't be fooled by the quiet fields of white — there's plenty going on beneath the surface.
Like humans, greenery needs periods of rest in order to thrive. The orchard goes into dormancy in the winter, a kind of hibernation that allows the trees to conserve their resources during the cold weather. It's during this time that the staff of Fishkill Farms begins the pruning process, which encourages new healthy growth when spring comes. Even the ground becomes revitalized as the snow literally blankets the soil, providing insulation and fertilization for the microbial activity that allows the Hudson Valley to be so fruitful.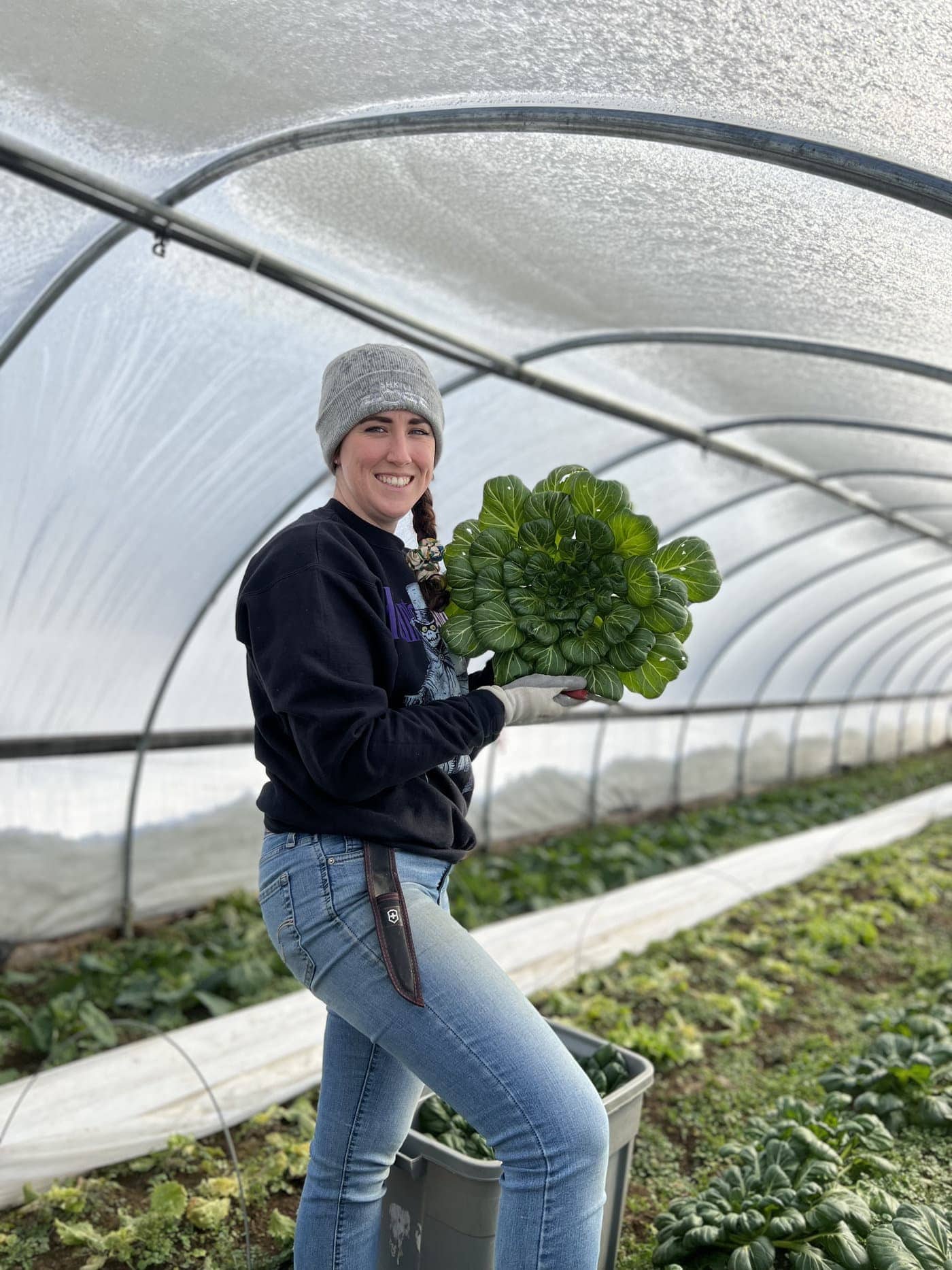 While the land prepares for the year ahead, the people reflect on the year behind them. After 12 months of running cider-tasting, hay rides, yoga classes, their signature pick-your-own and community-supported agriculture programs, the Fishkill Farms staff comes together for a well-earned celebration. The barn is turned into a dance hall and team members from all walks of life, from Jamaican workers to local high school employees, gather to enjoy music and food.
This winter focus on community also extends outward, especially to those who require extra food support in these colder months. "We work very closely with Feed Hudson Valley. . . It's a great way to provide an outlet for very much usable fruit and vegetables," explains Doyle.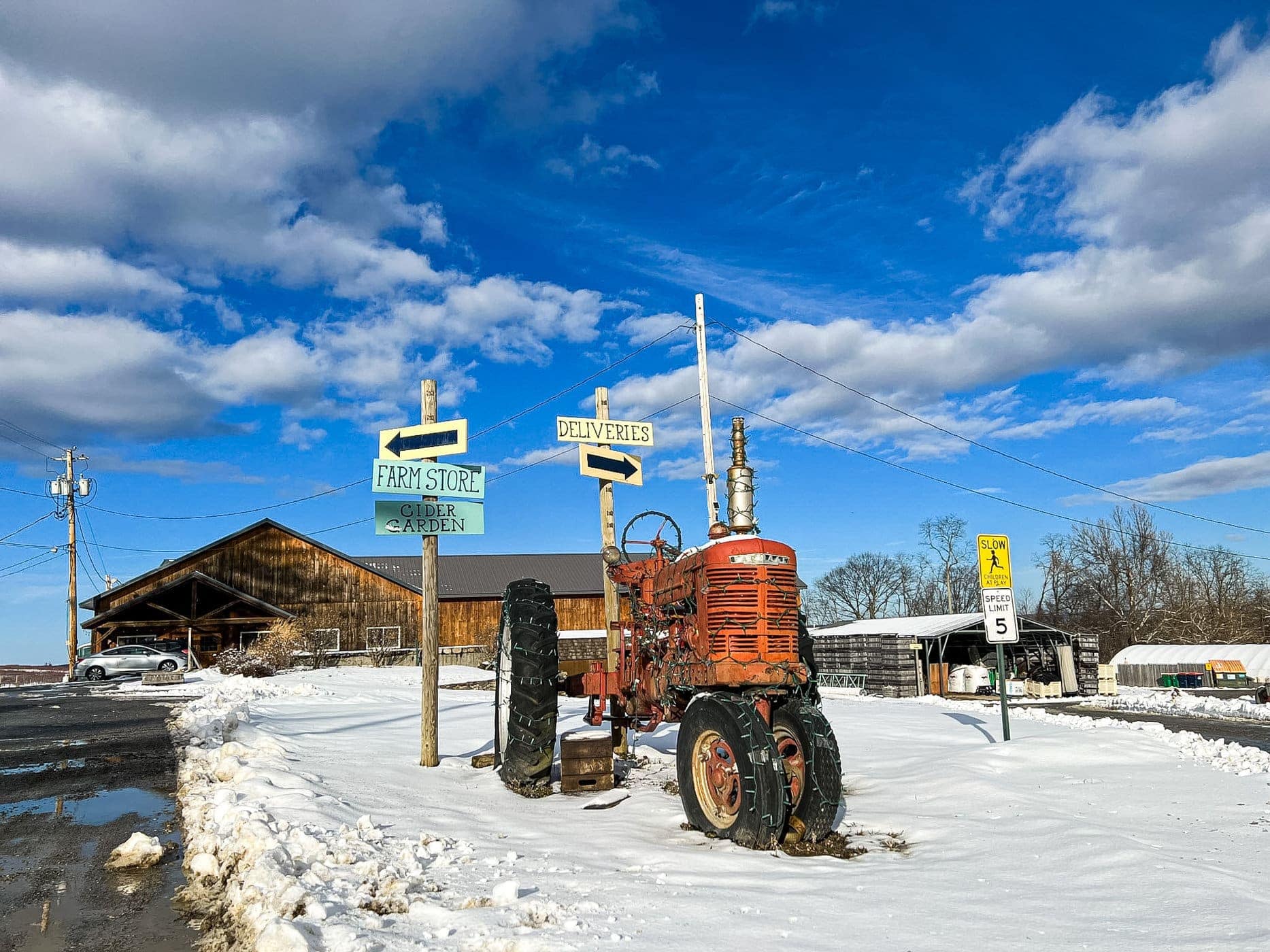 Through this program, perfectly good produce that would otherwise be rejected by retailers are sold at a lower price to food pantries. This way Fishkill Farms simultaneously reduces unnecessary waste and provides extra support for the Hudson Valley community.
Clover Brooke Farm
While orchards enter dormancy in the winter, what of farms that provide a different kind of product? For Clover Brooke Farm in Hyde Park, that product is experiences. Painting, soap-making, wind chime classes, and more are all offered at Clover Brooke, but by far their biggest draw is the animals. With 26 llamas and alpacas, 36 Shetland sheep, and several Pygoras goats, there's more than enough to keep the staff at Clover Brooke busy — and entertained — throughout the winter.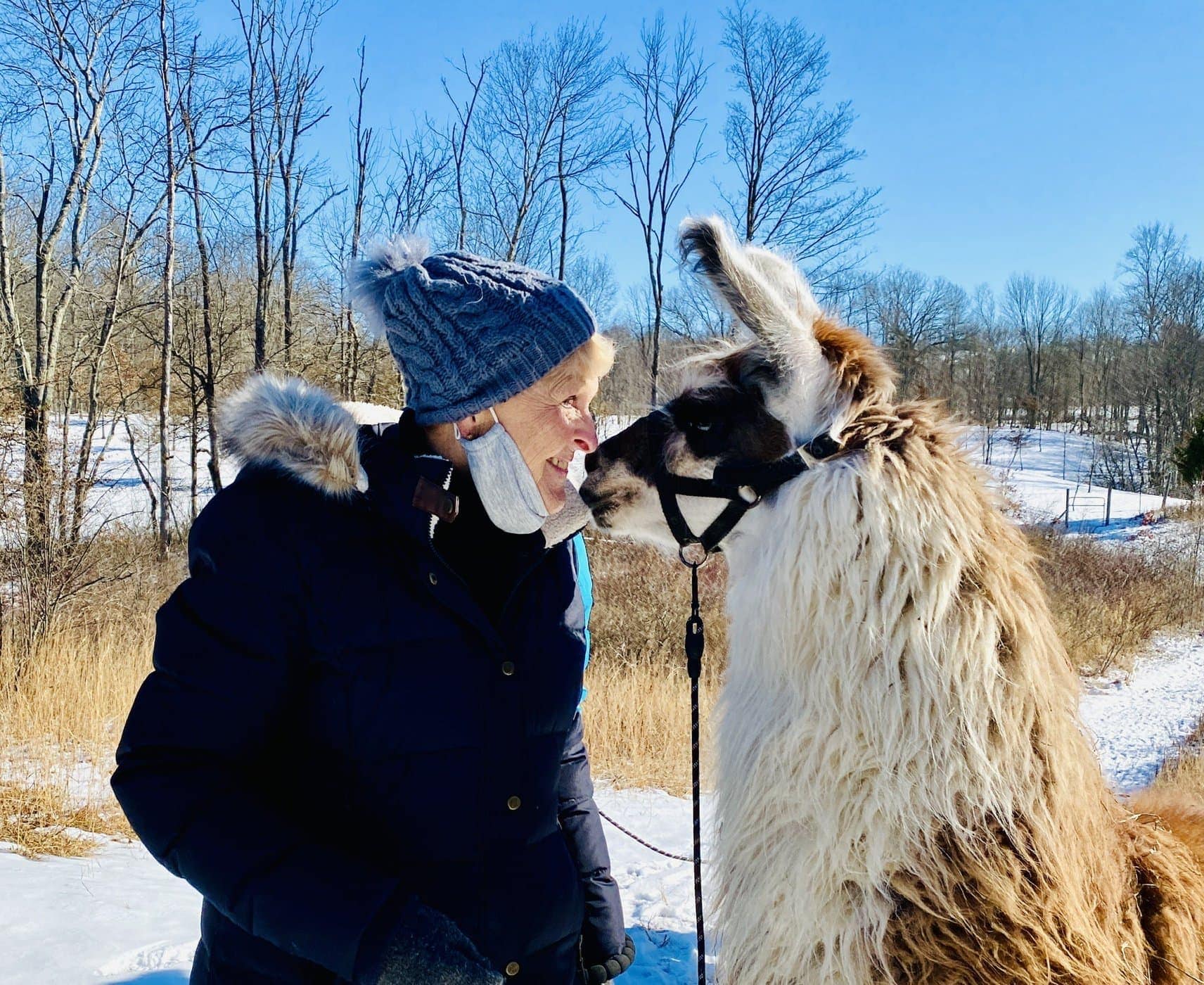 During the colder months when fewer people come to take hikes with the animals, the herd still takes regular walks for their own enjoyment and well-being. Though the cool weather may stop some humans, it definitely won't stop the llamas and alpacas.
"It's not a stressor for them," owner Andrea Parent-Tibbetts explains. "They come from South America, all the way up in the Andes. This is nothing to them in terms of snow."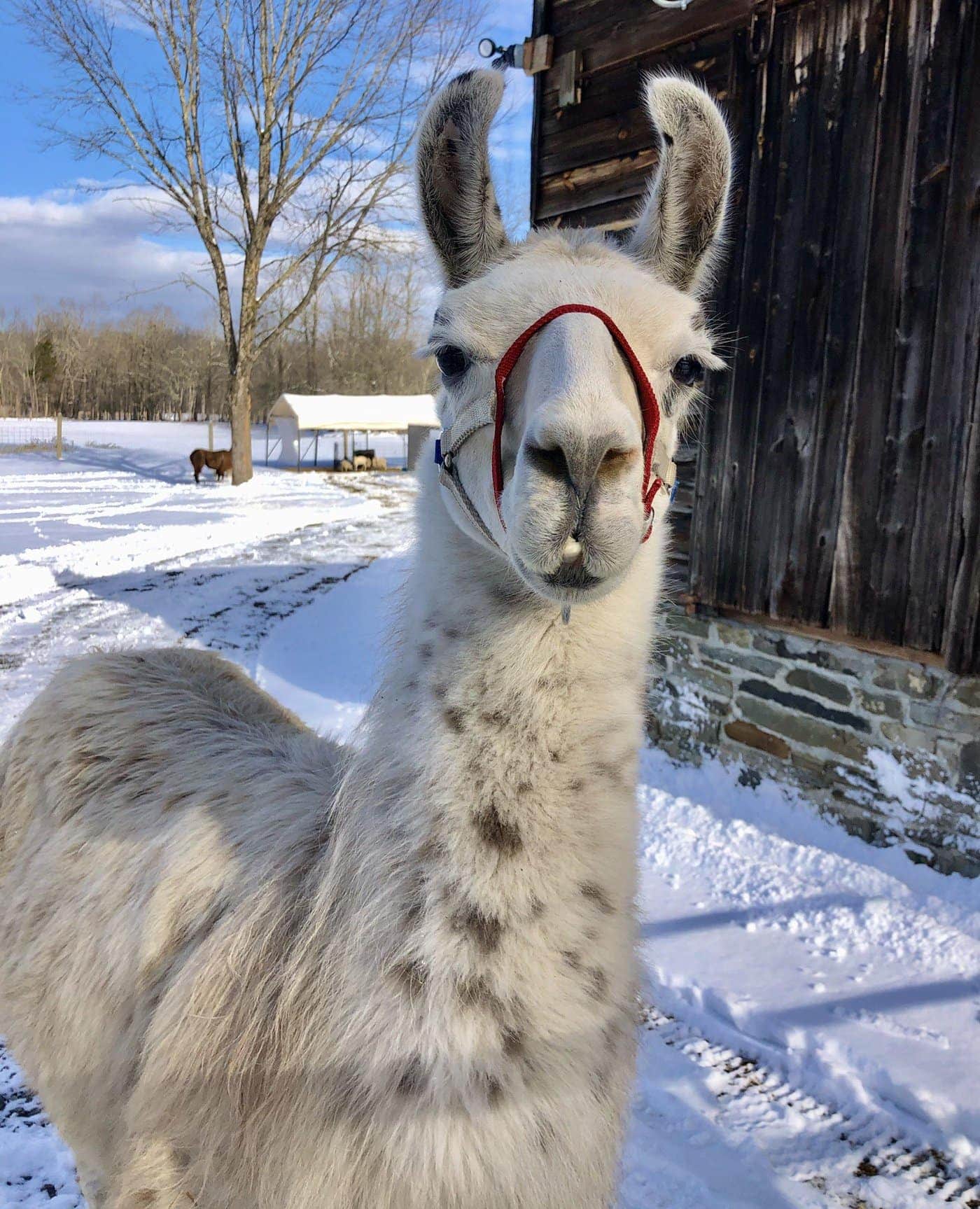 Meanwhile, the animal friends of Clover Brooke who aren't blessed with thick winter coats find other ways to stay warm. The goats cozy up in a barn full of bedding. The barn cats take advantage of the sunroom, stretching out in the warm beams of light that filter through the windows.
The humans, however, take advantage of the winter to plan for the year ahead. Parent-Tibbetts' biggest plan for this winter is converting the large antique barn in the heart of Clover Brooke into a year-round educational center. The barn, which was originally built in the 1850s, needs a lot of TLC to fulfill Parent-Tibbetts' vision. But to her, the value of the services they could provide outweighs the daunting work that needs to be done.
Clover Brooke is planning to offer classes for training therapy animals, a classroom center for field trips, and a program called Flourishing Farmers for individuals with disabilities. But despite the projects and chores, winter still allows for a time to breathe. "[Winter] is a really cherished time that I protect and make sure to have a slower life," says Parents-Tibbett. "We all need those breaks. We all need that downtime." For her, that includes cozying up with a good audiobook to weave and knit — using the warm fiber sourced right at Clover Brooke.
Chaseholm Farm
Llamas and alpacas aren't the only ones that are fans of winter. Chaseholm, a regenerative dairy farm based in Pine Plains, is home to a herd of cows that particularly enjoy these cool months. With an internal body temperature of 101 degrees and plenty of natural insulation, they're built perfectly for the cold. Their daily routine of relaxing in the yard outside their warm barn is uninterrupted by the cold winter temperatures. For both the cows and the people, snow is a delight more than a nuisance.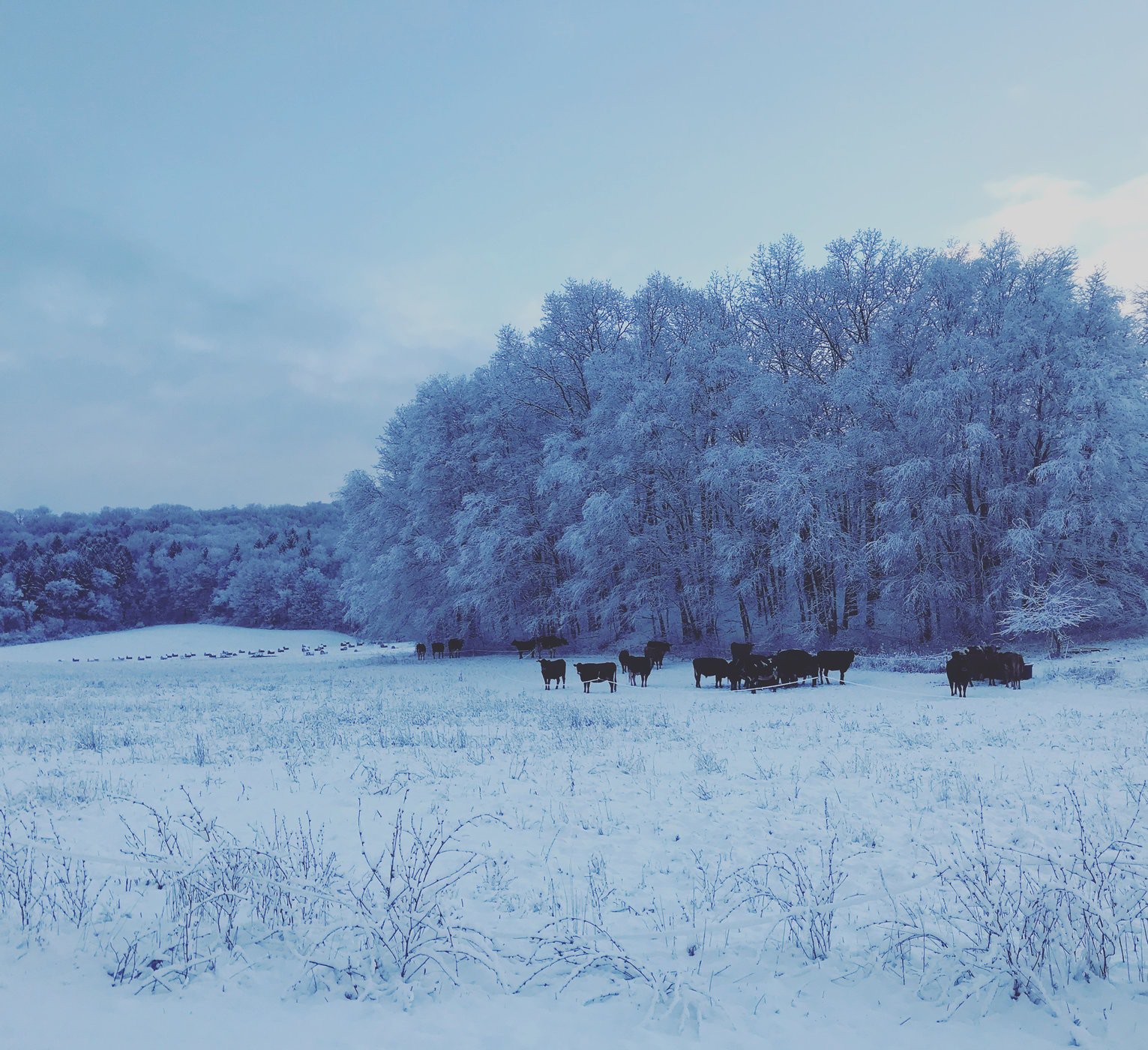 "We love snow at Chaseholm!" enthuses owner Sarah Chase. "The snow protects the soil from getting too cold, too dry. It's also a physical barrier when I need to drive a tractor on a field and it makes me feel like the soil is safe and tucked in beneath it."
"Plus cows look cute in the snow," she adds.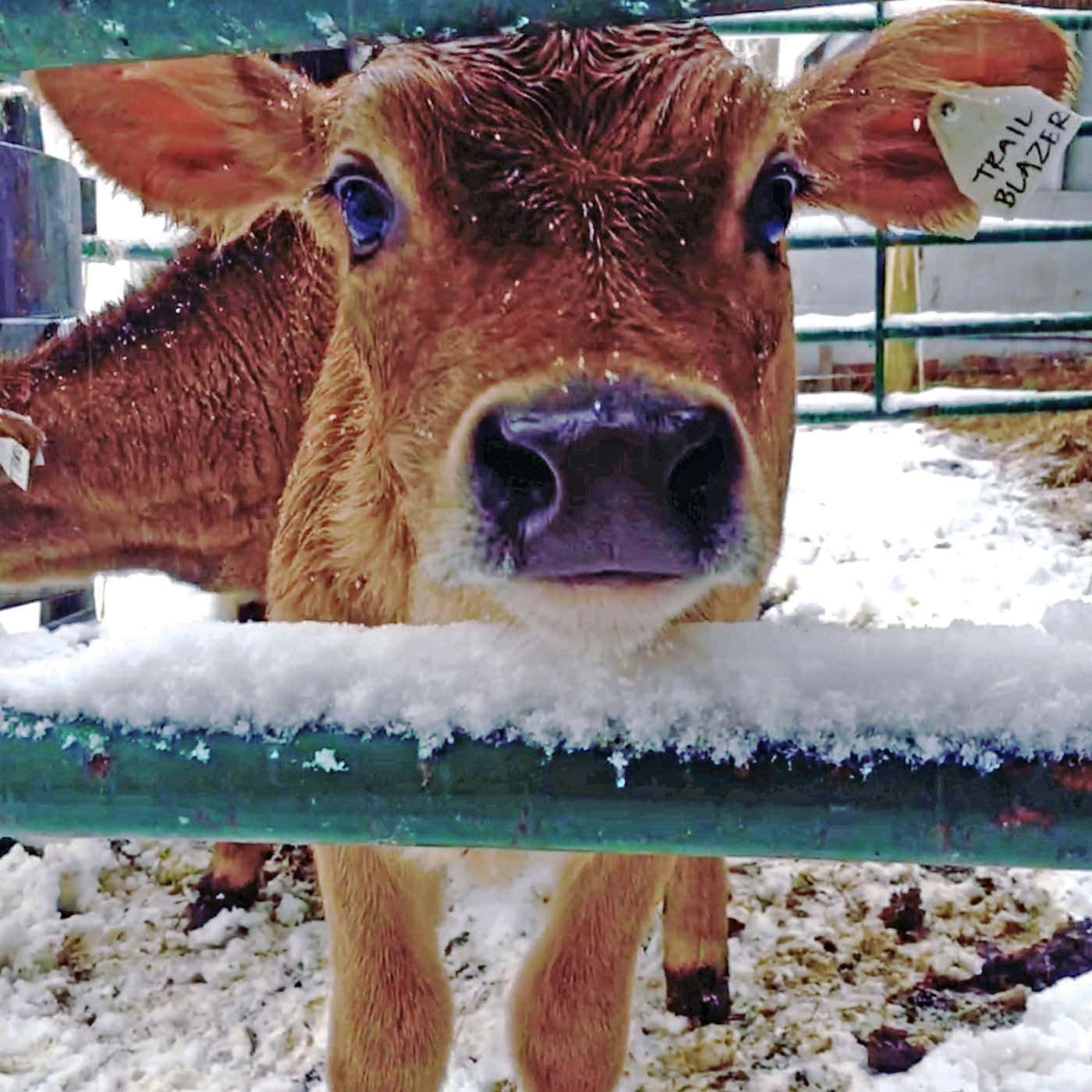 As a regenerative dairy farm, Chaseholm ensures its process is continuously beneficial to both the cows and the environment, as each influences the other. Grazing cows create healthy and active soil microbiology, which in turn produce nutrient-rich plants that can also be grazed on. This symbiotic cycle is known as holistic farming, which is one of Chaseholm's main tenets. When snow prevents grass access, the cows' diet is supplemented by hay.
The daily care of multiple herds, while extensive, also allows for a very reliable routine, which is appreciated by both the cows and the humans. The cows thrive in consistency — Chaseholm farmers take special care to ensure their daily routine is uninterrupted by weather changes. The farm lays a deep wood-chip layer, which not only keeps the cows dry and happy, but also provides a large amount of compost-enriching carbon that further aids their regenerative farming practices. The steady winter routine also affords the farmers at Chaseholm more flexibility. Though this extra time can be used for bookkeeping and other chores, it also lets the staff take turns taking vacations.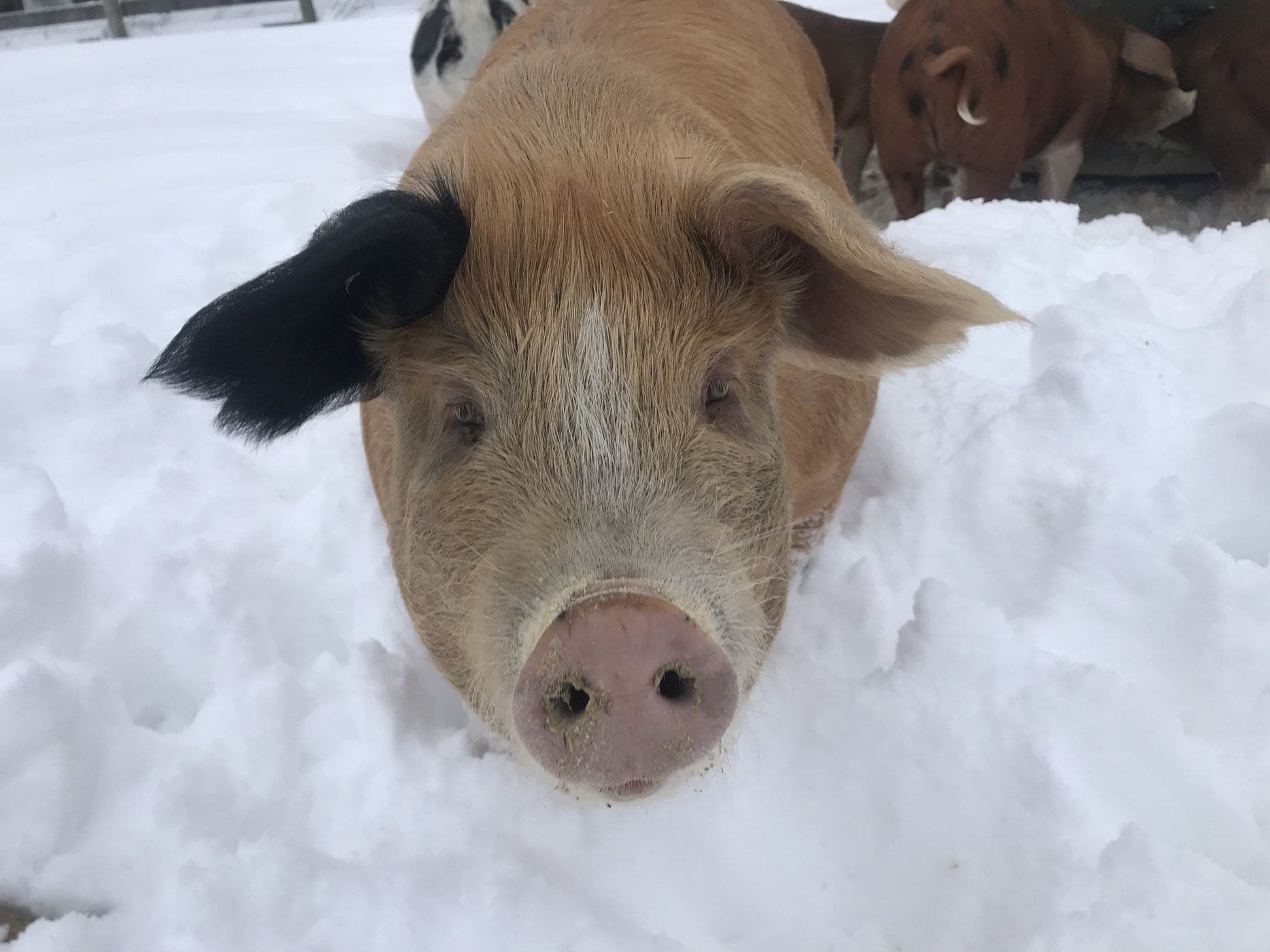 "Winter is a welcome change from the hectic, though very fun, summer months," says Chase. "It gets old by the end of it, but that's its own gift, too — it lets us yearn for the busy summer again."
Soul Fire Farm
The cycles of warmth and coldness, movement and stillness, work and rest are built into nature. Look around at how the trees release their leaves to the wind, how the resident animals of the valley seek the embrace of their dens, or how the sun takes its early rest beneath the mountains. In a culture that is growing increasingly distant from such cycles, our relationship with these natural waxings and wanings must be intentional — and farmers know better than most that we as humans are built to work in accordance with these cycles rather than against them.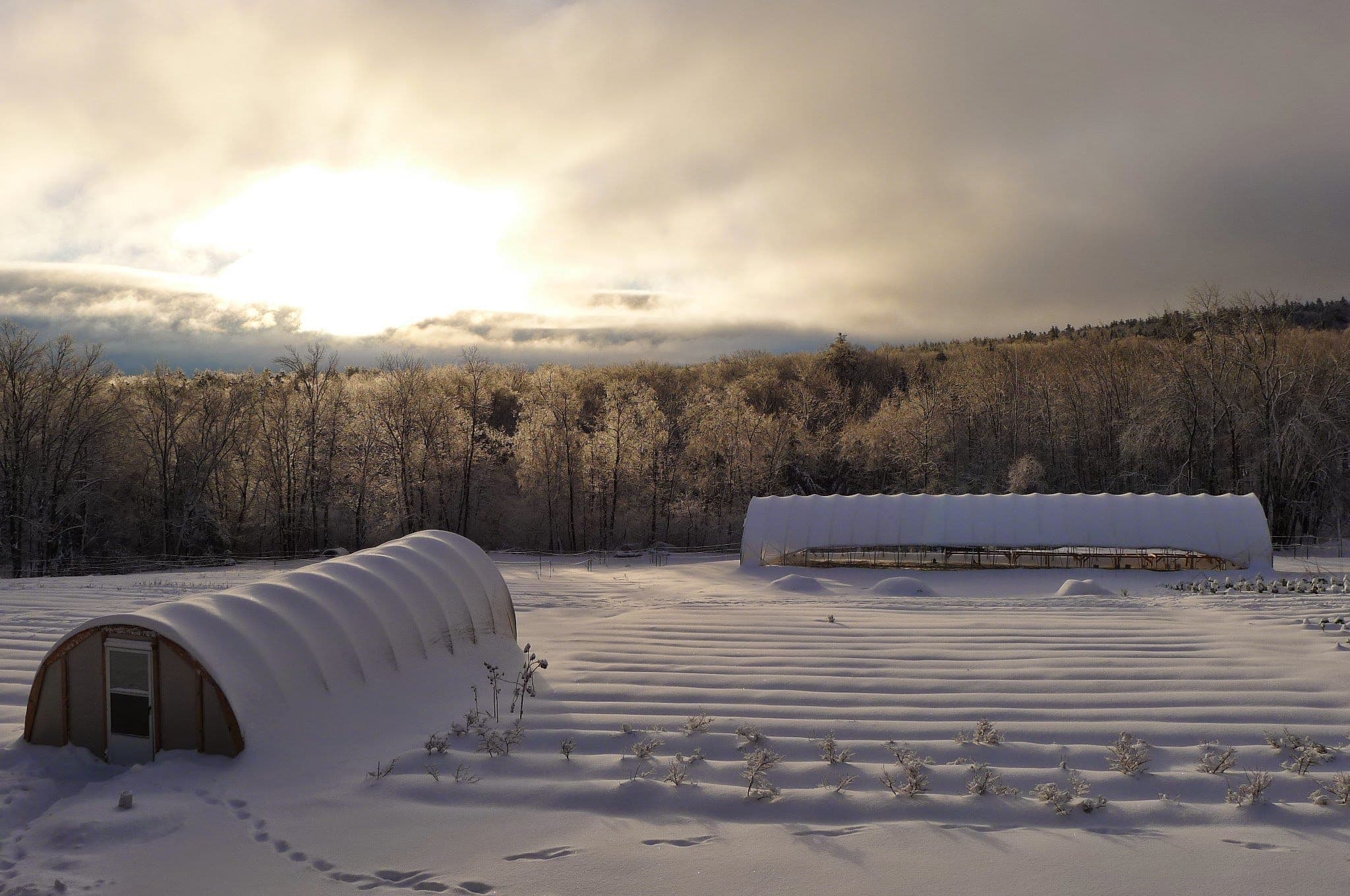 Team members of Soul Fire Farm, an Afro-Indigenous-centered community farm focused on combatting racism in the food system, have explored this relationship in their collaborative monthly blog Love Notes. In January 2021, Co-ED and Farm Director Leah Penniman reflects on her realization that nature is designed to rest in these cold, slow months — so why don't we?
Penniman explained that in the farm's early years the team regularly worked in sub-zero temperatures to harvest dormant greens. Then, one particularly cold January day, Penniman took note of the disconnect between their winter grind amid the dormant nature around them.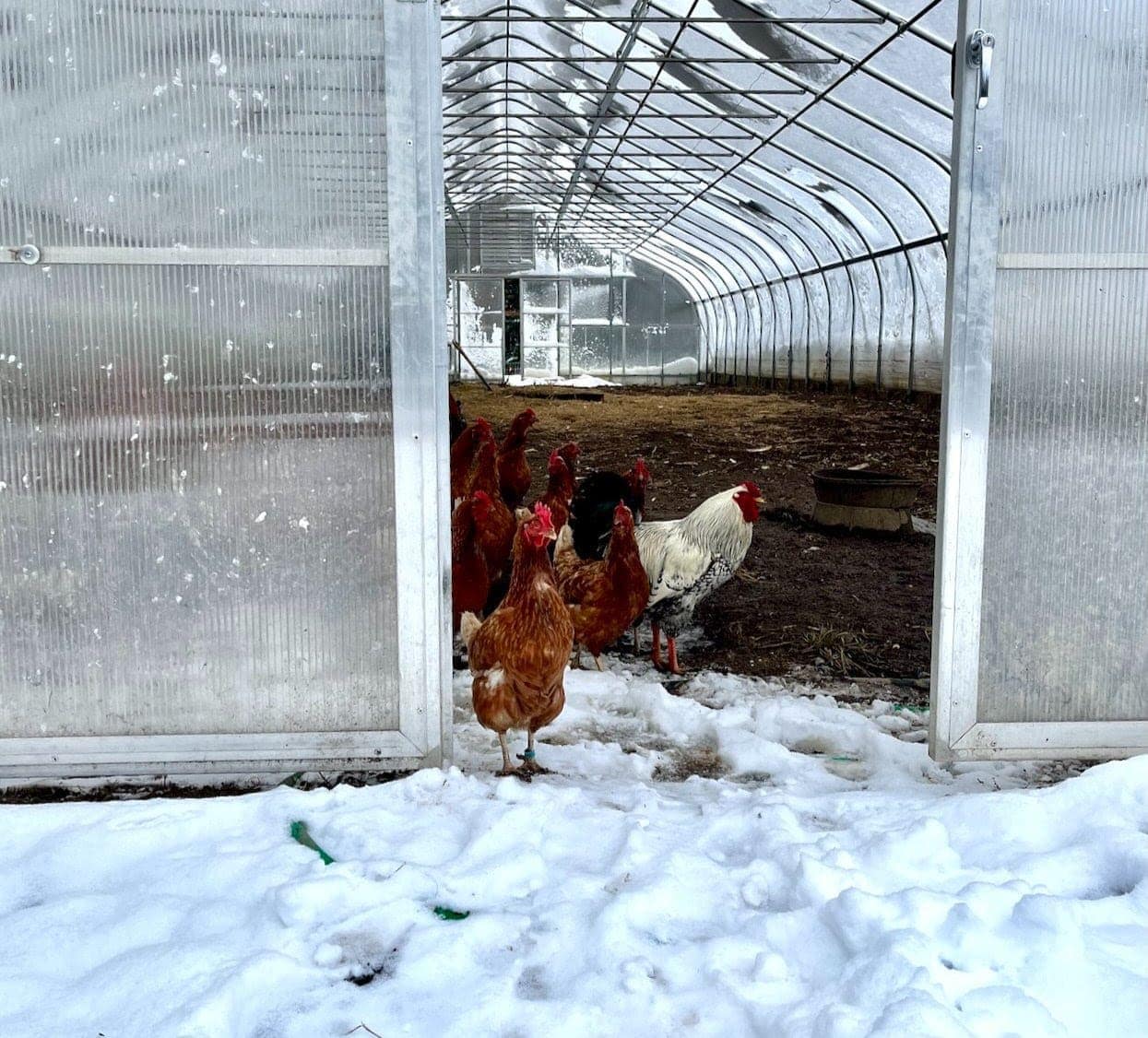 "The trees were sleeping, holding their sap still in their cambium," Penniman wrote. "The bears, squirrels, and coyotes were bedded down under the snow. Even the birds had paused their singing to find shelter. And here I was, silly human, bustling about as if it were summer. I was not in sync with the way of things."
Penniman explains that since then, the Soul Fire community has intentionally aligned their farming cycle with the mountain environment around them. These days, winter is a time for "planning, learning, desk work, and a slower pace." The November 2022 Love Note honored the beginning of winter as "the season of turning inward," adding, "Just as sap is flowing down to the roots of the trees around us, we are harnessing our energy to invest internally."
Winter gives us a rare opportunity to slow down in an increasingly hectic world. Learn from our local farms — during these colder months, take time to rest, regenerate, and take some time for yourself before the year ahead.
Nicole Formisano is a freelance writer with work featured in the Long Island Press, TigerBeat, and more. She fell in love with the Hudson Valley while completing her degree in English and communications at Marist College, and she's since become focused on using journalism as a tool for community and environmental work.