In this year's ranking of bike-friendly states conducted annually by the League of American Bicyclists, New York placed 13th. (FYI, Massachusetts, Oregon, Washington, California, and Minnesota hold places one through five, respectively.)
But in the category "Traffic Laws and Practices" — a look at a state's effectiveness in promoting legislation that makes it safer to bicyclists and pedestrians to share streets with cars — New York received a grade of F+. You have to go all the way down to state #40 on the list (Idaho) to find a similar ranking.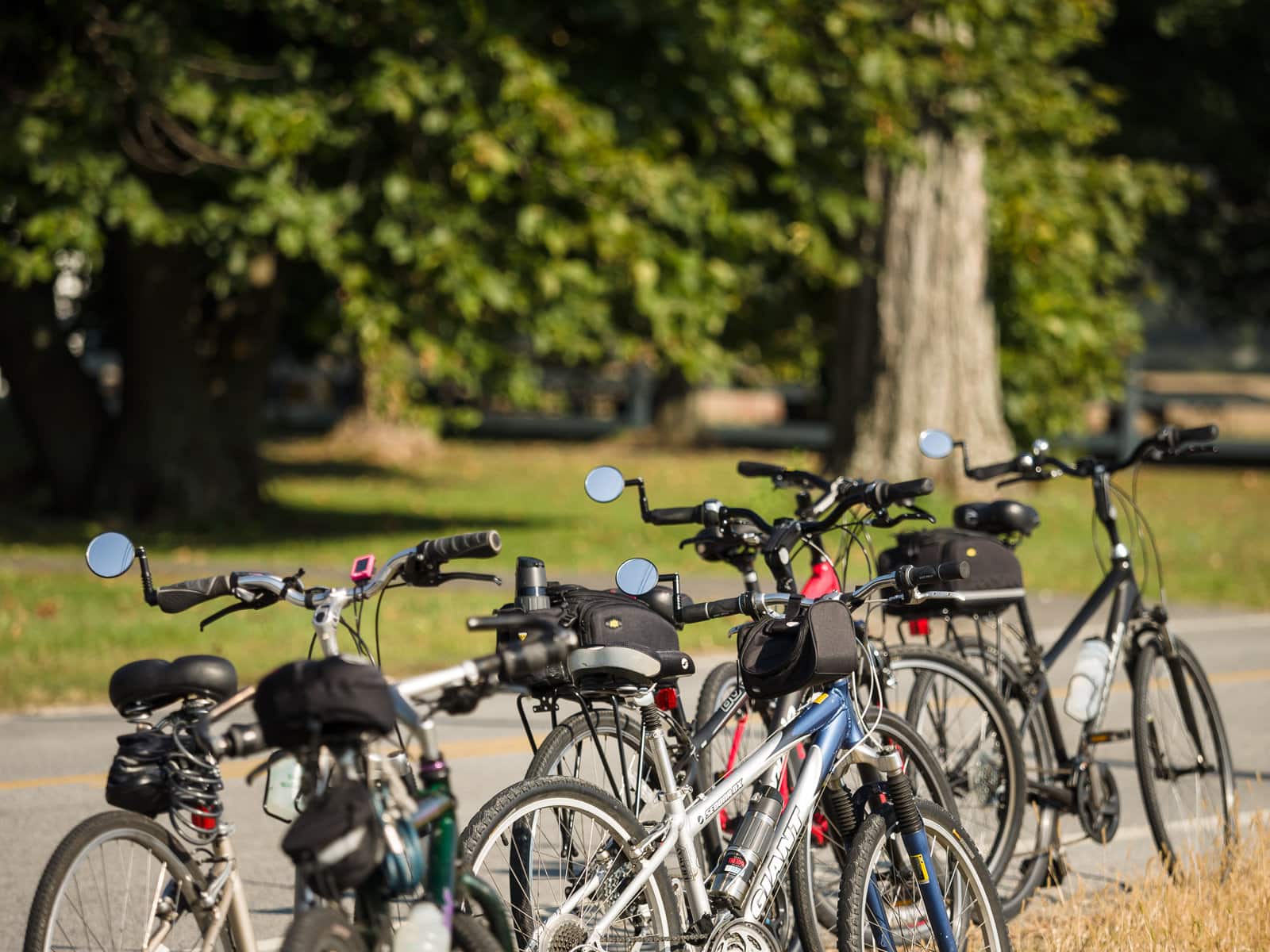 These ratings came out in April. Since then, the state Assembly and Senate moved into high gear to pass three bills that will provide an increased measure of security for cyclists, walkers, and joggers on New York's roads. (Nationwide, approximately 900 bicyclists and 7,000 pedestrians die each year as a result of traffic-related accidents.)
These bills will:
Allow cities, towns, and villages to set maximum speed limits at 25 mph. (Current law restricts municipalities from posting limits below 30 mph.)
Provide funding for communities to construct or improve bike and pedestrian paths on streets and install other bike-friendly infrastructure.
Make pedestrian and bicycle-safety awareness a mandatory component of the pre-licensing course for driver's license applicants.
Scenic Hudson joined efforts by the New York State Safe Streets Coalition, established earlier this year by 14 safety and transportation advocacy organizations, to push for passage of the bills.
"Scenic Hudson has a long history of supporting policies that will help downtowns regain their place as hubs of the Hudson Valley's economic and cultural life," says Scenic Hudson Director of Government Relations and Public Policy Andy Bicking. "Our region's future prosperity and well-being are deeply dependent on making these spaces safe and accessible for all people, including pedestrians and cyclists. These bills will help make that happen."
An avid cyclist, Bicking knows firsthand the importance of increasing bike safety. Last year, he was pedaling in Kingston with his friend John Lynch, a bicycle-safety and social-justice advocate, when Lynch was struck by an automobile and killed.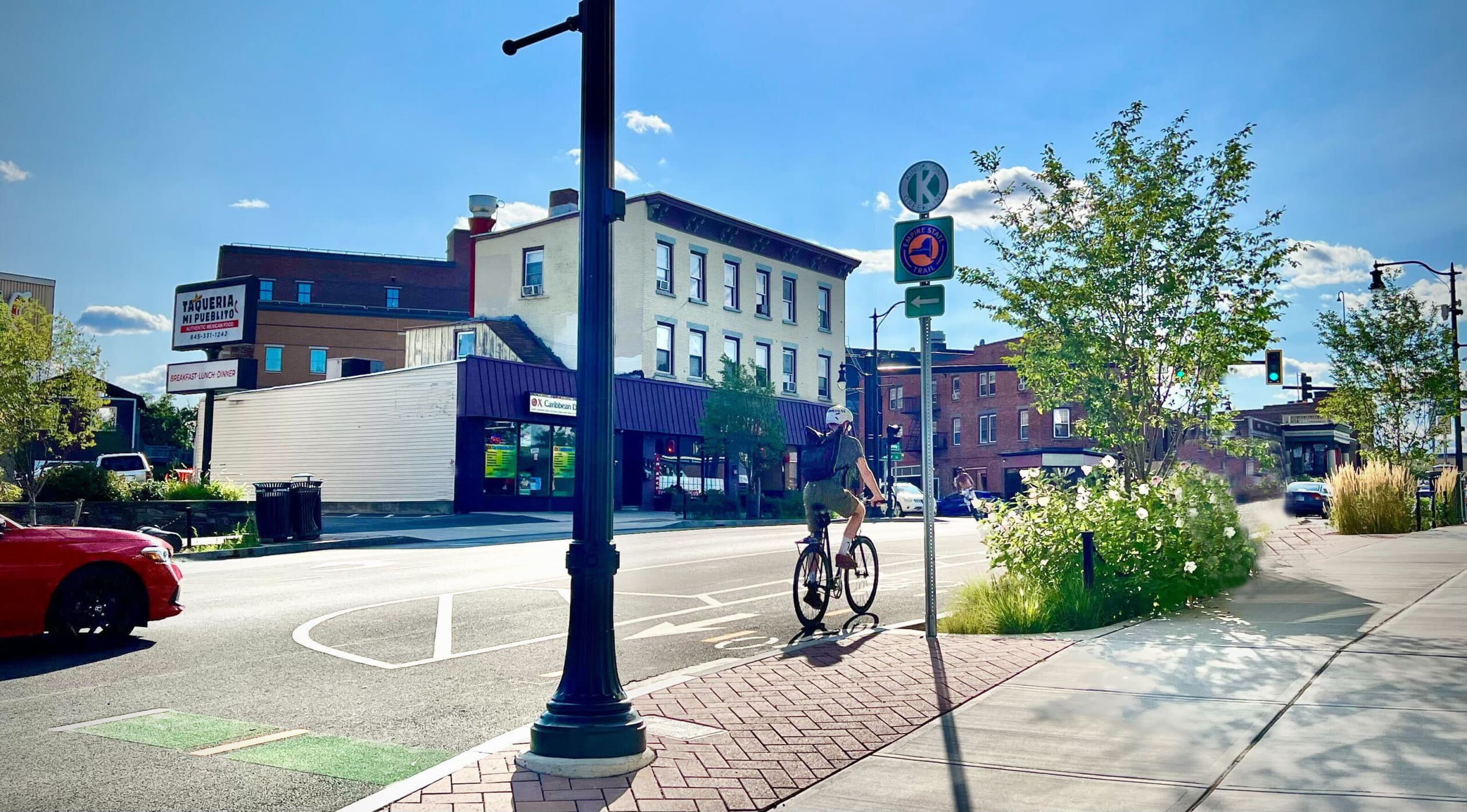 "John was one of the safest and most conscientious cyclists I've known, but that was not enough to protect him from a fatal accident," he says.
Bills reduce accident risks, increase drivers' awareness
Governor Hochul signed the driver's education bill into law in July, but has yet to act on the others. Bicking urges people to contact the governor and thank her for taking one step toward making streets safer for all, and at the same time ask her to sign the other two bills. "Together, they will make the greatest difference," he says.
Lowering speed limits by as little as five mph will have an outsized impact on anyone traveling via bike or foot. According to the AAA Foundation for Traffic Safety, a pedestrian struck by a vehicle going 25 mph has a 25% risk of sustaining a serious or fatal injury. The risk rises to 50% for vehicles going 33 mph and 75% at 41 mph.
Funding construction of new bike/pedestrian paths and lanes will boost opportunities for non-motorized transportation to jobs and businesses — helping to confront systemic racism and underinvestment in low-income and communities of color, as well as promoting a natural climate solution. It also will improve public health by increasing residents' access to recreation.
Finally, providing more education for prospective drivers about their duties to pedestrians and cyclists will build awareness of potential hazards.
Language in the Senate version of the drivers' education bill speaks to the goals legislators hope to accomplish with all three: They "will create a thoughtful road culture going forward — so that all can travel with the smallest possibility of being put in danger or harmed."
For Bicking, enacting all three bills would be a fitting legacy for his friend. "Experiencing John's loss firsthand and witnessing his loved ones' struggle through an extremely difficult period underscore the importance of this legislation that I believe John would have supported," he says. "These bills will save lives and help prevent others from experiencing avoidable tragedies like this."
Reed Sparling is a staff writer and historian at Scenic Hudson. He is the former editor of Hudson Valley Magazine, and currently co-edits the Hudson River Valley Review, a scholarly journal published by the Hudson River Valley Institute at Marist College.