The work of Newburgh-based artist Alison McNulty has taken a dizzying number of forms: sculpture, photography, drawing, video, site-responsive outdoor and indoor installations, interactive projects and architectural interventions. But the common thread among most of her recent projects is exploring poetics of Hudson Valley's material, ecological and industrial past.
Since moving to Newburgh in 2014, McNulty has taken inspiration from the history and materials found in the region, from wool and historic bricks to her own hair and specific rocks and plants specific to local sites.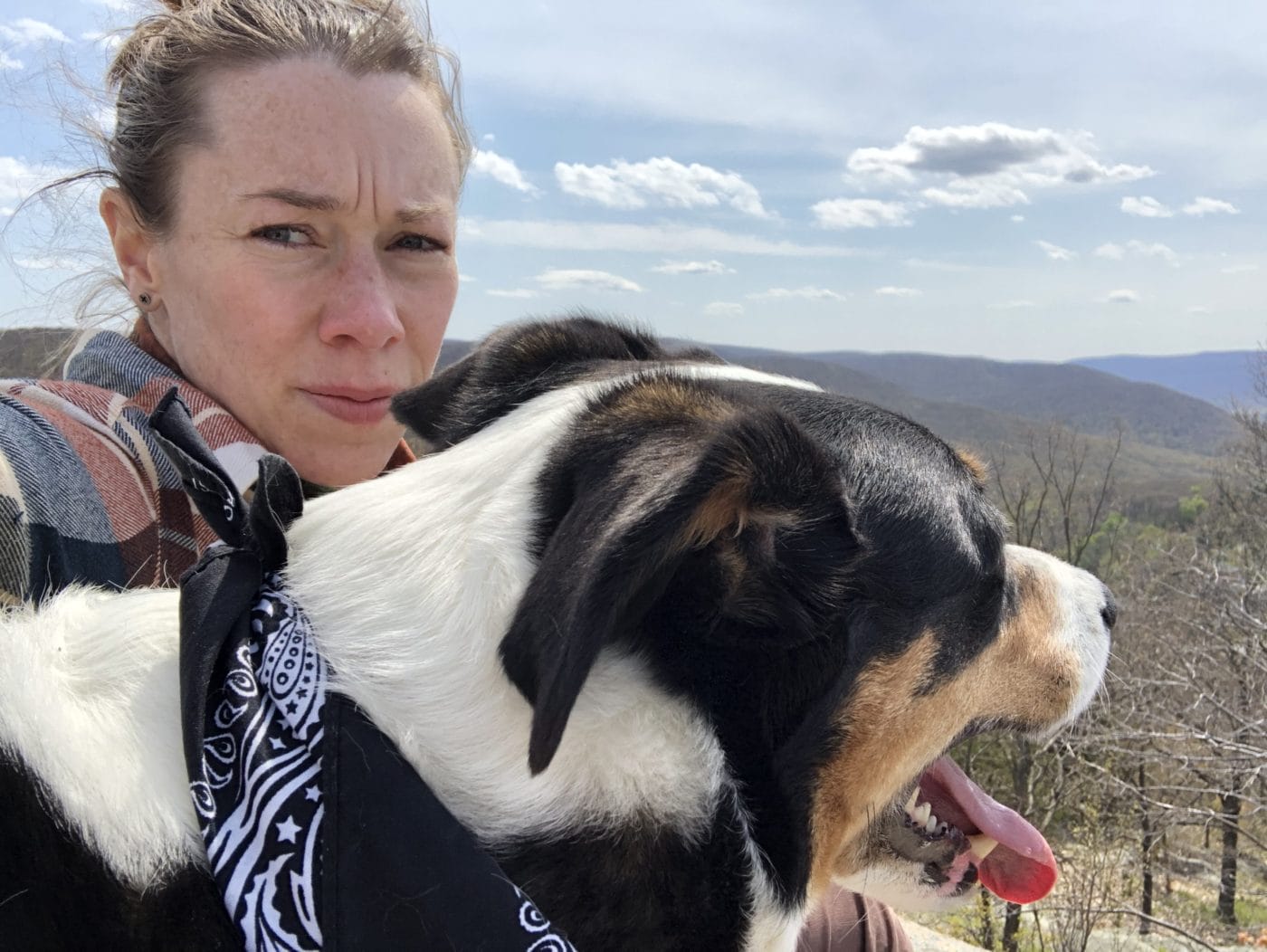 "Working with ubiquitous, salvaged materials, intentionally precarious forms, and neglected sites, I question systems of value- and meaning-making in our largely climatized, constructed, virtual world," McNulty says.
The artist's work has been exhibited everywhere from the BAU Gallery in Beacon and the Fullerton Cultural Center in Newburgh to the International Museum of Contemporary Sculpture in Santo Tirso, Portugal. Since much of what she makes lasts only for the duration of the exhibition, she says, "the ephemeral and contingent nature of my work is meant to exhibit and explore fragility as a threshold between self and other, and to reveal or reimagine the ways we participate in larger material cycles and configurations through human and geological time."
Artists have been drawn to the region at least since the Hudson River School drew on its bucolic landscapes — but McNulty appreciates its modern urban-rural contrasts. " I particularly love the varied and physically-challenging landscape in the Highlands, including how quickly I can change perspective from river-level to the top of a small mountain, from urban Newburgh on the bank of the Hudson, to the high and quiet paths on Storm King in the span of a sunset elongated by climbing higher," she says.
"This landscape teaches me not only about myself and helps me tune my body as a sensor to my surroundings, but also consists of a particularly beautiful, rich, and varied materiality that informs the way I practice art, in terms of where I work, the materials I work with and the forms those materials take as my art," she adds.
We spoke to McNulty about the stories behind some of her favorite work. (See credits and descriptions below the gallery.)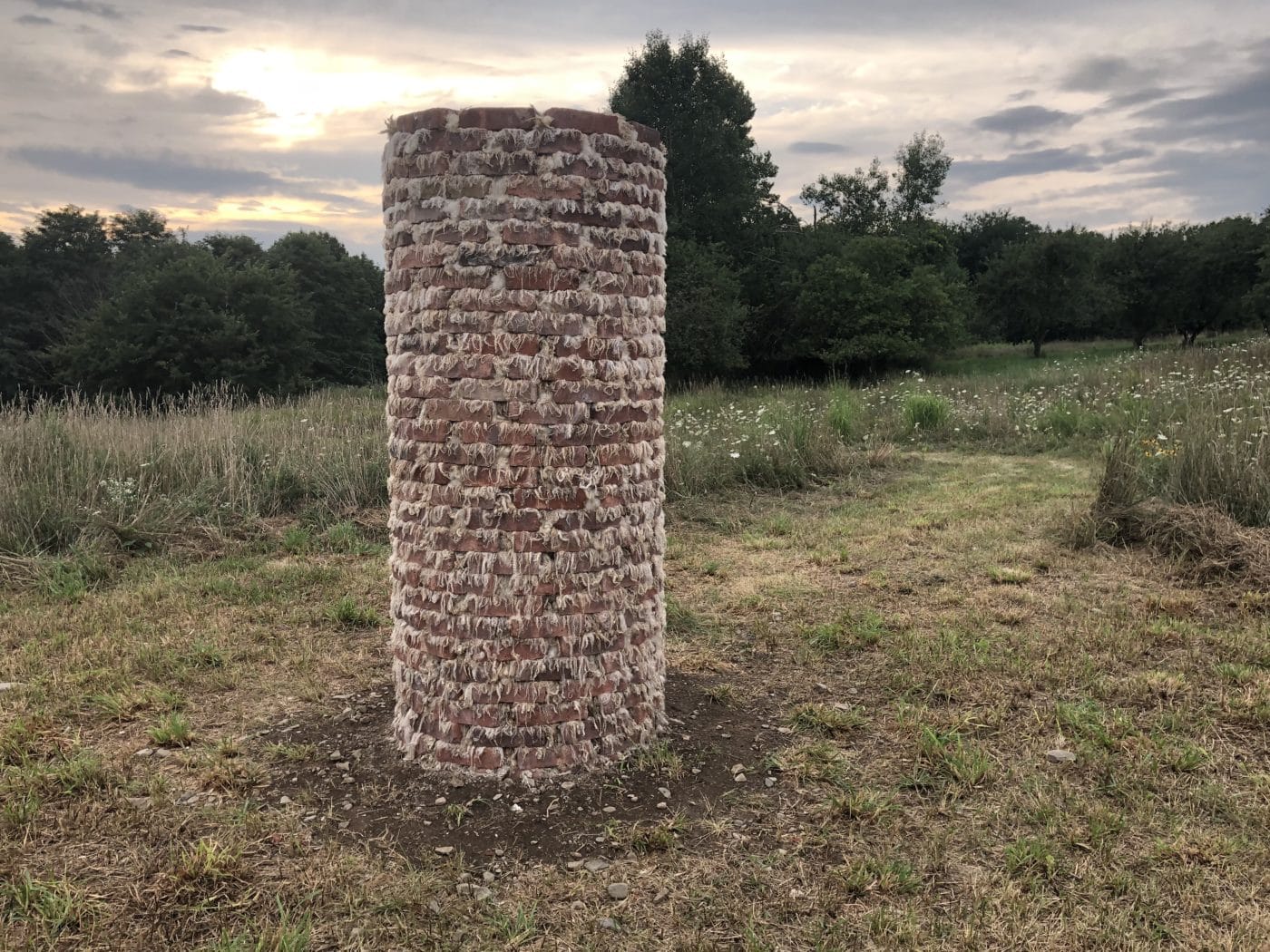 Hudson Valley Ghost Column 7
PS21 (Performance Spaces for the 21st Century), Chatham, N.Y. (part of the PATHWAYS
Project, on view through winter 2020)
Historic Hudson Valley-made Lahey bricks and unprocessed Cormo sheep wool from a Hudson
Valley fiber farm
74" high, 32" diameter
Hudson Valley Ghost Columns are to date a series of seven site-responsive structures built at sites around NY state that respond to the history of the Hudson Valley and are constructed from materials important to the region's geological, social, and industrial past. Each structure is made from bricks from a single brickyard or family, dry-stacked on site, and made as a unique, meditative response to its context and history.
In the Space Of
How far the clouds   /   move along the ridge   /   in the space of   /   one   /   held   /   breath.
Collaborative Concepts Farm Project in the Hudson Highlands, Garrison, N.Y. (2016)
Granite schist, clouds, ridge, breath.
Line of stones approx.18'
The poem was written and hand-carved by the artist into rocks of the same mineral composition as the distant ridges.

Fault Trace
BAU Gallery, Beacon, N.Y. (2018)
salvaged roofing slate and the artist's hair
approx. 79 x 52 x 4"

Ephemeral floor piece constructed on-site with loose slate and tiny pieces of cut and sifted hair. The piece gets deconstructed at the close of the exhibition. The solo exhibition Fault Trace (2018) explored the geological term "fault trace" as a space of literal and metaphorical relational possibility.
Hudson Valley Ghost Column 4
Wilderstein Historic Site, Rhinebeck, NY (2019)
Historic Hudson Valley-made Jova Manufacturing Company and Hutton bricks and unprocessed Cormo sheep wool from a Hudson Valley fiber farm
76" high, 36" diameter

Sheep and wool have an important history in the Hudson Valley. The artist has stated previously that she placed the sheep wool between the bricks to make the Columns appear animal-like, and as an exploration of the reciprocal relationship sheep have with humans, through cycles of wool growth and shearing needed to keep the animals healthy and alive. The wool sticks out of the columns to look like an actual sheep.
Seismographic Sketching Device
Dusklit Interactive Art Festival, Sugarloaf, N.Y. (2019)
Bone black pigment, paper board, salvaged wood, wool, rope, nail, hardware.
Dimensions of Device: 11 x 22 x 10"
Dimensions of Drawings: 8 x 10.5"

Seismographic Sketching Device is a performative object that sketches the particular motion of the user's rhythm and gait, creating an abstract map or subjective record of their own embodied cadence in relation to the topography of the exhibition site.