Jean-Marc Superville Sovak was born in Montreal, the child of one parent from Trinidad and another from the Czech Republic. With this geographic span in his identity, he thinks a great deal about place in his art. And since attending art school at Bard and living for years in Beacon, this multidisciplinary artist has found the place he considers most deeply might be the Hudson Valley.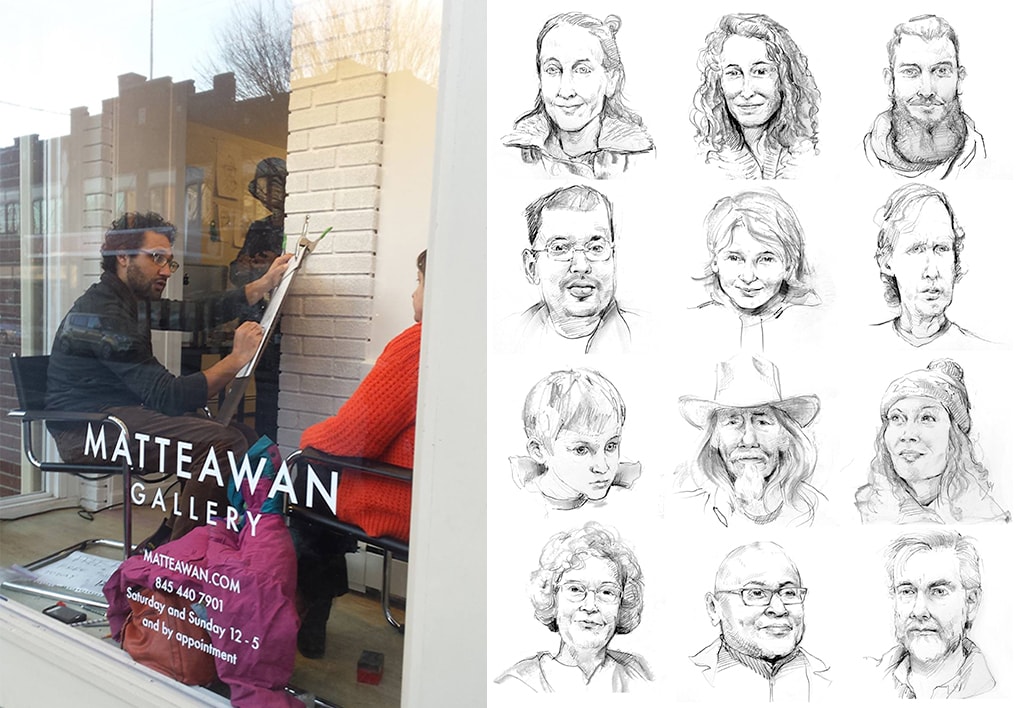 Sovak's work spans photographs, drawings, sculpture and video, often inspired by the valley and grappling with the social and racial dynamics of its history. Recently, for instance, his a-Historical Landscape series has reimagined Hudson River School paintings, adding enslaved people and other human representations (in fact contemporaneous images from abolitionist tracts) to the picturesque landscapes.
"It is my way of including information that had necessarily been edited out, making what I consider a more 'complete' or at least a more historically accurate depiction," Sovak says.
Sovak has also contended with the history of brickmaking in the Hudson Valley, from conducting hands-on brickmaking workshops to examining how workers from a range of racial and ethnic backgrounds made bricks bound for segregated housing. And recently, he held a powerful "Burial for White Supremacy," inviting people to actively participate in creating the work.
For the latest in our #HudsonInspired series, we spoke to the artist about how he deals with place and the history of the Hudson Valley in his creative work, as well as how current events have shaped his art. Below, he shares context for several works in his own words.
a-Historical Landscape: Ballston Springs/Solomon Northup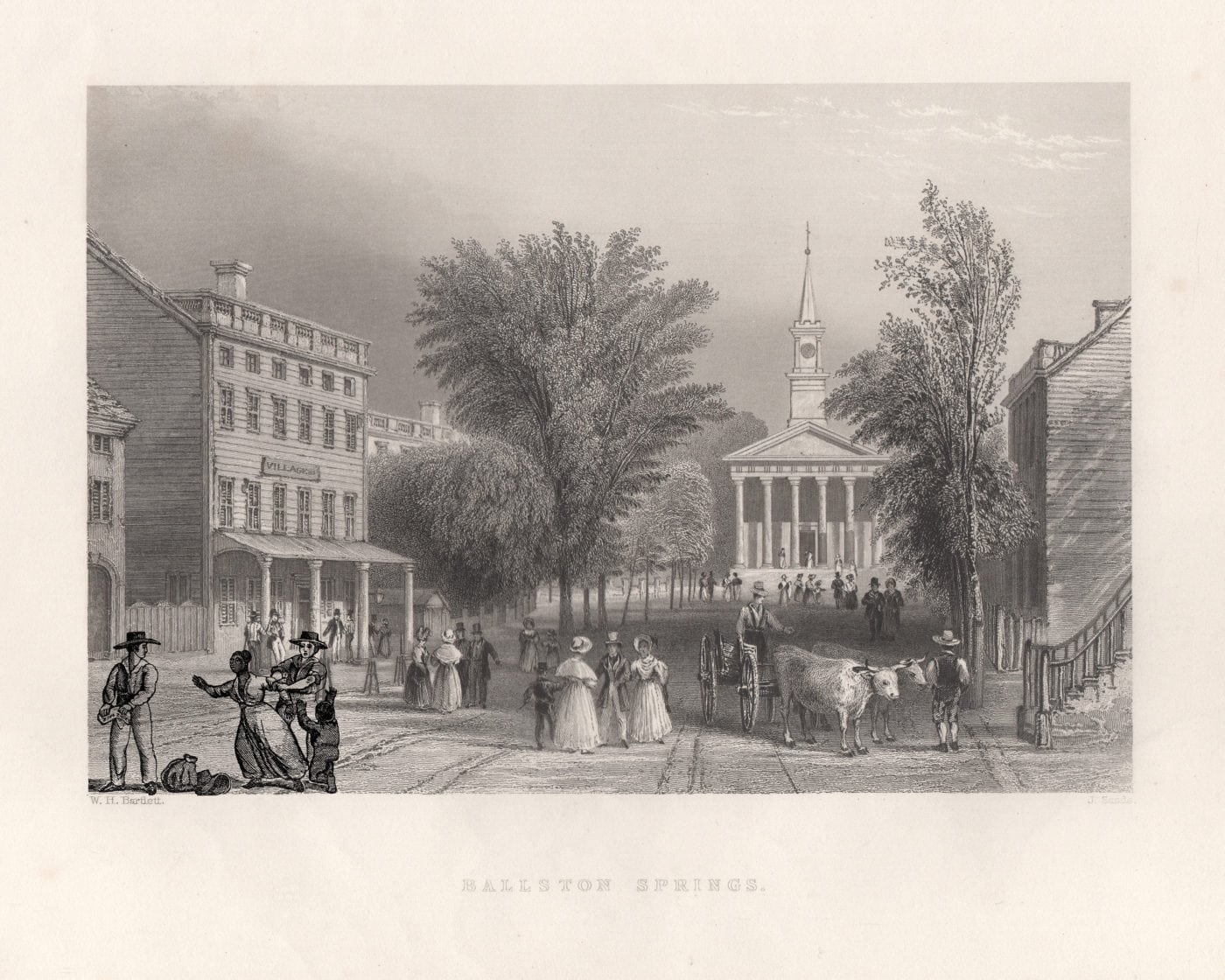 "Since Ballston Springs neighbors Saratoga Springs, Solomon Northup's hometown, the print depicting the idyllic setting where wealthy visitors would enjoy the therapeutic quality of the spring water seemed like a good place to insert a reference to Northup's story, 'Twelve Years a Slave,' published around the same time, which was one of the best-known recounts of the many free Blacks who were kidnapped from Northern states and sold into slavery in Southern slaveholding states."
a-Historical Landscape: Mt Tom Connecticut River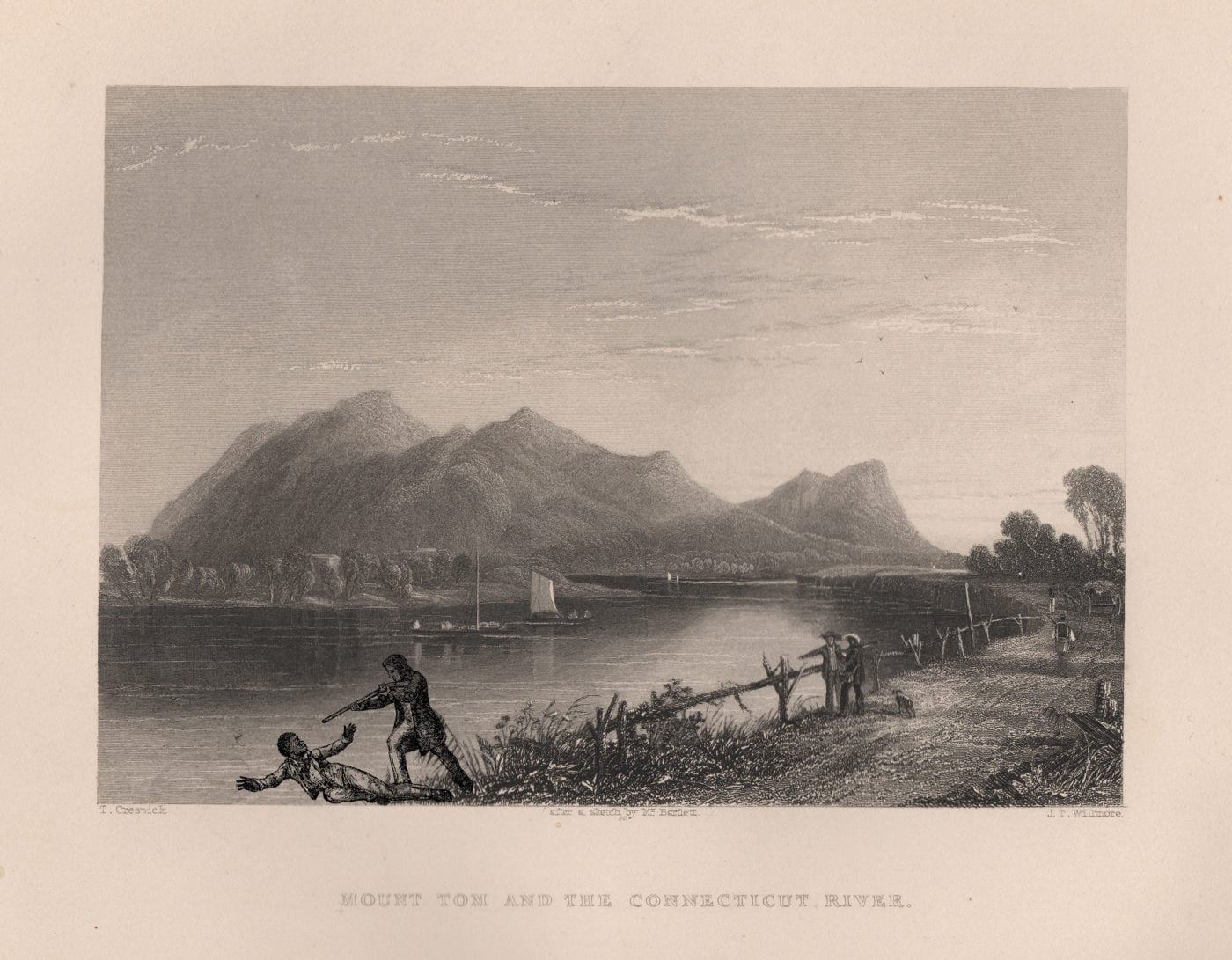 "Mount Tom and the Connecticut River were some of the most popular spots for the Hudson River School painters. It was also a favorite spot for Henry David Thoreau, a naturalist, philosopher and author of an essay titled 'Slavery in Massachusetts' in which he railed against the Fugitive Slave Act, which allowed federal Marshals to 'render' Blacks who had escaped to freedom and return them to slavery. I wanted to use the print to imagine what it might have been like for someone like Thoreau to witness one of these 'renderings' taking place in this setting and what his and other bystanders' reactions may have been."
Malthusian Landscape Detail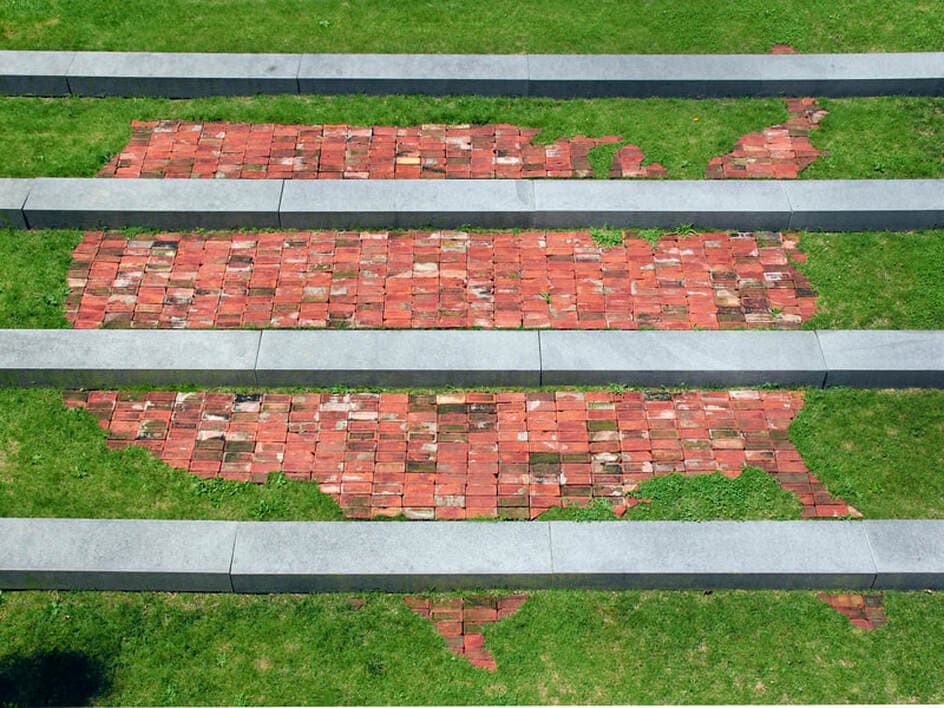 "As a person who is often asked, 'Where are you from?' my art practice is often guided by the same level of scrutiny toward the origins of the materials I work with. When I discovered the ruins of so many brick factories along the Hudson River, their absence was something I could feel was very present. Bricks, of course, have been used before as a material for making art, but it also mattered to me who made the bricks and how the bricks were made. Brickyards in New York were some of the most diverse work sites when many aspects of life were still segregated along race."
Malthusian Landscape American Map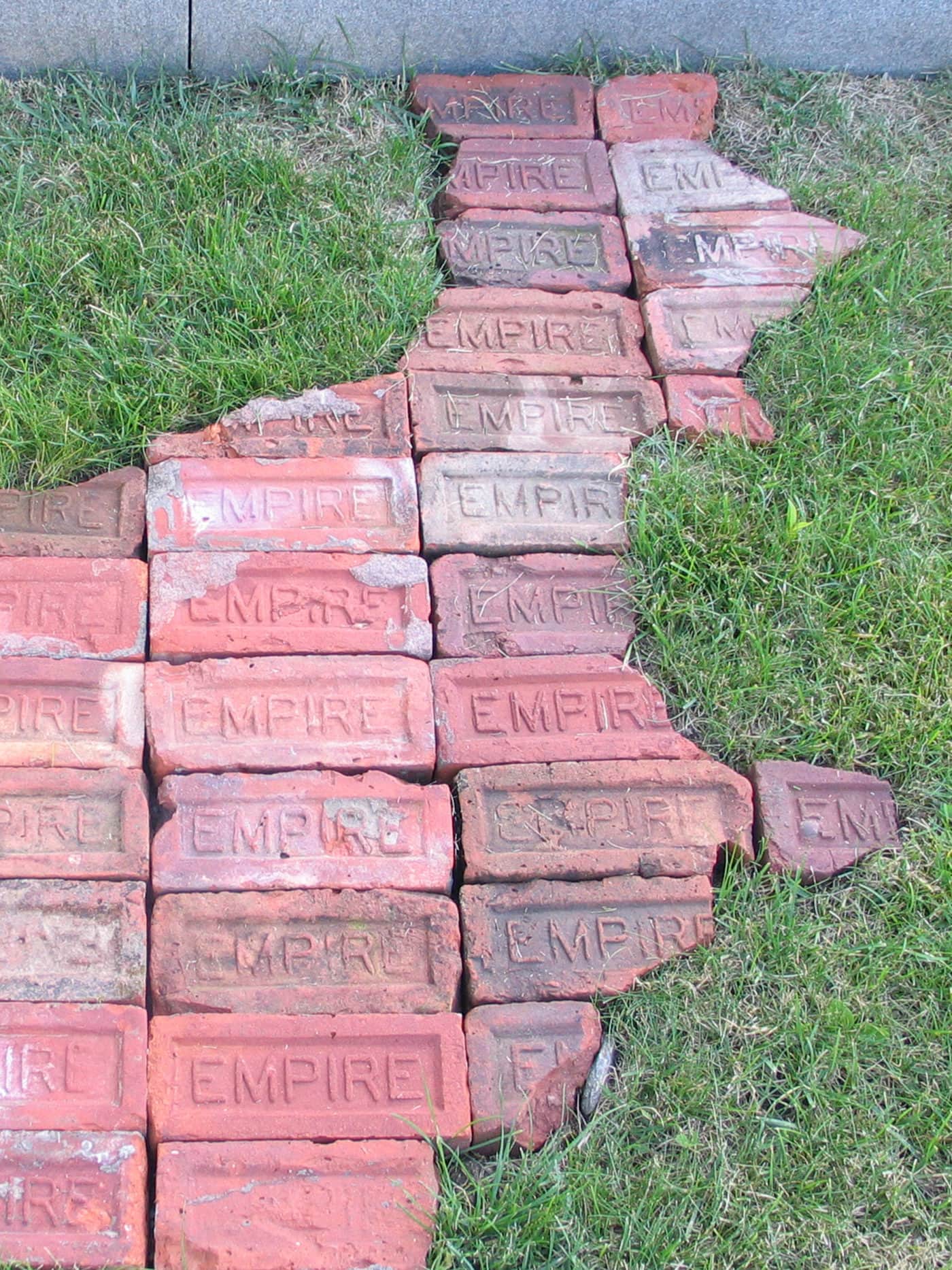 "The irony of building a sculpture with ruined and discarded bricks stamped with the word "EMPIRE" was only equal to learning that Black people could have been making bricks to build a place they could not live in."

(Editor's Note: The site of the former Empire brickyard, located in Stockport, was protected by Scenic Hudson in 2015 and is now the Charles Flood Wildlife Management Area at the Empire Brickyard.)
A Burial For White Supremacy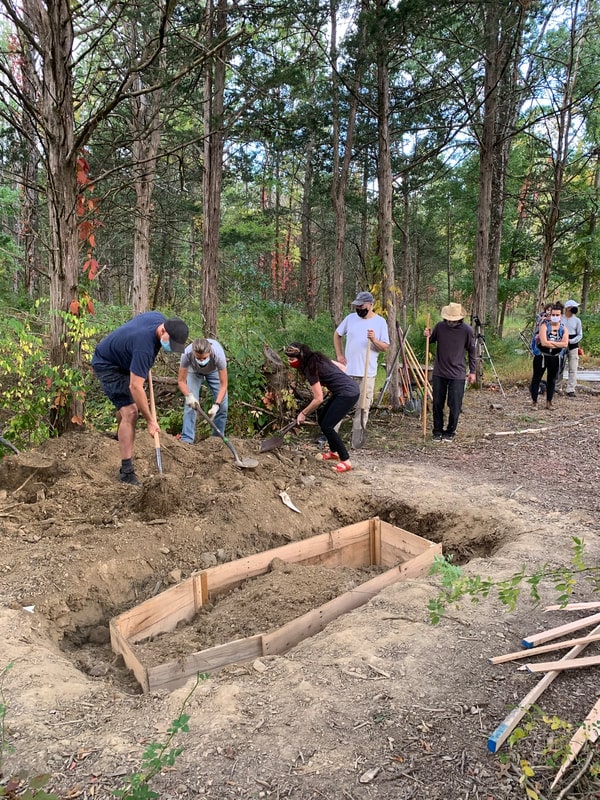 "Black lives matter when we bury white power. After the nationwide marches for racial justice this summer, I wanted to create an opportunity for some kind of concrete action where members of an audience could become participants in their own form of personal reckoning."
Burial For White Supremacy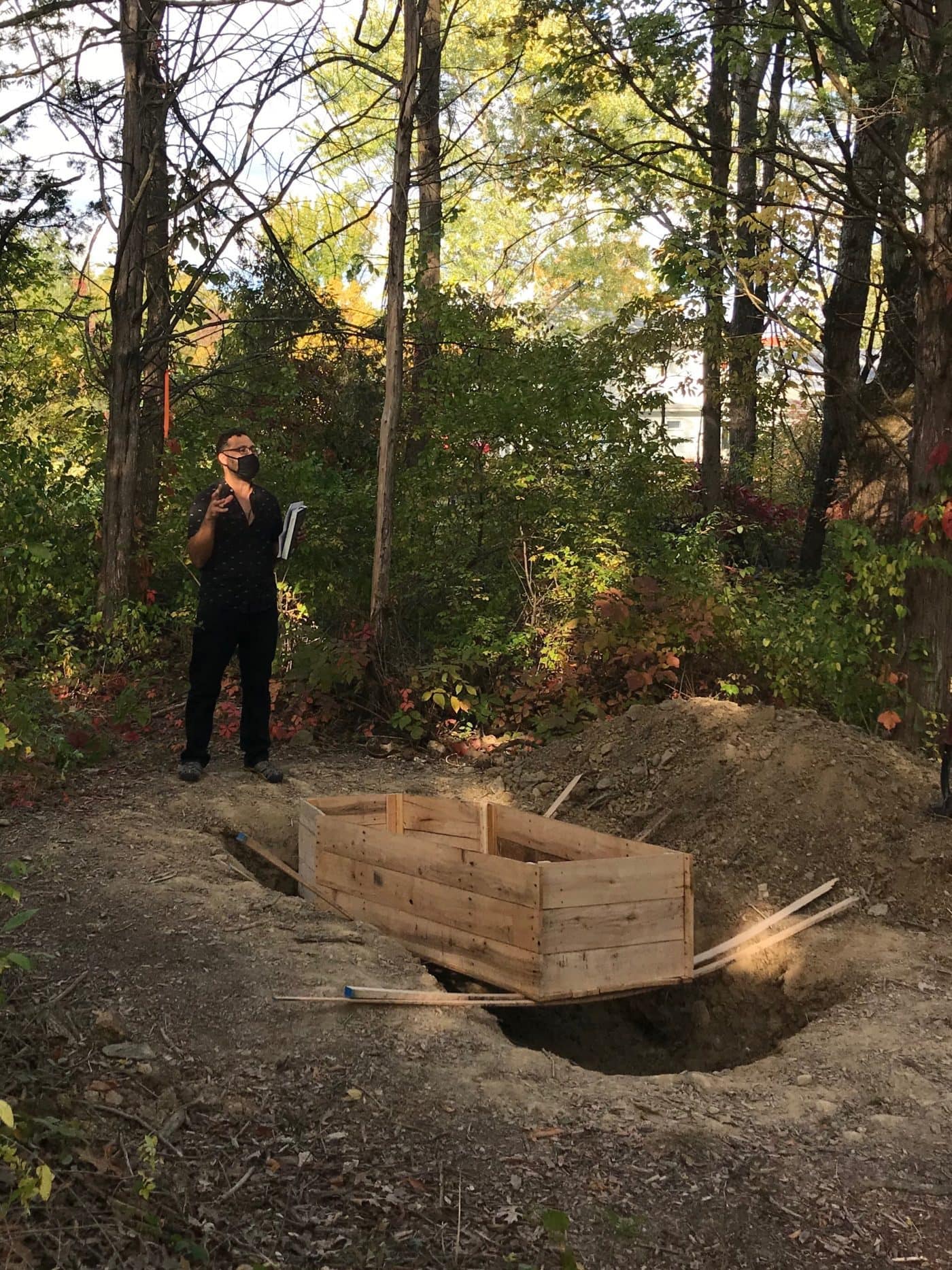 "Participants in 'Burial for White Supremacy' were invited to carry a physical casket, cast stones or personal items into the grave, and symbolically disavow the unmerited benefits of an inheritance based on stolen land and stolen labor."
I Draw, You Talk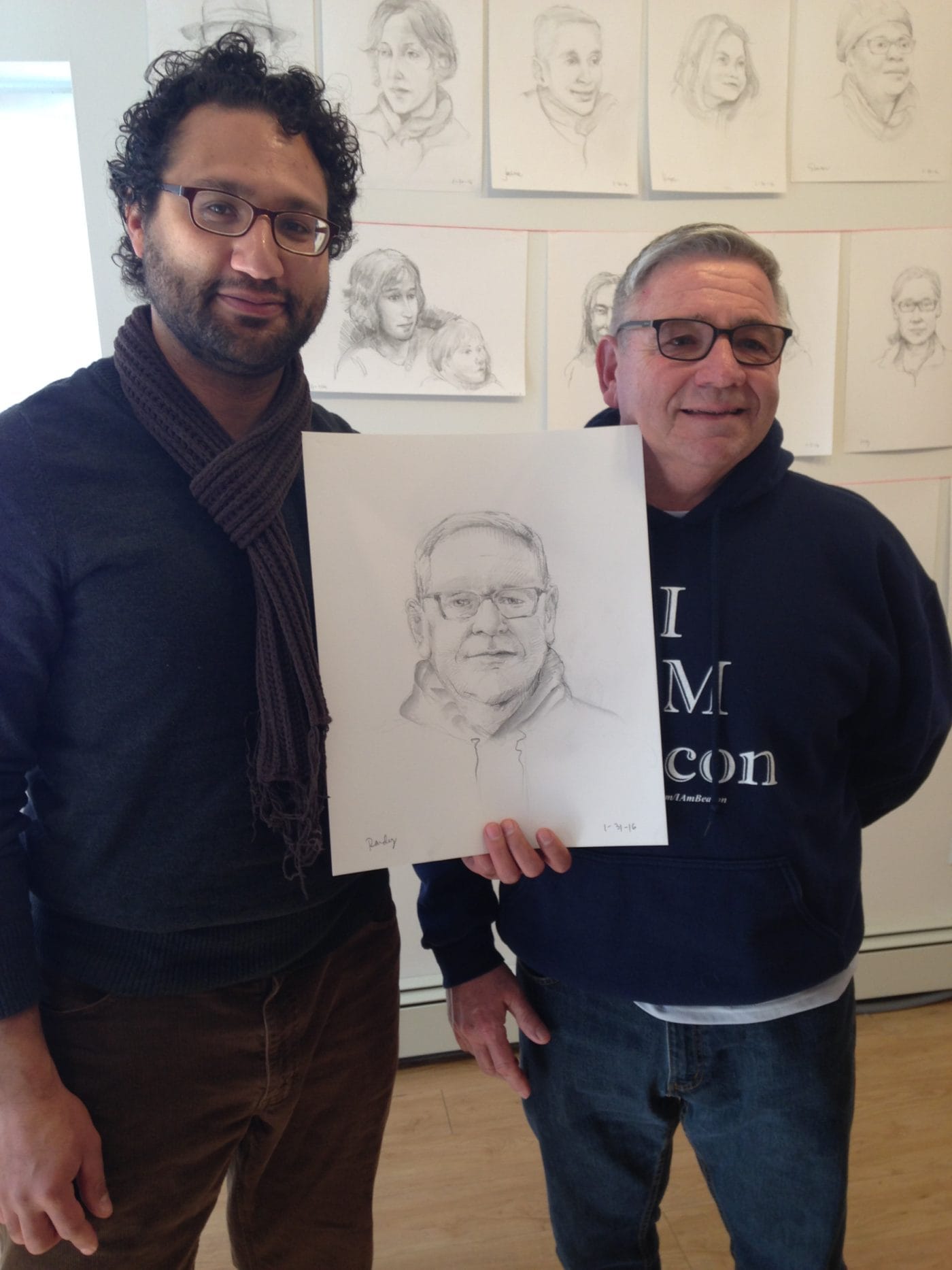 "I drew 109 residents for this series. I wanted to use the art gallery space as a cross between a soup kitchen and a barber shop. It was an attempt to create both a physical and virtual platform for the local community to assemble. Everyone has a face and a story. I wanted to make their faces visible and voices heard. Despite the changing dynamics of a river town like Beacon, people have much more in common than the divisions between 'old' and 'new' residents tend to suggest."
Tiny House of Steel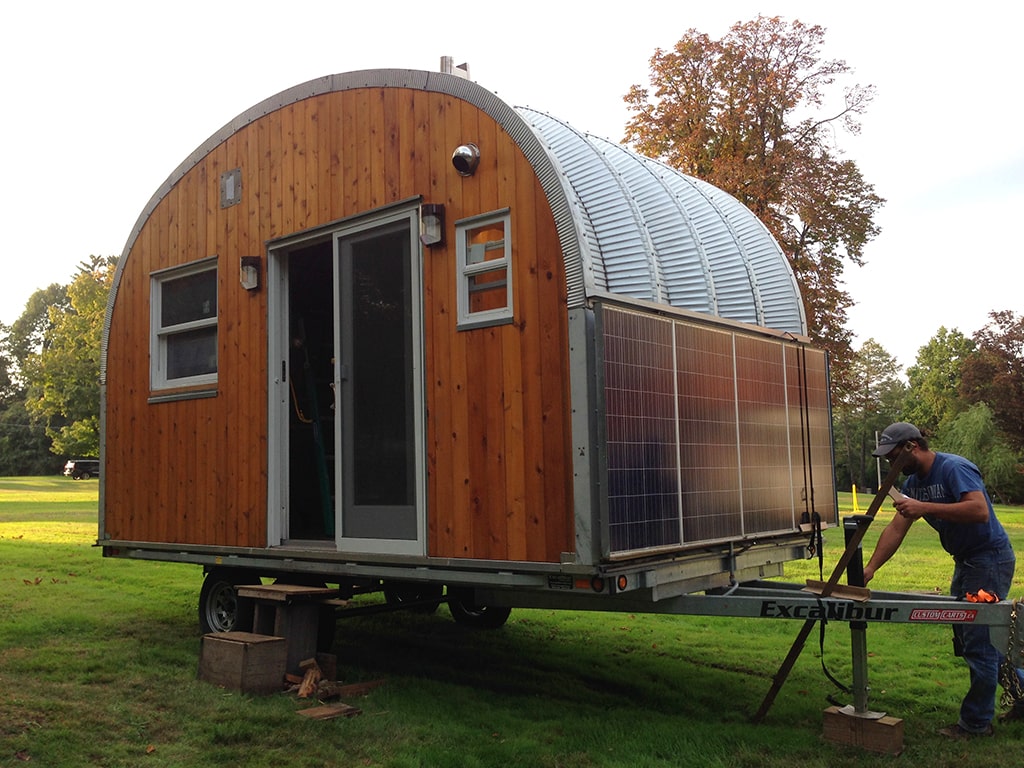 "'Tiny House of Steel' was designed as an experiment somewhere between survival shelter and home ownership. "The solar-powered off-grid Quonset hut on wheels embodies the entirely customizable life-home I have wanted for my spouse and child. The 'Tiny House of Steel' has toured at outdoor sculpture exhibitions as a model for an ascetic (and aesthetic) life and is now located in Ulster County, where I have encountered a welcoming community."
Writer Mazuba Kapambwe holds a master's degree in Africana Studies from SUNY-Albany. She fell in love with the Hudson Valley on countless bus rides between the Capital District and her family's home in Scarsdale, N.Y. Her work has appeared in Conde Nast
Traveler, Culture Trip, CNN Travel and more.