National Bike Month is picking up speed — especially in New York State. As in the rest of the country, biking has experienced a resurgence in the Hudson Valley and statewide during the pandemic, with increasing numbers of people relying on two wheels for zero-carbon transportation and recreation.
This year the 65th-annual event comes just five months after the completion of the new Empire State Trail. The 750-mile T-shaped trail allows people to explore all of New York, from Buffalo to Albany and Plattsburgh to Manhattan, by bike or on foot.
In the valley, the path flows through Westchester, Putnam and Dutchess counties before crossing Walkway Over the Hudson to Ulster. (Near Kingston it includes the Hudson River Brickyard Trail, which passes through a 520-acre waterside property — and future state park — that Scenic Hudson protected in 2019.) It returns to the east side of the river over the Kingston-Rhinecliff Bridge and then heads north through Dutchess and Columbia counties.
With the first cycling season on the Empire State Trail just getting started, it's too early to say just how big of an impact it will have for bicyclists in New York. However, it is already proving to be a source of inspiration for outdoor feats among people of all walks of life — like Beacon native Tara Simmons.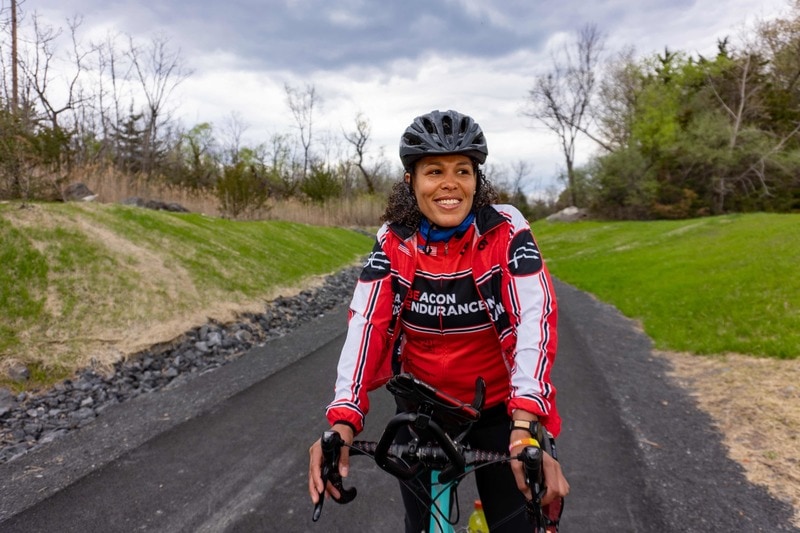 Inspiring new goals
In August, the 39-year-old teacher and mom of three is planning an epic trek on the Empire State Trail to raise money and awareness for her initiative, Flip It 4 Life, which aims to help people overcome powerlessness and live fearlessly. "My past has domestic violence. There was something inside of me that wanted to share my story and hope — that no matter how bad things may seem, you can totally flip it and turn it into power," says Simmons. "I want to model and share that we're awesome beings, all of us."
For Simmons, demonstrating awesomeness happens through feats of endurance. She ran 100 miles from Albany home to Beacon last fall to raise money for Grace Smith House, an organization dedicated to survivors of domestic violence. Hearing that the Empire State Trail was opening inspired her this winter to set a new goal for this year: making a two-day journey from Niagara Falls to Beacon that will involve more than 300 miles of biking, mostly on the new trail. For the last bit, she'll hop off the bike and jog the remaining 33 (or so) miles home.
Getting ready for the trip is a feat in its own right. Simmons, who trains with Beacon Endurance, says she often hits the trail at 4 a.m. to run and bike before her teaching duties. Every mile, she incorporates some push-ups to build strength, and she also hikes when she has the time to help cross-train her body.
Diversifying the outdoors
This journey is just one step toward Simmons' bigger dream of running from Death Valley, Calif., back to Beacon. But this summer's stepping stone may actually be an important moment for the Empire State Trail to help narrow racial disparities among people who participate in outdoor recreation.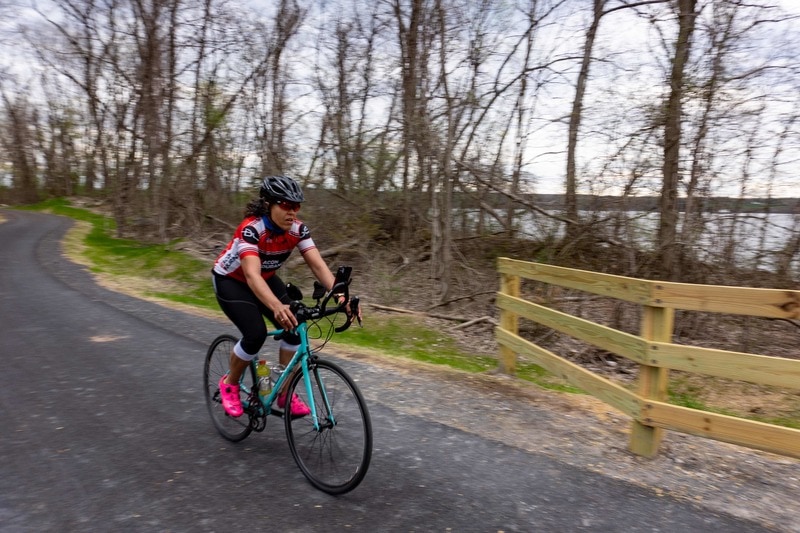 According to the Outdoor Industry Association, the majority of people who participate in outdoor recreation are white. Black people or African Americans comprise about 11% of outdoor participants, Hispanics or Latinos/as about 14%, Asian Americans about 9%, with the remaining 2% either Native Americans, Pacific Islanders or "other."
Features of the Empire State Trail can help make it easier for communities of color to get outdoors, says Andy Beers, the trail's director. "It's free, and it goes through urban areas and underserved areas throughout the state, and through downtowns, because that's where these rails and canals once went," he says. "It creates immediate access for populations in these urban areas. It's our hope that it will spur a greater diversity of trail use throughout the state."
While the Empire State Trail has yet to collect hard data on the kinds of people who use it, it already seems to have attracted participants of many backgrounds and abilities, according to Beers. "One of the gratifying things when you go out on the Empire State Trail is seeing a full diversity of people. There are people running, walking and hiking, and people of all races, ethnicities and physical health are out there using the trail," he says. "It's drawing a true spectrum of users."
Inspiring others
Still, the trail has yet to "create any promotion activities particularly aimed at underserved or minority communities to date," Beers says. "Not that that's not an aspiration, but our primary effort over the last four years was focused on creating the 750-mile trail."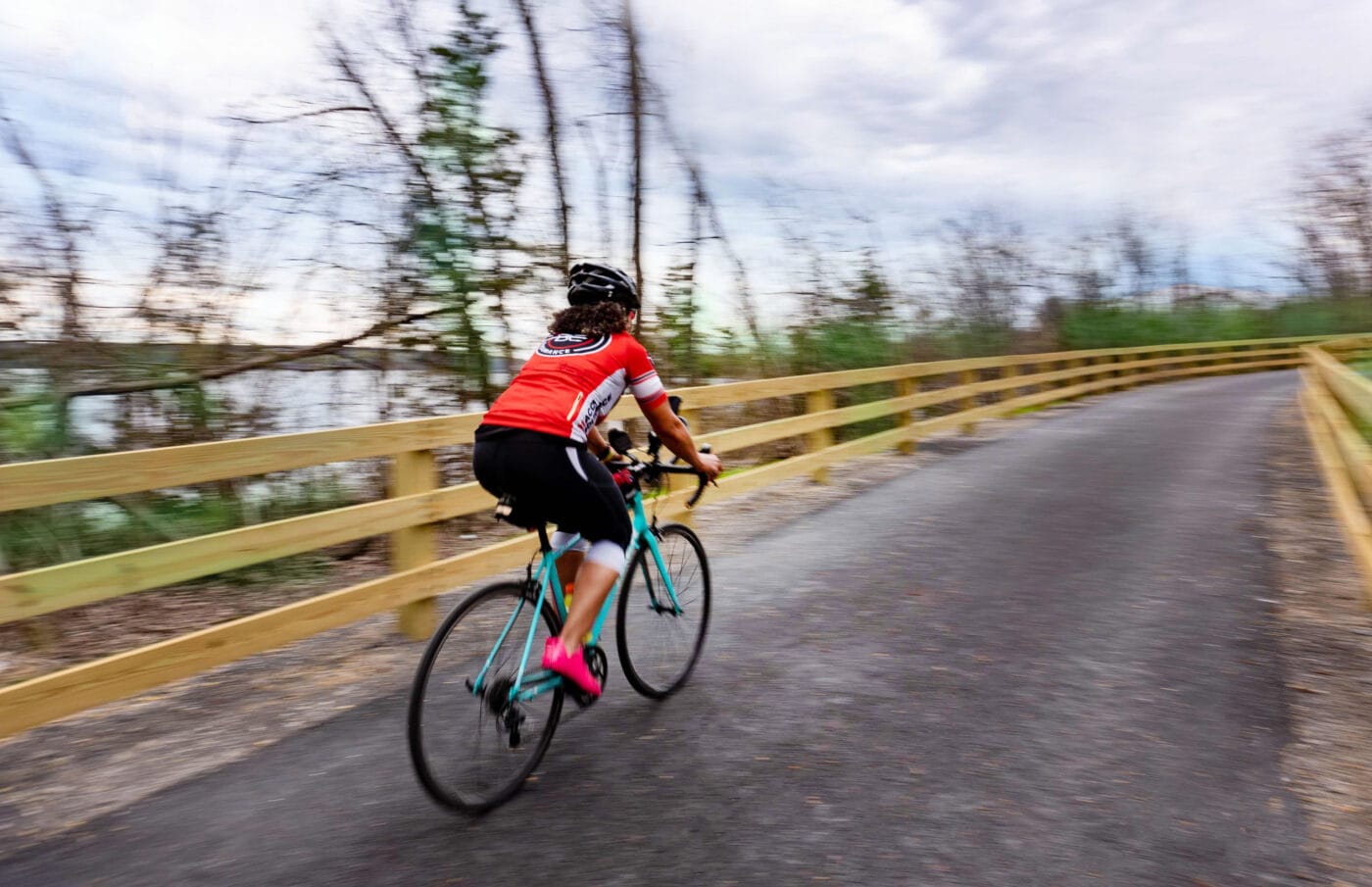 Simmons' journey may help bridge that gap and become an organic source of promotion for the Empire State Trail as a welcoming place for people from Black and Brown communities. A woman of color, Simmons is an inspiring figure who hopes others like her will feel more comfortable following in her tire tracks, getting outside and perhaps even embarking on their own feats of endurance.
"When you see people who look like you doing things that you haven't tried, it becomes more relatable to go out there and try it yourself," she says. "I'm hoping to spread the message and make people aware of what you can do and the access [to] the Empire State Trail. We all have the human right to play, and here's a perfect place to play in nature, rejuvenate and just be."
Saugerties native Joni Sweet writes about health, travel and adventure from her home in Beacon. She's the author of the National Geographic guidebook "48 Hours: New York," and her work has been published by Lonely Planet, Forbes, SELF, Health, and Real Simple, among other outlets. She loves hitting the Dutchess Rail Trail on her 4130 road bike from State Bicycle Co.