This week, in honor of Earth Day's focus on climate action, we're celebrating youth activists who have made it their mission to fight for our future. Learn more about them and other grassroots environmentalists in our People Who Make a Difference virtual gallery tour.
From shifting weather patterns to rising sea levels, climate change and its global effects can be seen everywhere we turn. Headlines about major floods, extreme weather, wildfires and rising global temperatures are becoming all too frequent.
Locally, we've already begun to see the effects of climate change. New York State has experienced increased annual temperatures, more frequent heavy rainfall and decreasing winter snow cover. As sea levels rise along New York's coast, homes and businesses are left more vulnerable than ever to major flooding events. If we stay our current course, these effects will continue to increase.
Thankfully, more and more young people around the world are using their voices and their platforms to combat climate change and find solutions for a sustainable future.
Meet Alexandria Villaseñor: School Strike Climate Activist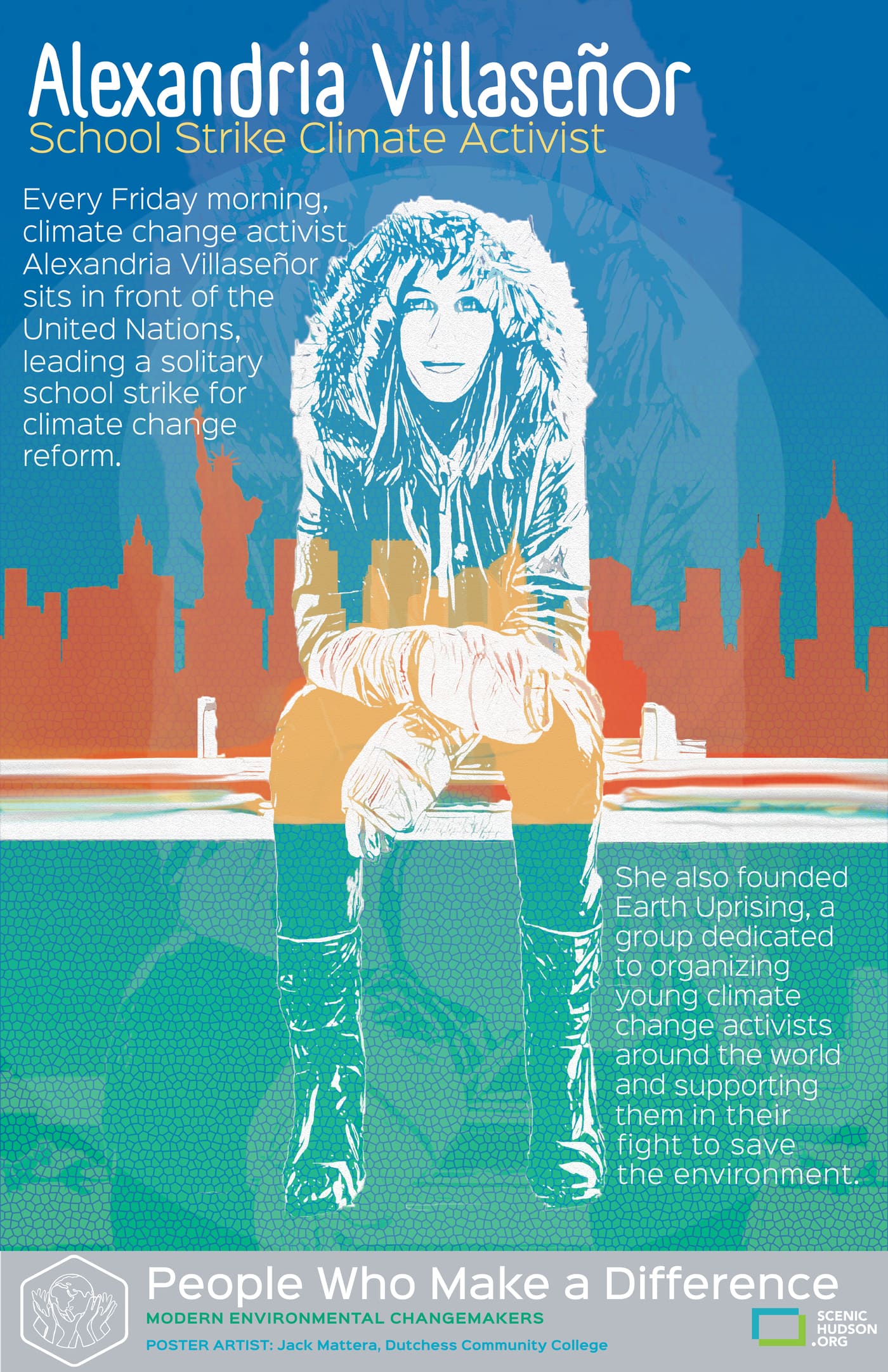 During a family visit in California, Alexandria Villaseñor witnessed the 2018 Camp Fire, the most deadly and destructive wildfire in California history. Suffering from severe asthma, the wildfires made the air around Alexandria toxic and caused her to become physically ill.
When Alexandria learned that increasing temperatures due to climate change had contributed to the wildfire's severity, she decided to take action.
Inspired by Greta Thunberg, 14-year-old Alexandria began a solitary school strike in front of the United Nations in New York City to protest the failures of the UN's Climate Change Conference. "When I go out and protest, it's one of the ways that I feel like I have a say in what's going to happen," Alexandria says.
Now Alexandria uses her voice to convince global legislators to take action on climate change. Through her organization, Earth Uprising, Alexandria leads by example, and inspires youth around the world to take a stand for the environment and for their futures.
Meet Felix Finkbeiner: Founder of Plant-for-the-Planet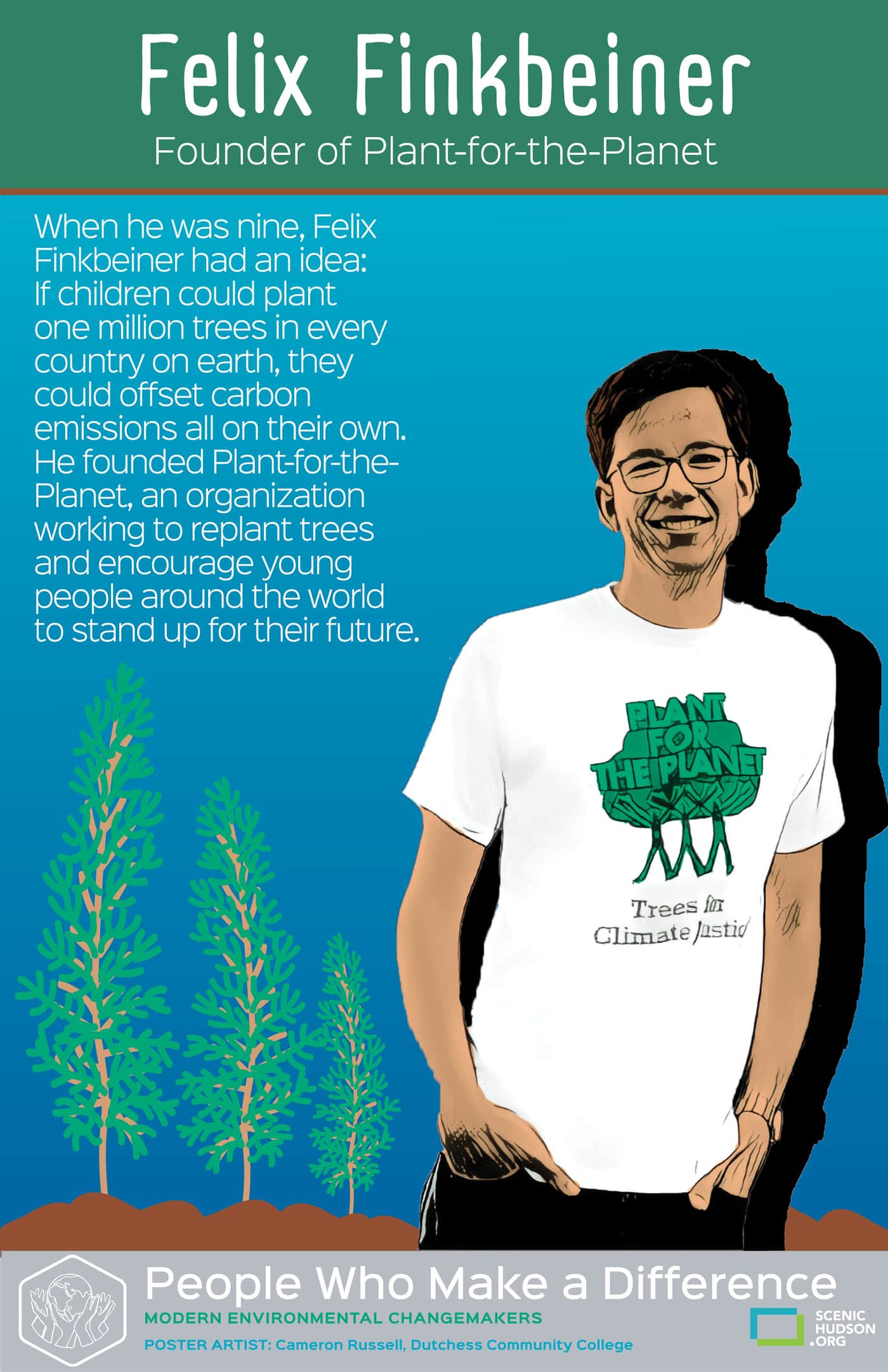 At the age of nine, Felix Finkbeiner had an idea: if kids in every country planted one million trees, they could offset global carbon emissions all on their own.
Inspired by Wangari Maathai's Greenbelt Movement in Kenya, Felix started Plant-for-the-Planet, an organization that plants trees and supports kids around the world to organize and do the same.
At 22, Felix has given speeches around the globe, relaying the seriousness of climate change and explaining how planting trees can help save our planet.
Felix says, ""When we children come together, we can really make a difference. One mosquito cannot do anything against a rhinoceros, but a thousand mosquitoes can make a rhinoceros to change its direction. When the kids unite and plant trees all over the world, then we act as global citizens to change the world."
Meet Xiuhtezcatl Martinez: Indigenous rapper and activist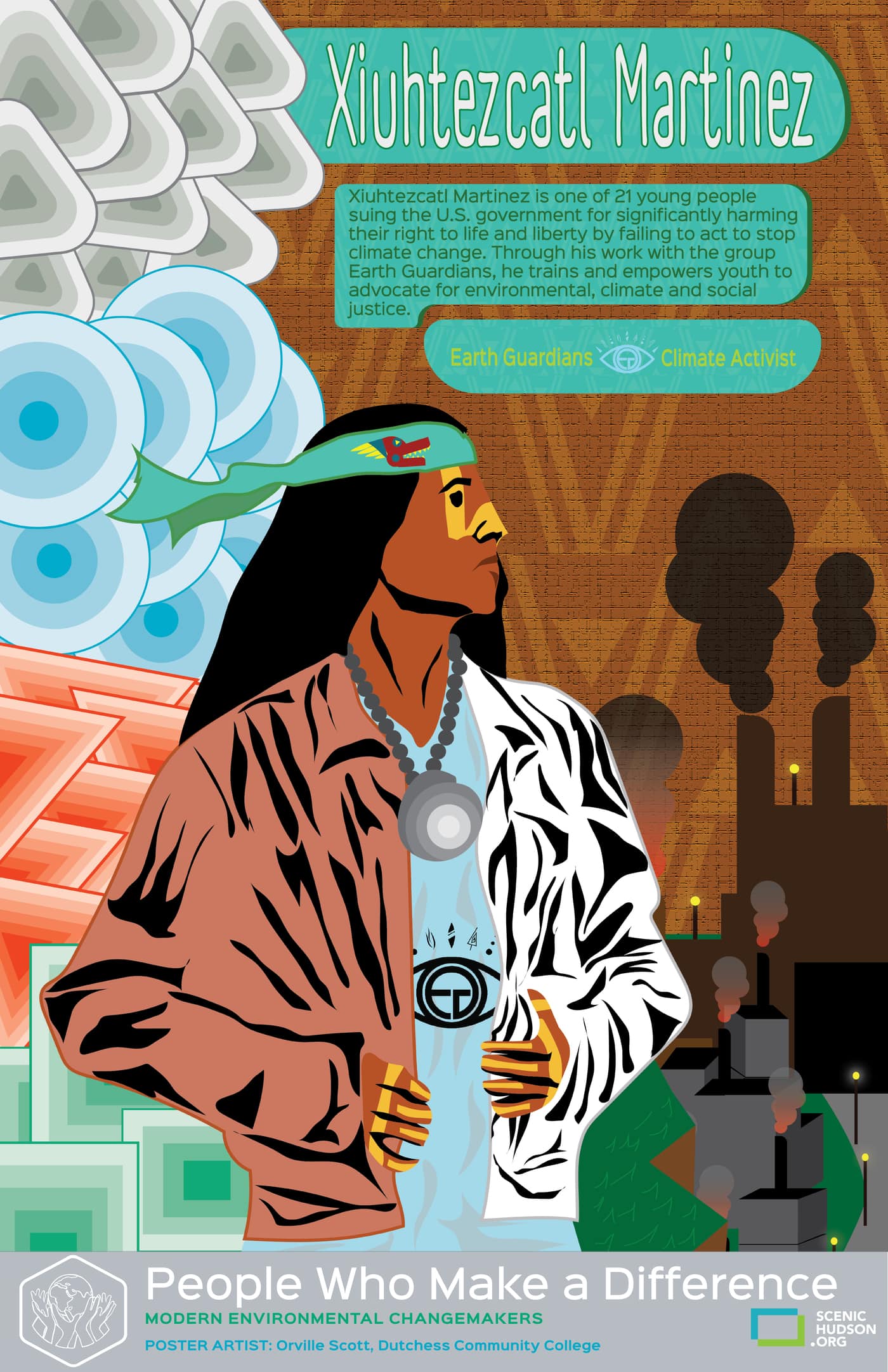 Xiuhtezcatl Martinez, has been speaking on behalf of the environment since he was six years old. Now 19, Xiuhtezcatl is one of 21 young people suing the United States government for failing to take appropriate action on climate change.
These young people believe that the results of climate change are robbing them of their futures. As a rapper, Xiuhtezatl uses his music to spread positive messages and act as the voice of the people.
Songs like "Young" and "One Day" call on youth to rise up, be themselves, and stand up for what they believe in. "Not everyone is outspoken, but we all have a significant part to play. So channel your fear, channel your hurt and channel your hatred into action," says Xiuhtezcatl.
Alexandria, Felix, Xiuhtezcatl and other young people like them are doing their part to fight the effects of climate change and hold global governments responsible for their role. These young people inspire us to make a difference for our climate and we hope you will join them in fighting for a better climate for all.
Learn more about these youth climate activists and other change makers in our People Who Make a Difference collaborative poster project that celebrates inspiring grassroots environmentalists who may not have always been recognized—including people of color, women, youth, Native Americans and members of other indigenous groups. Take a virtual gallery tour of posters honoring these extraordinary people created by graphic design students from Dutchess Community College.